Professor Dame Julia Goodfellow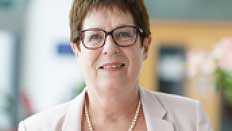 Professor Dame Julia Goodfellow was Vice-Chancellor and President of the University of Kent from 2007 - 2017. She was President of Universities UK from 2015-2017 having been a board member previously. She has been a member of the Prime Minister's Council for Science and Technology from 2011 to 2019. She has worked with several UK Research Councils most recently being a member of the Science and technology facilities Council.
Julia's scientific studies pioneered the use of computational methods to study the structures of large biologically important molecules. She became Professor of Biomolecular Sciences in 1995 at Birkbeck, University of London, where she was appointed Vice-Master from 1998-2002. Before joining the University of Kent, Julia was Chief Executive of the Biotechnology and Biological Sciences Research Council (BBSRC).
She is President of the Royal Society of Biology, Chair of Public Health England, a member of the Board of the University of Hertfordshire, a member of the CaSE Advisory Council, a trustee of the Institute for Research in Schools (IRIS) and a member of the advisory board of the Higher education Policy Institute (Hepi). She is a fellow of the Academy of Medical Sciences, Royal Society of Biology and the Institute of Physics.