Group Finance Director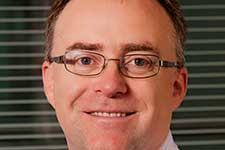 Alistair Moffat
FCMA
Alistair Moffat was appointed Group Finance Director in 2009. He has responsibility for:
all aspects of financial management within the Group including financial control
statutory reporting
treasury
tax
insurance and commercial financial support for the academic community
His role also incorporates board responsibility for the management of the Estate, and he attends several of the board committees, also chairing UH Holdings Ltd which oversees the commercial subsidiaries in the Group.
He joined the University from Monarch Airlines where he was Chief Financial Officer.
Previous roles in industry include: Finance Director Scotland at First Group Plc; Finance Director at Alstom Signalling Ltd; a number of senior finance positions within British Rail; and Finance Director at Mainline Freight Limited, through the rail privatisation process.
Graduating in Accounting and Finance, he then qualified as an accountant in 1989 and is now a Fellow of the Chartered Institute of Management Accountants.