Dr Theo Gilbert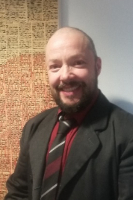 Dr Theo Gilbert SFHEA, is an Associate Professor, Learning and Teaching who has taught at the University of Hertfordshire since 2000.
He works for the School of Humanities as its Academic Skills Tutor and also for the Learning and Teaching Innovation Centre (LTIC). He has an MA in Ethnography and Politics of the Middle East, from the School of African and Oriental Studies, London University (1994). He has a PhD (2015) on the psycho biological nature of compassion and how particular strategies for this can easily, and at no financial cost, be applied in HE teaching and learning anywhere.
In relation to the dismantling the BAME awarding gap and to student mental health and wellbeing, the influence of this work for staff and students in 16 universities (now staff individuals or staff teams from 54 universities) was the reason given by the Times Higher Education for their award for Most Innovative Teacher 2018, presented by the National Union of Students, and judged by Advance HE. In this regard, he has delivered keynotes and workshops at Learning and Teaching Conferences at Universities (UK and abroad), and has twice been invited to keynote on his work at the Annual Symposium of National Teaching Fellows. His work is now used in other arenas as diverse as the school environment and, for example, for preparing national committees of experts, commissioned by UK's National Crime Agency, to establish national policing guidelines.
Prior to his work in HE, Theo worked for five years in Further Education, and in the ten years before that in business and the private sector. Most notably his work at St Thomas' Hospital on establishing and leading a more efficient, transparent and compassionate complaints system led to a marked reduction in medical legal cases brought against Lambeth Health Authority, and as a result, the adoption of this system by other London teaching hospitals, for example, St Mary's Hospital, London.