Equality, diversity and inclusion in the School of Health and Social Work
The School of Health and Social Work is committed to recognising and addressing gender equality across academia for all students and staff. We were awarded Athena SWAN Bronze status in April 2015 and Silver in November 2018, which acknowledges our ongoing commitment to gender equality.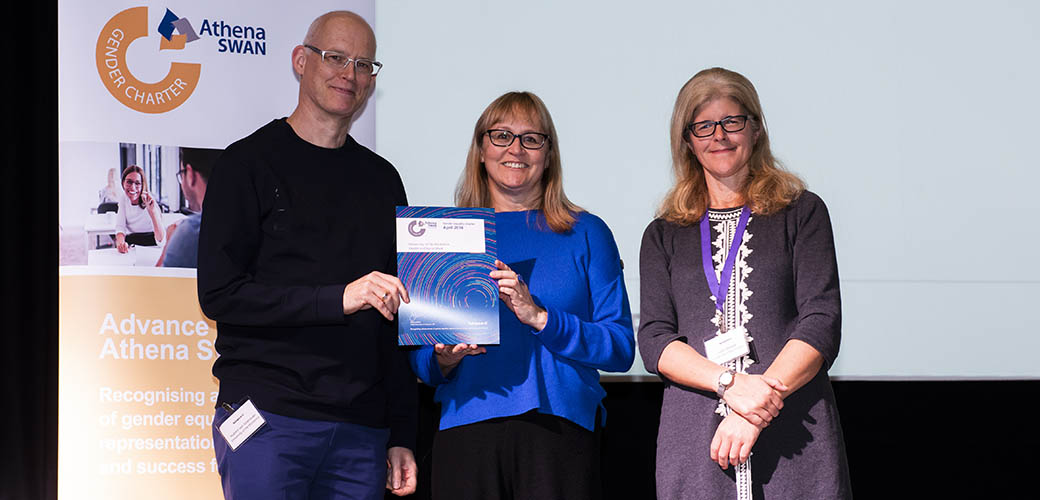 The Athena SWAN Champions, Kathryn Almack and Hubert van Griensven, accept the Silver Award.
View our submission and action plan (PDF - 2.51 Mb)
Athena SWAN was established in 2005 to encourage and recognise commitment to advancing the careers of women in science, technology, engineering, maths and medicine (STEMM) employment in higher education and research. In 2015 this was expanded to include other fields and a broader range of gender equality issues.
Visit the Athena SWAN website for more information.
Our Athena SWAN work contributes to the University's Equality Objectives. You can also read the University's Equality and Diversity Report.
Meet the people leading on gender equality
I am delighted that HSK is one of the first two Schools at the University to achieve a Silver award (2018). Moving forward, we need to continue our work to ensure the Athena SWAN charter principles are embedded within the School and University - which requires the commitment of all.
Gender equality is not only a women's issue; it is everyone's issue. Gender shapes opportunities and constraints; the ways in which both women and men think, live their lives, and act towards each other. To achieve long-lasting gender equality, we need to challenge gender roles and stereotypes associated with both women and men. And we need men as well as women to fight for equality.
My background contributes to a strong commitment to equality and diversity. I'm from a rural working-class background and it wasn't common for girls from my background to go on to further education. I worked for two years before deciding I would do a degree and I was the first member in my immediate family to do so. Much later, I completed my Masters and PhD, and I have subsequently worked in academia. I have had a research-only career pathway and now hold a Research Chair. I'm very committed to supporting and mentoring early career researchers. I am a family sociologist and my research interests broadly address family lives, health and well-being across the life-course.
As a social worker by background, I have dedicated my professional career to promoting opportunities and challenging constraints across many different areas of discrimination and inequality. Such work often requires us to build alliances and bridging our differences, whether across race, sexuality, ability or gender to name but a few. I am therefore delighted to work with others across the School and wider University to help ensure that the Athena SWAN Charter Principles are embedded in all that we do, within the School of Health and Social Work.
Having been told in secondary school that I didn't 'have what it takes' for A levels, I applied myself to re-take, secured my degree and then obtained my Masters in Social Work, in 1993. I resigned from my full-time post as a Forensic Social Worker in 2005 to concentrate on my PhD, balancing part-time employment with part-time study. I secured my PhD in 2014, publishing a book from my thesis in 2017. I became the Deputy Dean of School in February 2019. I often wonder what my teachers would now make of their earlier assessments of my capabilities! I never underestimate the power for change.
Athena SWAN in the School
In 2014, the School of Health and Social Work set up a Self-Assessment Team (SAT) and successfully applied for the Bronze Award. The team was also instrumental in achieving the Silver award, which required that the School demonstrated that it had acted on its Bronze action plan and had addressed wider gender equality issues. The team was renamed the Equality, Wellbeing and Diversity Committee (EWIC) to reflect a wider remit.
Objectives and progress

The Equality, Wellbeing and Inclusion Committee (EWIC) has the following objectives:

Implement the School's Athena SWAN Action Plan including the monitoring and evaluation of impact
Address, inform and respond to issues pertaining to equality, diversity, wellbeing and inclusion
Work with the Athena SWAN and Race Equality Charter institutional teams and the School's Attainment and Inclusivity Group (AIG) in the delivery and operationalisation of equality strategy
Ensure our work includes the student voice and student representation

The team has met regularly since April 2014. It has conducted focus groups as well as questionnaire consultations with staff and students from across the School to explore equality-related issues including career development, flexible working and contracts.

Members of the Equality, Wellbeing and Inclusion Committee (EWIC)

The team includes members of academic, professional and technical staff from a range of job grades. It includes a Herts Athena SWAN officer, an HR representative and the School's two Athena SWAN champions.
Support networks and schemes
Menopause Network

As a consequence of Athena SWAN work, staff from the School of Health and Social Work and the School of Life and Medical Sciences have collaborated to form the Menopause Network. This network offers the opportunity to share ideas and connect with others. It also organises events to support women through the menopause.

Please contact Laura Davidson-Dean for further details about the Menopause Network.

Staff Wellbeing Network

As part of the University's sustainable workplace wellbeing strategy, a Wellbeing Network has been created. Employees as people are at the centre of the strategic vision, so there are Wellbeing Champions for all Schools. Herts staff can connect with their Wellbeing Champions directly or use HertsHub. The HSK Wellbeing Champions are members of EWIC.

Contact details for the Wellbeing Champions in HSK are:

University-wide networks

There are University support networks open to all staff, including:
How Athena SWAN has improved the School
Our Athena SWAN work has led to a range of improvements in our School. Examples include:
Menopause Network
Unconscious Bias training has been mandatory for all new HSK staff since 2017. The training allows participants to consider and recognise their own bias and have a greater awareness of others'. We have organised UB sessions specifically for HSK staff.
We instigated a Carers' Support Fund (CSF) to help staff with caring responsibilities access training and Keep In Touch (KIT) days.
We piloted a clear and transparent processes for appraisal.
We held a trans awareness workshop, in response to staff reporting little awareness or knowledge.
We helped create gender-balanced and ethnically diverse recruitment and admissions processes.
Administrative staff are now able to take on other roles for a fixed term to broaden their experience and skills and enhance chances of career progression.
A number of our initiatives support early career researchers and post-graduate research students.
Professional staff have access to development programmes such as Outside Insight and Aurora.
Guidance and support with regards to maternity leave and Keep In Touch (KIT) days have been improved.
Read about Athena SWAN support for students and staff across the University of Hertfordshire.
Initiatives and events
Since being awarded an Athena SWAN Bronze award, staff across the School of Health and Social Work have organised a number of new Athena SWAN initiatives and events, open to all members of staff and students.
Menopause Network

HSK was the first University of Hertfordshire School to establish a Menopause Network, which has now been adopted across University. The network was launched in September 2016.

The Menopause Network provides staff a space to share ideas and solutions for coping with the menopause as well as providing support for women in HSK and LMS.

For more information contact:

Recent events

Athena SWAN menopause events

| Date | Event | Description |
| --- | --- | --- |
| November 2017 | An event for World Menopause Day | A session facilitated by Norma Goldman. Norma runs sessions which give practical and easily understood information, to enable women to make informed decisions about how to cope with the menopause and to ask questions, if they wish to do so. |
| January 2017 | Q&A session with Diane Danzebrink | Diane is a member of, and an ambassador for, the British Menopause Society. Sleep related problems can be an issue for some women going through the menopause. Diane is trained in Yoga Nidra which is a guided meditation technique that can reduce stress and anxiety and promote more restful sleep. |
| November 2016 | Aromatherapy and Mediation for the Menopause | A session with yoga teacher Jeni Howland who shared key ways essential oils and meditation techniques can help combat common issues of the menopause. |
| May 2016 | Understanding the Menopause | A workshop (including lunch) led by Norma Goldman followed by a focus group to learn more about women's views on how the menopause represents a challenge in the workplace. |

Rolling programme of posters

Staff are involved in producing posters to raise awareness of equality issues around the School. Together with the newsletter produced each semester, these materials maintain awareness of issues relevant to the Athena SWAN agenda.

We ensure posters where people see them easily. Newsletters are placed in staff kitchens and other areas where they can be read. New information is put up whenever possible.

Posters

Talks

The School has organised a range of talks to support the Athena SWAN initiatives.

Date
Event/talks
Summary
December 2017
Going For Silver
Designed as a 'drop in' session to consult the School of Health and Social Work on our Athena SWAN Application.
October 2017
Public Health Master Class on Domestic Violence
Co-hosted with Herts County Council, the session offered information on different aspects of domestic violence in terms of research, policy and practice.
July 2017
Trans awareness training
Led by GIRES and co-hosted by the School of Health and Social Work and the School of Life and Medical Sciences. A highly interactive training session by an experienced facilitator. The training included presentations by the facilitators, exercises, case examples, video material and discussions. Participants were provided with literature, as well as guidance on further information sources.
March 2017
Celebrating International Women's Day
Lunchtime walk, cakes and refreshments. Donations of more than £40 were sent to our chosen charity of Womankind.
November 2016
Celebrating International Men's Day
This jamming session was open to all and included a staff/student football match.
October 2016
Workshop on Domestic Violence
Domestic violence affects 1 in 4 women and 1 in 8 men in the UK, although women are more likely than men to experience it in severe and repeated forms. Prof Shulamit Ramon (Health and Social Work) and Dr Michele Lloyd (Education) outlined key issues and looked at the media representation of this issue.

It became clear that neither the School nor the University has a policy or guidance for staff, managers or students relating to Domestic Violence. HR participated at the workshop and are now considering how best to take forward this important aspect of students and staff wellbeing.
June 2016
Workshop on job interview skills
One barrier for staff putting themselves forward for vacant or new roles might be a fear of the interview process or lack of confidence to 'aim higher'. This workshop was held to improve confidence and interview skills.
June 2016
Work/Life Balance
A coaching session.
May and June 2016
Trans Awareness workshop
The workshops aim was to raise awareness of trans identities, explore the key terms and uses of language around gender and sexual orientation, offer insights into the legislation around rights and responsibilities in relation to trans identities.
March 2016
Celebrating International Women's Day
Lunchtime walk, cakes and refreshments. Donations of more than £40 were sent to our chosen charity of Womankind.
February 2016
Work/Life Balance
A coaching session.

Working Parents Network

The Working Parents Network was launched May 2016. It provided an opportunity for working parents or prospective parents to join a friendly network where ideas and experiences can be shared around being a parent and working at the University. Both women and men are welcome to attend.

The first meeting was well attended and lots of ideas were discussed, from which the following aims were decided:

to share good working parent practices.
to provide information.
to support other working parents.

This network has proved so popular that it has now been taken up as a University wide initiative. HSK staff are also encouraged to join other University support networks open to all staff including the:
More information