What is Athena SWAN?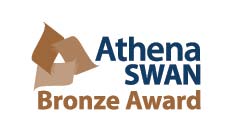 All too often we class gender equality as a women's issue when, in reality, gender equality is everyone's issue.
Athena SWAN draws attention to the multifaceted nature of gender inequality and highlights that academia cannot reach its full potential unless it can benefit from the talents of all.
The University has identified the achievement of Athena SWAN awards at institutional and School level as a key objective within the People strand of its Strategic Plan 2015-2020.
What is the problem?
The under-representation of women in certain subject areas and at senior level continues to be a national issue. At the University of Hertfordshire:
Only 8% of students in Engineering and Technology, 14% in Computer Science and 30% in Physics, Astronomy and Mathematics are female.
Professorial figures in 2014 were, for women, only 23% across STEMM fields.
In Creative Arts, only 1 out of 9 Academic Managers are female while in Humanities only 1 out of 8 staff members at AM2 level are female.
Deans of Schools are 70% male.
But issues such as the under-achievement of young men is also a cause for concern. Men have a lot to gain from gender equality; they are constrained by gender norms and stereotypes just like women:
Despite being outnumbered, women consistently outperform men in Life and Medical Sciences and Computer Science.
In Health and Social Work women outnumber men more than 4.6:1 and in Education only 8% of undergraduate and 24% of postgraduate students are men.
Only 1/4 of professional staff in most Schools are male.
Ones' gender also intersects with other inequalities, such as ethnicity, age and social class, which results in varying configurations of discrimination otherwise known as intersectionality.
Why is Athena SWAN important?
Athena SWAN is much more than a tick-box exercise. The awards and the application process has motivated the University and its academic Schools to examine their policies and practices, improve communication through consultation with staff, identify gaps and embed good practice where it exists.
Athena SWAN is also important:
To ensure that the University has access to the whole population in order to avoid a wastage of skills and missing out on opportunities for talented individuals to contribute key ideas, research and teaching to the future development of the University and society as a whole.
In some research areas future funding is likely to be tied to an institution's commitment to Athena SWAN (such as the National Institute for Health Research and Research Councils UK).
As a means of confronting existing exclusionary structures, processes and practices that contribute to continuing inequalities in Higher Education.
The University of Hertfordshire and its Schools are making a conscious effort to create the conditions in which people of all genders thrive. We hope Athena SWAN will bring about a long term culture change that will benefit all staff.
For more information, visit the Athena SWAN website.
Case studies
Read our stories of Women in Science at the University of Hertfordshire