Transport
Overview of Travel Plan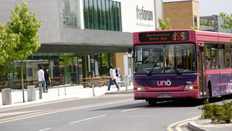 The University is committed to offering sustainable travel options to, around and from campus. Our travel plan (PDF - 1.37 Mb) sets out our commitment to promoting and making available sustainable travel alternatives to the car. Scott Copsey, Transport Planner and Coordinator, is involved with several projects, all of which are contributing to important work in the support of sustainable travel options and can be found in our travel leaflet (PDF - 2.99 Mb).
The UNO bus company is wholly owned by the University of Hertfordshire and offers a network of bus routes across Hertfordshire, North London and South Bedfordshire linking the University with major towns and transport routes to help alleviate the amount of car traffic on the roads.
Performance
The University Travel Plan is a statutory document required as part of the local authority planning and highways framework. First developed in 2002, the University has now in its third phase of modal split targets.
Every five years, an update is provided through a commuter survey to both Hertfordshire County Council and Welwyn Hatfield Borough Council, with the latest survey circulated in April 2015. The targets were last updated in 2013, covering the period 2013/2018, and require the University to continue to work towards reducing the number of its employees and students travelling alone by car to work/study to 60% and 20% respectively.
In relation to staff, there has been a decrease in staff travelling alone by car from 82% in 2002 to 68% in 2015. For students, a decrease was recorded from 38% in 2002 to 18% in 2015.
The survey undertaken had a 22% response rate from staff and 5% from students. A target of limiting the number of residents bringing their car to campus to 7% is also now included from 2013.
There is just under a 1:10 car park space ratio to accommodation available on the College Lane Campus. The 2015 survey indicates that just over 5% of students presently bring their own car the University, however the halls have yet to be completed (Summer 2016), so this figure will likely alter.
Programmes of work undertaken
As part of the Travel Plan a package of measures/interventions have been implemented and continue to be developed. These include
An electric car club was launched in January 2014, the first of its type at a UK Higher Education Institute. As of the end of December 2015, there were 67 'active' University 'Private' members had signed up to the club, with 30 staff signed up for a trail of 12 months, for undertaking business related travel (currently under review). A total 5,882 miles were travelling during this stated period, totalling 1,207 hours. The fleet of electric hire cars consists of five e-cars, due to increase to six in 2016, when a new EV charging point is due to be commissioned at the College Lane Main Reception. The club is supported by six electric car charging posts, which were installed in partnership with Source East across the University's main campuses and Park & Ride Facility.
A trial using a real time/mobile phone platform (provided by INTALINK) to pay for Uno bus tickets was launched in October 2014, ending in June 2015. There was a 2.5% conversion from cash to mobile tickets in this period. By the end of October 2015, there had been over 15,000 App downloads. Uno has decided continue for another three years, with the conversion rate in October at 4%, with a target of 10% set for October 2017.
In January 2015, a new UNO shuttle (695), direct from Hatfield Train Station to and from College Lane Campus was launched on a trial basis but was not successful. In addition, other routes reduced their single fare from £1.70 to £1, or a £2 return.
In March 2015, new discounted tickets were offered exclusively via the mobile phones platform, with further discounts on annual ticket available from September 2015. Further funding of circa £200k is being sought from the Department for Transport to continue to extend the 'field trial' to include additional operators and look at developing multi-operator tickets (currently three of the five main operators in Hertfordshire are signed up to using the platform).
The Environment & Sustainability Team, working with Thameslink Great Northern has recently (February 2015) launched a new ticket called the 'overnighter'. This ticket will allow University students to purchase a return train ticket to London that is valid up to 12:00 pm the following day of purchase. This will reduce the number of students being fined for returning on the first return train journey the follow day.
The University offers the Transport for London (TfL) photo card scheme, which enables students who live or undertake a placement in London to obtain 1/3 off their travel. In 2014/15 2,423 students were registered with this scheme.
In May 2014 the new U-Bike scheme was launched by Derwent FM, with support of the Environment and Sustainability Team. As of May 2015, 140 U-bikes had been hired out, out of a fleet of 200 units purchased. The target for September 2016 is to hire out 250 units by the end of the second full academic year of operation from October 2015 - September 2016.
To support the increases observed in cycling at the University, over 1,300 new covered mixed use (bicycles, Scooters and motorbike shelters) are being installed at the new College Lane Halls of Residence. In addition, two new real time ready bus stops will be commission by the end summer 2016, to facilitate a second bus terminal on this campus.
In 2013, the University changed its cycle scheme supplier to 'Halfords 'Cycle2work.' The revision provides staff with greater flexibility in terms of the length of the 'hire; two 'hire' periods are now available (12 and 18 months), which allow employees on a short contract to take advantage, whereas previously they were excluded as only an 18 month 'hire' period was available. Over 400 employees have taken advantage of this scheme since it launched in 2009/10.
Carshare and Travel Planning software is being reviewed to better provide for and support those staff and students who wish to car share to the University for their Commute. The Team is working with Liftshare on a marketing strategy for this in 2016.
Working with HCC and Pindar Design, the University has been developing an interactive transport map for the Hatfield Business Park, to compliment the App. The map will enable users to download real and scheduled bus information by clicking either a specific bus stop or route. If successful, this will be extended to include the main campus and other localities across Hertfordshire (to be launched October 2015).