Carbon management
Carbon management
The University has adopted the 2010 Higher Education Funding Council for England (HEFCE) target to reduce carbon emissions by 43% by 2020 against a 2005/06 baseline.
Through the implementation of various initiatives, such as the installation of Combined Heat and Power plant and photovoltaic panels, building management system optimisation, awareness activities and some outstanding award winning sustainable developments, the University has achieved a 16% reduction in carbon emissions since 2005/6 and a 42% reduction in carbon emissions since 2009/10.
It is very important to note that the University grew significantly between the years of 2005/6 and 2009/10, adding 21% to the total building floor area and so in absolute terms, a reduction in carbon emissions of 43% based on the 05/06 baseline equates to a reduction in emissions of 60% from the emission levels recorded against the 09/10 baseline. At 2015/16 the University had achieved a reduction in emissions of 42% against the 09/10 baseline.
The University's Carbon Management Plan provides a commentary on the University's carbon performance from 2005/6 through to the most recent data available. It reviews and re-evaluates the University's potential to meet the target reduction by 2020 and attempts to identify the type, scale and cost of carbon reduction projects needed in order for this target to be achieved.
Read a summary of the University's latest Carbon Management Plan.
Carbon Management – Latest projects
The University's most recently completed carbon reduction project is the installation of solar photovoltaic panel arrays on the roofs of the Mercer, Lindop, Todd and Art & Design buildings. Each of these installations is rated at 30 kWp (120 kWp total) and the University now has some 315 kWp of solar panels installed across the campuses. Over the course of a year, green energy generated by these systems will displace CO2 emissions equivalent to the total produced by 30 average UK dwellings (assuming 4 tonnes CO2 per dwelling per annum).
Completed during late August 2017, each of these new arrays is linked to a cloud based performance monitoring system that provides real time performance information: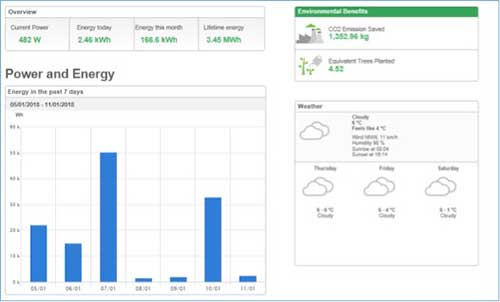 2017/18 Carbon projects
One of the major projects planned for 2017/18 is the upgrade of the main HVAC plant items at the College Lane Learning Resource Centre (LRC), which could include:-
New heating boilers
New CHP (combined heat and power) plant, working in conjunction with the
New chillers for air conditioning
Upgrade of the lighting to LED
Solar reflective film on windows to reduce solar gain and air conditioning requirements
The estimated combined effect of these measures will be to reduce carbon emissions by 400 to 500 tonnes CO2 per annum.
Get in touch
For further information on The University of Hertfordshire's carbon management plan, please email Michael Tofts, Energy Manager, or call him on +44 (0) 7890 258805.