Board of Governors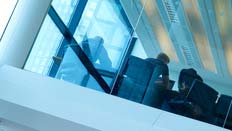 The role and responsibilities of the Board of Governors are set out in detail in the Instrument and Articles of Government approved by the Privy Council.
These give effect to the Further and Higher Education Act (1992) under the terms of which the institution achieved university status in 1992.
The Board of Governors Committee Structure gives detailed governance information.
Membership - 1 September 2017
Board of Governors Membership
Role
Name/s
Independent members
Mr R Beazley (Chairman)
Dr J Blake
Mr D J Goodridge
Mr T Hughes
Professor A J Hunter
Dr J M Knott
Mr D Konotey-Ahulu
Mr G Morrison
Ms I Nisbet
Mr J Steel
Mr R Voss
Vice-Chancellor of the University
Professor Q A McKellar
A teacher of the University nominated by the Academic Board following election by the academic staff as a whole
Dr L Mitchell
A student nominated by the Trustees of the University of Hertfordshire Students' Union
Ms S P Loasby
Co-opted member having experience in the provision of education
Dame Julia Goodfellow
Co-opted member of the professional staff nominated by the professional staff by means of an election by the professional staff as a whole
Mrs T Goldlaing
Officers in attendance
Deputy Vice-Chancellor
Professor I G Campbell

Group Finance Director
Mr A Moffat

Secretary and Registrar (Secretary to the Board)
Mrs S C Grant

Pro Vice-Chancellor (Business and International Development)
Mrs J A Newlan

Head of Governance Services (Clerk to the Board)
Mr J Hughes