Rupa Patel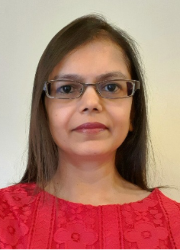 Rupa Patel has been a member of staff at the University of Hertfordshire (UH) since 2005 and was elected to represent all professional staff on the Board of Governors in March 2020.
She is an IT Analyst at the University, where she manages system upgrades, projects, prioritizes user requirements and troubleshoots software and hardware issues ensuring all systems are operational for staff and students. Some of the systems include, Student Attendance Monitoring, Placement Management, Human Resources and Business Intelligence applications.
During her time at the University, she has worked closely with colleagues across all Academic Schools and Strategic Business Units and has fully embraced UH values – FACES (Friendly, Ambitious, Collegiate, Enterprising and Student-focused). This has been endorsed with the awards she has won after being nominated by her colleagues:
Environmental Hero (National Union of Students Green Impact awards in 2017)
Most Enterprising Colleague (Academic Registry departmental awards in 2017)
Team Player of the Year (Estates departmental awards in 2014)
Rupa holds a 'Master of Science by Research' degree in the field of Engineering and Technology (2019). Her research work on 'Advances in Fingerprint Technology' has been published by Springer in a book entitled Biometric-Based Physical and Cybersecurity Systems. She also holds a 'Postgraduate Certificate in Business and Management Studies' from University of Hertfordshire (2014) and has over 5 years of experience in Business Management (Business Processes, Finance, Project Management, Quality Management, Risk Management, Service Review, Systems Management, and Team Management).
Community work is something she actively gets involved in and always promotes Equality, Diversity and Inclusivity, Sustainability and Well-being in the workplace.
Rupa loves travelling and music. She has performed for an audience of up to 10,000 guests and is a member of the University's Go Herts Choir!