Lesley Titcomb CBE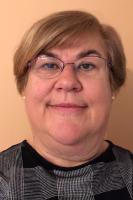 Lesley has a portfolio of appointments. She is a Non-Executive Director of the National Bank of Kuwait International plc, of Legal & General Financial Advice and of Pay.UK. She is also a board member and trustee at StepChange, the debt advice charity.
She qualified as a Chartered Accountant and then held various roles in financial services regulation. From 2015 to 2019 she was Chief Executive of The Pensions Regulator and before that was Chief Operating Officer of the Financial Conduct Authority.
Lesley read Classics at St Anne's College, Oxford and lives in East Hertfordshire. She was awarded a CBE in the 2019 Queen's Birthday Honours for services to pensions regulation.