Isabel Nisbet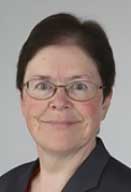 Isabel has had a career in government and regulation in the UK. From 2007-2011 she was the first CEO of Ofqual, the regulator of examinations and qualifications in England and before that she held senior roles in the regulation of medicine and medical education.
For six years she was an independent member of the Council of St George's Medical School, London.
From 2011-2014 Isabel lived in Singapore, advising on educational policy issues in South East Asia. On returning to the UK, she led the A Level Content Advisory Board, established by the Russell Group of Universities to inform the reform of A levels.
Isabel is an Affiliated Lecturer at the University of Cambridge's Faculty of Education and a member of the Boards of Qualifications Wales and the University College of Osteopathy (where she is Vice-Chair). She is a member of the Association of Educational Assessors (Europe) and an Associate Member of the Chartered Institute of Educational Assessors, which is based at the University of Hertfordshire.
She is also a member of two committees appointed by Government to advise on ethical matters: the Biometrics and Forensics Ethics Advisory Group and the National Statistician's Data Ethics Group.