Dr Theo Gilbert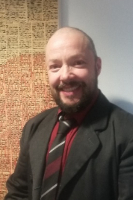 Dr Theo Gilbert SFHEA, is an Associate Professor, Learning and Teaching who has taught at the University of Hertfordshire since 2000.
He works for the Learning and Teaching Innovation Centre (LTIC) and from 1st October, 2020, the Business School. He has an MA in Ethnography and Politics of the Middle East, from the School of African and Oriental Studies, London University (1994). He has a PhD (2015) on the psycho biological nature of compassion and how relevant - in HE teaching, learning and assessment design – this new understanding of compassion is, to student mental wellbeing, and more particularly, the BAME awarding gap. This has remained his area of interest and applied research.
In relation, he won the Advance HE/ Times Higher Education award for Most Innovative Teacher 2018, delivers he has delivered keynotes and workshops at Learning and Teaching Conferences at Universities (UK and abroad), and has twice been invited to keynote on his work at the Annual Symposium of National Teaching Fellows. His work is now used in other arenas as diverse as the school environment and, for example, for preparing national committees of experts, commissioned by UK's National Crime Agency, to establish national policing guidelines.
Prior to his work in HE, Theo worked for five years in Further Education, and in the ten years before that in business and the private sector. Most notably his work at St Thomas' Hospital on establishing and leading a more efficient, transparent and compassionate complaints system led to a marked reduction in medical legal cases brought against Lambeth Health Authority, and as a result, the adoption of this system by other London teaching hospitals, for example, St Mary's Hospital, London. His objective now is to help make the University of Hertfordshire a centre of excellence in the proper understanding of compassion as a necessary part of any modern degree programme, not least in relation to student's aspirations to use their degrees in the service of others, of social equity and sustainability.