Dawid Konotey-Ahulu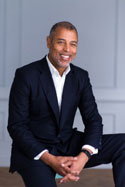 Redington Founder and Board Director
Dawid qualified in 1987 as a barrister of Lincoln's Inn, subsequently spending sixteen years as an investment banker. In 2006, he left the industry to set up Redington, a City firm advising large institutional pension funds and insurance companies. Redington advises pension funds with around US$550 billion in assets. In 2009, Dawid set up mallowstreet, which is now the established specialist online community for the UK pensions and savings industry. Mallowstreet has over 3,000 members representing over $2 trillion in pension fund assets across 600 pension schemes.
Most recently, he founded Partnership for Change, a collaboration platform that combines fintech, healthcare technology, ed-tech and sustainability. Partnership for Change focuses on four core areas of focus: Research, Policy, an Accelerator Platform and a Future Leaders Academy.
Dawid is a Governor of the University of Hertfordshire, a Trustee of the Chineke! Orchestra, is on the Global Advisory Council of Tobacco Free Portfolios and is a trustee of Legacy of War Foundation. He is a frequent blogger and commentator on innovation, pensions, savings and healthcare, and he is currently attempting to help build a specialist heart hospital in Ghana.