David Williams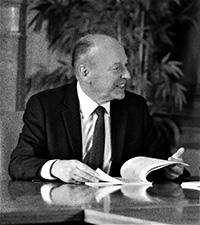 David Williams was the Leader of Hertfordshire County Council from 2017 to 2021 having been first elected to the council in 2013.
David has been passionate in ensuring that local growth builds on the strengths of Hertfordshire's communities, its strong economy and is both sustainable and inclusive – including delivering quality homes to meet the needs of the county's population. He established and chaired the Hertfordshire Growth Board and sat on the board of the Hertfordshire Local Enterprise Partnership and the Stevenage Development Board.
He has been a determined champion of deepening local collaboration and partnership working across the wider public sector in Hertfordshire – notably with NHS bodies to provide better integration across health and care and a shared focus on population health.
Nationally, from 2019 to 2021, David was chairman of the County Councils Network – a cross party grouping of 36 County authorities that serve some 25 million people across England.
In 2021, David was appointed a Deputy Lieutenant of Hertfordshire.
Born and educated in North Wales, David was a senior executive at Barclays and has an economics degree from Cardiff University and an MBA from Henley Business School. He is married with two grown up children.