Deputy Vice-Chancellor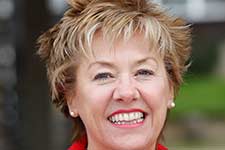 Professor Julie Newlan MBE
Julie was appointed Deputy Vice-Chancellor in February 2022. She was previously Pro Vice-Chancellor for Business and International Development.
She is engaged in all strategic and operational decisions which underpin the positioning and success of the University, and will be leading the University's strategic plan.
Julie has overall responsibility for University planning, including the development of all academic areas through the respective deans, staff development, international and regional partnerships and developments, recruitment, induction and retention of students, student experience and student outcomes.