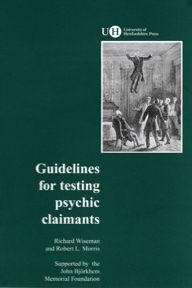 About the book
"Get yourself a copy." The Skeptic
Many people claim to be psychic, including palm readers, astrologers, mediums and faith healers.
Health professionals, law enforcement agents and scientists may wish to examine these claimants or assess the quality of investigations carried out by others, but until now no procedures have existed outlining how such work should proceed.
This book tackles the issues involved, providing pragmatic and flexible guidelines to help researchers identify and resolve the problems that most frequently occur during the assessment of individuals claiming strong psychic ability.
ISBN: 978-0-900458-58-3 Format: Paperback, 72pp Published: Jan 1995
Any questions
Contact us at UH Press if you have any queries or would like to find out more about this book.