Chartered Manager Degree Apprenticeship programme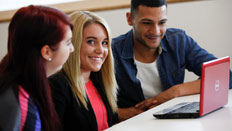 The Chartered Manager Degree Apprenticeship programme is a comprehensive business and management development programme.
Apprentices accepted onto the course must be in full time employment in the public, private or third sector in order to apply.
Why choose this course?
What distinguishes this apprenticeship is the blend of employer-defined skills, knowledge and behaviour requirements that are integrated and assessed as part of a management degree, and professionally recognised by the Chartered Management Institute (CMI) through the award of Chartered Manager status.
Reasons to choose the Chartered Manager degree apprenticeship programme
For
Benefits
Apprentices

Degree education
Learn while you earn
No fees or debt
Work based, skills development
Professional Chartered Manager Status

Employers

Enhance employee engagement and increase staff retention
Boost productivity of workforce through higher skills training
Develop new and existing talent
90% Government funding stream on training and development for non-levied employers
About the course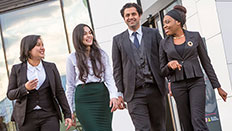 This apprenticeship programme is suitable for aspiring managers in the private, public or third sector.
A flexible, dual accredited business and management programme that combines the best of classroom, online and work-based learning, delivering practical skills and industry experience to support development in the workplace.
Entry requirements
Must be in full-time employment and the employer must be willing to sponsor the programme.
Entry Level 4 with standard University entry criteria apply and we will normally expect students who have 112 UCAS points or equivalent Level 3 qualifications. GCSE English language and mathematics at grade C or equivalent is required.
Teaching methods
This part-time programme will enable participants to study continuously through the full calendar year via: intensive block study sessions and micro-learning study groups with a dedicated learning mentor supporting them throughout by online distance modules. This accessible and conveniently delivered format will enable employers to access a single programme for staff from multiple UK locations.
Professional accreditations
CMI affiliate membership for duration of programme.
CMI Diploma in Leadership & Management L5
Certificate Chartered Manager recognition
Modules
Professional Development
The Commercial Environment
Accounting for Managers
Quantitative Methods for Business
Principles of Marketing
Exploring Business Ethics
Cross Cultural Management
Economics for Business
Global Perspectives in Business
People Resourcing
Practices of Resource Management
Organisational Financial Management
Marketing Planning
Project Planning and Control
Digital Economy
Business Strategy
Leadership and Organisations
Fees/Funding
Apprentices are not liable for any tuition fees as these will be covered by the employer and/or the government.
The tuition fee for Apprentices for the duration of their course £27,000.*
If a business has an annual pay bill of less than £3 million, it will only need to pay 10% of the course fee as 90% is government funded. If the pay bill is more than £3 million, businesses can pay the fee from it's levy payments via the digital online Apprenticeship Service
* Please get in touch for more specific information on costs and funding options.