MSc Social Work
About the course
Social workers help people to live more successfully within their local communities by helping them find solutions to their problems. To succeed, social workers must work not only with clients but their families and friends as well as working closely with other organisations including the police, National Health Service, and schools.
Social work is a regulated profession. The MSc Social Work degree leads to eligibility to apply to the HCPC Register and practice as a social worker
Alternative course routes
In partnership with Department of Education and the West London Alliance we are running a third cohort of the Step Up to Social Work Programme starting in January 2014. The programme forms part of the on-going recruitment initiative to place the best social workers on the frontline.
For more information and to complete an online application form visit the Department of Education website or read the FAQs for the Step up to Social Work programme
Student bursaries
The NHS is likely to make some bursaries available for students on this course. For more details visit www.nhsbsa.nhs.uk/swb
Why choose this course?
This programme incorporates the qualifying award for social work practice.
Developed in collaboration with service providers including Hertfordshire County Council and Brent Social Services.
The programme continues to have strong links with a number of voluntary agencies and organisations.
Entry requirements...
The normal entry requirements for the programme are:
A good relevant first degree normally a 2:1
A 2:2 or a postgraduate diploma or professional qualification recognised as being equivalent to a UK honours degree with a pass at an appropriate standard may also be considered.
International students must hold an overall IELTS at level 7.0 (with a minimum of 7.0 in each band)
All candidates are required to undertake a written test. Students achieving the required standard in the written test will then have an individual interview and group interview
Admission is subject to a satisfactory Disclosure and Barring Service checks and occupational health screening
Some experience or working in a social work setting in a paid or voluntary capacity is a distinct advantage
If you do not have the required level of English for entry, our academic English courses can help you to achieve this level.
Professional Accreditations
You are eligible for registration with the Health and Care Professions Council as a professional social worker.

Careers
This course qualifies you to work in the wide range of statutory and voluntary agencies which employ social workers.
Teaching methods
Modules covered during your studies will include:
Law
Social Work Ethics
European Social Work
Values and Diversity
Sociology
Social Policy
Interprofessional Working
Human Growth and Development
Mental Health and Children Law
Preparation for Practice
Social Work Theory and Practice
Work Placement
A distinct feature of the programme is an emphasis on the development of knowledge and skills through reflective practice.
The analysis of practice undertaken on each placement enables you to develop competence in applying theory, methods and values to your practice. There are excellent student support strategies in place to help you with your progress in these areas.
Structure
Year 1
Core Modules
Ethical and Legal Context for Social Work

This module enables participants to examine, critically evaluate and apply to practice situations the law, ethics, regulations and Codes of Practice relevant to child protection and adult social care. This involves an examination of: The legal issues that affect service users including anti-discrimination and equality law, the Mental Capacity Act and confidentiality and access to records. The law relating to children including the Children Act 1989 and 2004, the Adoption and Children Act 2002 and the statutory guidance in Working Together to Safeguard Children 2010 Treatment of children in the youth justice system. The law relating to adult social care including the National Assistance Act 1948, the Mental Health Act 1983 (as amended), the NHS and Community Care Act 1990 and domestic violence law. The philosophical and professional bases of ethical judgements and their application to social work practice including 'respect for the individual', the duty of confidentiality, and the balancing of risk.

Evidence and Research Skills

The module offers the students the opportunity to study a range of methods and topics that give rise to evidence within contemporary social work research. Students will analyse and evaluate the differences between research methodologies and how this relates to social work theory and practice in order to develop the skills needed to discuss, debate, reflect upon and test hypotheses in practice. Students will explore the practical application of search strategies and systematic reviews to their own work and learning. They will be offered the opportunity to evaluate the role and value of specific research choices and preferences, and apply these to their social work practice in order to identify best evidence for judgements. Consideration will be given to discussion of the relevant ethical concerns in conducting social work research with human subjects.

Human Growth and Development

1 Development: What is development, what causes us to develop and how does development occur throughout the life cycle. 2 Historical perspectives in Human growth and development, concepts of childhood in pre-modern and contemporary society. 3. Research methods in developmental psychology. Methods of gathering data, basic search strategies (relevant for child observational study assignment). 4. Theories of human development, the nature of scientific development and its relationship to social work practice. The nature/nurture issue, active/passive issue. The continuity/discontinuity issue. Developmental theoretical perspectives including psychoanalitical, learning and cognitive, ethological (evolutionary, language development and information processing 5. Emotional and relationship development including Attachment theory and its application throughout the life cycle.

Preparation for Practice Learning

This module covers some core teaching and learning in preparation for the first period of practice learning. This includes the distinct role of the social worker and how this is developing in relation to recent reforms; the HCPC Standards of Proficiency and the Professional Capabilities Framework, and variations in the role within different agency contexts; the significance of relationship based practice and the skills required to engage with service users initially.

Readiness for Practice 1

Social Work Practice and Theory 1

During this module students spend 70 days/525 hours on practice placement The module will address the social work theories and interventions that support social work practice in a range of statutory, private, voluntary and independent settings, including task centred work, crisis intervention, person centred, behavioural, solution focused and systems approaches, assessment, group-work and community work. Current policy and practice will be explored including safeguarding adults and children, personalisation and enablement. The involvement of service users and carers in the design, provision and delivery of services.

Values and Diversity

The module is offered at level 6 to facilitate progression from undergraduate to postgraduate study. It will provide students with opportunities to develop and explore understanding and knowledge of the diversities within British society, whilst identifying with their own experiences. It uses theoretical considerations and knowledge to develop models for analysing forms of disadvantage, exclusion, discrimination and oppression. This module will offer students the opportunity to create strategies for developing anti-discriminatory and anti-oppressive social work practice. It does this in the context of exploring personal values, ethics and moral concepts of rights whilst making links to social work practice. Aspects of philosophical thinking will be deployed in order to develop wider thinking context and issues of worth whilst identifying the considerable dilemmas for professionals within the field of social work. In addition sociological considerations will be analysed in order to students to begin identifying with wider sociological considerations and problems.
Optional
Year 2
Core Modules
Collaborative, interprofessional/interagency and inclusionary practice

This module enables students to develop a critical awareness of the influences on collaborative practice and skills of working with complexity. It involves an evaluation of policy and interorganisational influences on the micro level of collaboration. It stresses a critical awareness of different professional and occupational histories, identities and perspectives and inter professional stereotypes. It develops a comprehensive understanding of interprofessional team and network processes and appropriate skills for creative and inclusionary interprofessional practice to achieve individualised services.

Dissertation

Readiness for Practice 2

The module will enable students to develop and advance the skills undertaken in the first year module Readiness for Practice 1 continuing with the three identified themes: 1. Skills related to professional conduct and management of self, 2. Core skills. 3. Skills of working and communicating with a range of service user groups. Skills to include: • Giving evidence in court. • Working within/understanding statutory roles and responsibilities. • Assessing capacity, safeguarding/formal assessments. • Presentation skills required for reviews, panels, tribunals. • Formal report writing for a range of agencies. • Managing professional boundaries and inter professional work.

Social Work Practice and Theory 2

The module will build on the year one module, Social Work Theory and Practice and develop students' awareness and critical analysis of the methods and approaches used in social work. The module will show clear links with the students practice learning experience in statutory, private, voluntary and independent settings, enabling them to apply their knowledge to specific user groups and settings, such as older people, children and families, mental health, people with learning disabilities. Students will demonstrate their ability to meet the requirements of the HCPC and the Professional Capability Framework as required for a newly qualified social worker, and to work in partnership with service users and carers.

Sociological and policy Context for Social Work

The module offers students the opportunity to study a variety of sociological and political perspectives that explain the social fabric of modern Britain. Areas to be included; the contribution that sociology might make to an understanding of social work as a profession in society characterised by power differentials and control mechanisms, professionalism, organisations, and policy and practice based initiatives relevant to specific areas of social work. The module will also examine the historical development of the welfare state in the UK, focusing on ideological influences and themes of continuity and change in contemporary policy in the UK.

Transnational Social Work and Welfare in Europe

This module supports the development of a transnational and critical comparative approach to analysing social work in Europe. By analysing the construction of the health and social care sectors of the European Welfare States and their legislative frameworks, the emergence of social professions and their organisation, education and methods, students are able to evaluate differences and similarities of definitions and solutions to broader social problems. Students will employ this understanding to analyse European policy responses to key social problems including - immigration and asylum - crime - drug misuse - work and welfare - service user empowerment - mental health - disability - social work across the life course - safeguarding
Optional
Fees & funding
Fees 2017
UK/EU Students
Full time: £8,150 for the 2017 academic year
International Students
Full time: £12,600 for the 2017 academic year
*Tuition fees are charged annually. The fees quoted above are for the specified year(s) only. Fees may be higher in future years, for both new and continuing students. Please see the University's Fees and Finance Policy (and in particular the section headed "When tuition fees change"), for further information about when and by how much the University may increase its fees for future years.
View detailed information about tuition fees
Additional course-related costs
There may be some additional costs or charges associated with studying on this course. These costs or charges may be compulsory (ie you have to pay them if you are studying this course) or they may be optional (ie you don't have to pay them, but they may help you get the most out of your course).
Any such costs or charges will be outlined in the About your course factsheet that can be found on the course Overview page.
Scholarships
Hertfordshire Constabulary Scholarship
Find out more about scholarships for UK/EU and international students
Other financial support
Find out more about other financial support available to UK and EU students
Living costs / accommodation
The University of Hertfordshire offers a great choice of student accommodation, on campus or nearby in the local area, to suit every student budget.
How to apply
2017
| Start Date | End Date | Link |
| --- | --- | --- |
| 01/09/2017 | 30/09/2018 | Apply online (Full Time) |
2018
| Start Date | End Date | Link |
| --- | --- | --- |
| 01/09/2018 | 30/09/2019 | Apply online (Full Time) |
i
Key course information
Institution code

H36

UCAS code

L501

MSc Social Work

Course code

HHMSW

Course length

Full Time,

2 Years

Locations

University of Hertfordshire, Hatfield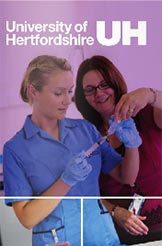 Download the Prospectus