PgDip Pharmacy (Overseas Pharmacists Assessment Programme)
Available to non EU students
About the course
This course is for overseas (non-EEA) pharmacists who wish to convert their existing qualifications so they can practice as a pharmacist in Great Britain.
The University of Hertfordshire OSPAP is accredited by the General Pharmaceutical Council (GPhC).
The Overseas Pharmacy Assessment Programme (OSPAP) is a full-time programme starting during September and ending in May. The teaching is undertaken over a 3 day week during the academic year which is divided into two terms.
The OSPAP will give you an insight into the way the National Health Service in the UK operates, inform you of the health regulatory laws and professional codes pharmacists must abide by, in addition to allowing you to integrate science based knowledge, such as pharmaceutics and microbiology, into clinical and patient focused settings.
The programme aims to prepare you for professional practice as safe, knowledgeable and up to date pharmacists. Whilst at the University you will be expected to act professionally and in agreement with the student Code of Conduct and GPhC Fitness to Practise standards. You can read these guidelines on the GPhC website.
Take a virtual tour of our facilities
Why choose this course?
Excellent facilities including a simulated pharmacy and refurbished labs. See our virtual tour of our new science building
Placements and visits in hospital and community pharmacy
Interprofessional learning opportunities
Regular promotion of pre-registration employment opportunities as well as support for your pre-registration year
Friendly and supportive staff
Active Pharmacy Society
Encouraged attendance at local Pharmacy events such as the Royal Pharmaceutical Society Local Practice Forum
University is well placed geographically and has strong links with local healthcare providers and pharmaceutical industries
Opportunity to upgrade to an MSc degree
Opportunity to apply for the Vice Chancellor's Scholarship
How to apply
Please follow the information in the 'Entry Requirements' section below. Please do not apply directly to the University of Hertfordshire.
Contact us: For more information please contact Susanna Mason admissions tutor: s.mason3@herts.ac.uk
Entry requirements...
In order to enter the Overseas Pharmacist Assessment Programme (OSPAP), you must first successfully complete the adjudication process of the General Pharmaceutical Council (GPhC) You can visit the GPhC website and check the details of how to apply, necessary documentation and evidence required.
Once you have been approved by the GPhC you may apply to this university via the GPhC. They will require the following documents to send to us:
1) A copy of your GPhC approved adjudication letter.
2) An authenticated photo of yourself.
3) A copy of your IELTS certificate with a minimum score of 7.0 in each element of the test achieved at one sitting.
4) A letter of good standing from the police or a CRB form (if available).
Without documents 1-3 your application will NOT be processed.
After receipt of these documents from the GPhC you will be sent application details directly from the university. We will invite applicants to visit us (in person or via Skype) for an informal discussion about your work experiences and interest in pharmacy. This will also give you the opportunity to ask us any questions you may have about the course or the university and view the Department. A successful candidate will have a demonstrable ability in both English Language and numeracy. It is beneficial to have some patient facing experience.
Professional Accreditations
General Pharmaceutical Council (GPhC)
Careers
After completing the OSPAP Diploma and successfully passing the subsequent GPhC pre-registration pharmacist training year, you will be able to register and practice as a UK qualified pharmacist in various environments, (including community pharmacy, hospital pharmacy industrial or academic establishments), undertaking a diverse array of challenging roles.
You are strongly advised to check the latest visa details or changes on the Home Office website and UK Border Agency website regarding working in the UK. This is very important as you will need to work as a pre-registration Pharmacist for 12 months after successfully completing the OSPAP course. Whilst every effort will be made to guide you through the application process, including assistance with interview skills and CV writing, please be aware that it is not the University's responsibility to secure you a pre-registration position.
Teaching methods
Teaching during the academic year is divided into two terms, with written assessment papers at the end of the academic year (May/June). During the programme, you will be taught and learn via a range of techniques, including formal lectures, laboratory based classes, on-line discussions, tutorials and simulation. You will develop a wide range of academic and practical skills such as written and verbal communication, team work and leadership capabilities, critical evaluation, clinical judgement and organisational skills. You will be expected to submit a variety of assignments regularly, as required by each module leader, in order to meet the specified learning outcomes of the programme.
Work Placement
As part of the OSPAP you will have the opportunity to undertake a short, supervised, hospital visit and a community pharmacy placement as part of your study modules. This practical component will require a letter of good standing from the police authorities in your country of origin if you have not been in the UK for at least 6 months. If you have been in the UK for at least 6 months you will need to complete a DBS (Disclosure Barring Service) application form. In all cases students will be expected to attend our Occupational Health Department and receive any necessary vaccinations prior to attending placements.
Structure
Year 1
Core Modules
Medicines and Pharmacy Practice (OSPAP)

This module will provide students with a deep understanding of the law and ethics as it relates to the practice of pharmacy in the UK. This module will provide the student with the principles of safe dispensing for both human and veterinary medicine, and NHS and private supply. It will extend these principles to the supply of medicines and other products for the alleviation of minor ailments. In addition, it will accustom the student to the use of a variety of communication techniques (oral and written) in all elements of the module.

Pharmaceutical Sciences and Therapeutics 1 (OSPAP)

This module develops the students' ability to integrate and apply clinical, pharmacological and physiochemical information in the evaluation, and clinical use of prescribed medicines in the context of co-morbidities; the safe and effective addition of medicines into an existing treatment regimen, and the promotion of optimal treatment with medication. Students will acquire a critical understanding of pharmaceutical sciences underpinning the therapeutic use of medicines, and develop advanced skills associated with pharmaceutical care. This module integrates the development of medicinal products, knowledge and understanding of theory and principles of formulation science, and the interpretation and presentation of analytical data. Students will undertake evaluation and analysis of clinical cases that demonstrate a range of pharmaceutical care issues, including admission and discharge planning, focusing on the ways in which pharmacists can contribute to the quality of patient care and improve patient outcomes.

Pharmaceutical Sciences and Therapeutics 2 (OSPAP)

This module provides students with an in-depth understanding of the development, formulation and application of drug delivery systems in a way that is therapeutic for the patient, safe, effective and reliable. Students will apply aseptic techniques and principles of quality assurance to develop and manufacture therapeutic entities. This module integrates the formulations of medicinal products, knowledge and understanding of theory and principles of drug design, and the interpretation and communication of pre-clinical and clinical data to inform patient care. Students will evaluate and apply clinical guidelines and evidence based practice to a range of clinical cases focusing on the pharmacists' roles in assuring the safe and effective delivery of care to improve therapeutic outcomes.

Preparation for Practice (OSPAP)

This module will develop the students' ability to practise as a pharmacist in the UK in a professional manner. It brings together three key areas of practice: public health, interprofessional working and patient-centred practice. This module is designed to enable students to work within a pharmaceutical environment to demonstrate advanced knowledge, skills and understanding of professional practice, following a period of work-related learning. Emphasis is placed on the student taking responsibility for their own learning, through the development of a portfolio and mapping their skills onto a competency framework. The teaching sessions are delivered by practitioners with a wide range of experience. The teaching delivery mode is a combination of lectures and small group work.

Study Skills and Practice Orientation (OSPAP)

This module will develop the student's ability to adapt their learning style and orientate them to the various methods of learning provided in the course. The student will also develop personal and inter-personal skills such as: time management, organisational and reflective practice skills to meet the requirements of all modules. The module will explore learning styles, methods of assessment and teaching methods and how these contribute to developing oral and written communication skills. The module will be a foundation for further continuing professional development and also introduce the student to the competencies required at preregistration level.
Optional
Fees & funding
Fees 2016
UK/EU Students
Full time: £8,700 for the 2016 academic year
International Students
Full time: £10,500 for the 2016 academic year
Fees 2017
UK/EU Students
Full time: £10,500 for the 2017 academic year
Discounts are available for International students if payment is made in full at registration
*Tuition fees are charged annually. The fees quoted above are for the specified year(s) only. Fees may be higher in future years, for both new and continuing students. Please see the University's Fees and Finance Policy (and in particular the section headed "When tuition fees change"), for further information about when and by how much the University may increase its fees for future years.
View detailed information about tuition fees
Additional course-related costs
There may be some additional costs or charges associated with studying on this course. These costs or charges may be compulsory (ie you have to pay them if you are studying this course) or they may be optional (ie you don't have to pay them, but they may help you get the most out of your course).
Any such costs or charges will be outlined in the About your course factsheet that can be found on the course Overview page.
Other financial support
Find out more about other financial support available to UK and EU students
Living costs / accommodation
The University of Hertfordshire offers a great choice of student accommodation, on campus or nearby in the local area, to suit every student budget.
How to apply
2017
| Start Date | End Date | Link |
| --- | --- | --- |
| 28/09/2017 | 27/05/2018 | Apply online (Full Time) |
2018
| Start Date | End Date | Link |
| --- | --- | --- |
| 28/09/2018 | 27/05/2019 | Apply online (Full Time) |
i
Key course information
Course code

LMOSPAP

Course length

Full Time,

1 Years

Locations

University of Hertfordshire, Hatfield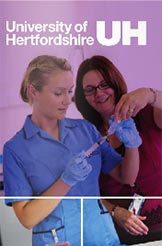 Download the Prospectus