BSc (Hons) Music Technology with Optional Sandwich Placement/ Study Abroad
About the course
This Music Technology degree enables you to explore the nature of current sound and music technologies, using the latest digital audio hardware, software and programming packages. You will investigate topics such as sampling, sequencing, mixing, remixing, signal processing, sound editing and recording, alongside topics in audio programming, internet audio and electronics, ensuring that you will be well equipped with the knowledge and hands-on experience expected of today's professionals.
Creative processes and techniques are built upon a solid technical knowledge, and you will have substantial opportunity to explore your own creative work through songwriting and many other creative compositional tasks, designed to allow you to focus on developing your advanced creative music production skills.
As with all our sound / audio technology degrees, our Music Technology course is designed to lead up to a major project in the final year of study where you specialise in an area that interests you, under the guidance of one of our tutors. This could see you working on a substantial surround based project / installation, to producing music for moving image, or recording, editing and producing a full album and exploring ways to enable the end listener to further engage with you and your music – potentially building on the programming skills gained throughout your degree to not just offer a standard album, but an enhanced one that enables the listener to amongst other things remix your album. Other final year projects have included the design and build of a piece of audio hardware or software based application / plugin.
This course shares the same ethos as our other technical musical awards in Sound Design and Audio Recording and Production, and as well as pursuing professional work experience within the course, you will have the opportunity of working alongside our composition, film and digital animation students - benefiting from teaching and collaboration experiences that occur within a wide student community.
Why choose this course?
The Music Technology, Sound Design Technology and Audio Recording & Production courses are Industry Accredited by JAMES representing the Association of Professional Recording Services (APRS), the Music Producers Guild (MPG) and Associate Industry Bodies.
The Music Technology degree enables you to further explore your own creative work through song writing and other compositional / production based tasks.
Develop excellent technical skills over the course of your degree, and benefit from our high quality studio and sound resources including those by SSL, Yamaha, Avid, Focusrite, Quested, Genelec, Neumann, TLA, Lexicon and Drawmer to name but a few.
Develop studio techniques allowing you to record, process, mix and master your work to a professional standard.
The degrees are designed to expose you to areas of music, sound and audio technology that you might not even know exist yet. "Coming to this course has really given my brain the kick-start it needed and I'm beginning to see near endless possibilities with where I can go" – Glenn Osborn, Year 2 Audio Recording & Production Student.
We have a strong record of students securing placement years between year 2 and 3 of their studies. Placement destinations include Focusrite and Sound Technology – a leading distributor of high profile brands for the Music Retail and Professional Audio industries.
Every year, organisations and companies approach us to recommend our graduating students.
Music business is woven into your degree study at every year giving you the skills to slot into the music industry (or create your own business).
Participate in 'live' projects with our UH record labels, and 'JamJar' showcase live events.
Benefit from studying in creative arts school and collaborate with filmmakers and animators in realising fully featured, professional standard media projects.
Our music industry advisory panel is second to none in the UK and includes key figures in the music industry such as Tim Clark (Robbie Williams' manager), Mike Smith (MD Columbia Records) and Korda Marshall (who signed Take That, James Blunt etc).
We have some of the best resources in the UK, including the 39 million pound Forum where our students perform every month, and state-of-the art music studios and film and TV facilities in our 12 million pound building for Music and Film.
Entry requirements...
2017 entry
UCAS are introducing a new tariff for 2017 entry so the points being asked for are substantially different to previous years.
104 UCAS points
A level Music Technology, Science or Technology based subjects.
IB - 104 points from a minimum of 2 HL subjects at H4 or above (with the remaining points to come from a combination of HL, SL and Core).
GCSE English Language and Maths at grade 4 or above (English Language and Mathematics at grade C or above at GCSE if taken prior to 2015).
Music or technology qualifications at GCSE or higher are preferred
All students from non-majority English speaking countries require proof of English language proficiency, equivalent to an overall IELTS score of 6 with a minimum of 5.5 in each band.
If you do not have the required IELTS or equivalent for direct entry on to your degree programme, our Pre-sessional English and International Foundation courses can help you to achieve this level.
For country specific qualifications, please visit our Your Country page.
Key staff
Alex Baxter
Senior Lecturer - Programme Leader of Music Technology
Find out more about Alex Baxter
Tim Blinko
Professor of Music
Find out more about Tim Blinko
Professional Accreditations
Apple Authorised Training Centre
JAMES accredited course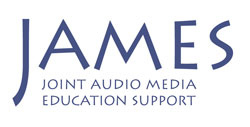 Careers
You can expect to develop a career in hardware/software system specification, world-wide web based music /sound creation and delivery, or in technical roles within the music and sound industry e.g. in sound reinforcement, recording and engineering, multimedia installations, music studios and / or production companies.
A number of graduates have gained contracts with EMI and Sony Music, worked for the BBC and PRS, as well as created sound design for computer games. Several have continued their studies to Master's and PhD level. Each year, former students return and talk to our current students about their employed roles and how their degree has been beneficial.
Whilst a number of our students go one to work for established companies, there are always a number who set themselves up independently, developing their own business. The following includes a very small selection of very recent graduates who are already achieving success….
Chris Pavey – Mastering and Restoration Engineer
http://chrispaveymastering.com
JJ Mitchell – Producer, Mix Engineer & Drummer
http://www.jjmitchellmusic.com
Stefan Baranowski – CEO Insight Music – Digital Label & Publisher
http://www.insightmusic.co.uk
Marjan Kalinaki – Independent Sound Designer & Music Signal Processing Specialist.
http://www.marjisound.com
Teaching methods
Study Abroad
This course offers you the opportunity to study abroad through the University's study abroad programme.
Study abroad opportunities are available worldwide and in Europe under the Erasmus+ Programme.
Find out more about Study abroad opportunities
Work Placement
All students have the opportunity to take a short work experience placement during the second year of their degree.
Course Details
In Year 1, you'll gain a solid grounding on a number of major DAW packages, as well as develop your creative and technical skills in mixing, processing, and studio work. Acoustics, psychoacoustics, and Audio and Midi protocols are also investigated, as to is developing your critical ear. You'll also investigate various music business models, whilst also using lab time to develop an understanding of audio electronics through building your own synthesizer. In addition to these core areas, music technology students also study and apply creative music production techniques, notation and theory, and songwriting.
In Year 2, you'll continue to develop your critical ear, have the opportunity to engage in as short work experience project, and also support the delivery of a live event, through an artist liaison or sound technician role. You will be introduced to programming within Max/Msp and also exploit networked audio possibilities, getting to grips with our excellent Rednet system. Much focus is also placed on getting your music out there, with considered work on digital distribution, digital delivery and mixing and mastering approaches. In addition to these core areas, music technology students also continue to develop high level sequencing and synthesis skills, and continue developing creative music production skills at an advanced level.
By Year 3, we find that the vast majority of our students have already formed a number of professional connections, and students are able to make use of these and reflect on their approaches within a dedicated field project. In addition, there is the final major project which under the supervision of a dedicated tutor allows you to specialize in your chosen area which could be for example album recording and production, software / hardware development, an experiment, or dissertation based study. You'll also continue to develop your programming skills, as well as exploring surround sound, live sound and advanced HD recording. In addition to these core areas, music technology students also explore perspectives of electronic music, music for media and continue to push forward their skills in creative songwriting.
Guest Speakers
Key industry professionals regularly visit us to speak to our students. Recent Guest Speakers Include…
Phill Brown- Sound Engineer, Producer. (worked with Bob Marley, Jimi Hendrix, Dido, to name but a few)
Alistair Meachin- Acoustics, Audio & AV Consultant – Harmonia Consulting Ltd.
Ian Wallman- Producer, Composer, Mixer & Remixer
Chris Calcutt- Focusrite Audio Engineering Limited
Nicky Bignell- Business Affairs Manager – Music, BBC Rights, Legal & Business Affairs
Kim Bailey- Entertainment Retailers Association (ERA)
Cindy Truong- British Academy of Song writing, Composers and Authors (BASCA)
Laura Young- Music Industry specialist on negotiating sales with recording, publishing and library companies.
Structure
Year 1
Core Modules
Professional & Industrial Context 1

This module introduces a range of developmental material. Students are shown a range of differing resources and the requirements for their safe operation. The use of StudyNet to enhance the learning and teaching experience through MAPS and in general use, is also introduced. In addition the key legal concepts and frameworks within which the industry works are introduced, and students are introduced to career planning material. Students also perform within a percussion ensemble, supporting and developing team working.

Sound Bytes 1

This module gives an introduction to the measurements of sound. Physiological processes underlying human perception of sound, and the principles of audio data coding and file reduction techniques are considered, along with basic acoustics and how this affects and dictates sound production, transmission and capture. Basic mathematical techniques are taught within the module as necessary.

Studio Technology 1

This module introduces students to a range of key studio technologies, such as microphones, samplers and basic sequencing packages. This module involves a mixture of theoretical background and practical applications. Assessment will normally be via coursework, with additional minor tasks requiring students to demonstrate how well they have assimilated the disciplines and principles covered.

T/Music and Production 1 (Version 2)

This module provides an overview of typical audio production systems and their applications in a creative music context. This module also includes coverage of software applications for music composition and notation as well as introducing a selection of compositional styles from the twentieth century.
Optional
Year 2
Core Modules
Sound Bytes 2

This module introduces you to the principles of digital music networking and distribution, in the contexts of both creation and delivery of sound or music; standalone or alongside other media. The emergent areas of Internet radio, IPTV, online collaboration, file sharing, networked audio, remote control and applications are explored from both technical and commercial perspectives. Technical material is supplemented with investigation into the the legal, procedural and logistical requirements of digital distribution, as to is appropriate preparation of content.

Professional & Industrial Context 2

Building upon Professional & Industrial Context 1, this module introduces students to a range of more advanced studio resources. The music industry is further explored and practical experienced gained via realised practical projects and / or a short work placement opportunity.

MT Studio Technology 2 (Version 2)

Building upon Studio Technology 1 this module develops higher understanding and advanced skills concerning key studio technologies. Students work with industry standard sampling and sequencing tools, utilising a more advanced feature set, whilst elsewhere software programming using the MAX/MSP environment is introduced. Students understanding of the nature of sound, and the technicalities of sound capture are extended by the Sound Cognition and Microphones and Recording topics. The module involves a mixture of theoretical background and practical applications.

MT Music and Production 2

Building upon Music & Production 1, this module explores extended functionality within key hardware and software tools, such as soft studios, DAWS and mixing desks for audio production. Further creative skills in song writing and notation and producing music to a brief are also covered.
Optional
Professional Work Experience 30: Music

Students may identify a work experience opportunity or have a work experience suggested to them. Before starting students meet with the Programme Leader or their nominated tutor, to discuss the impending placement. All aspects of the intended experience are addressed from health and safety to client confidentiality and students are given guidance on behaviour and how to manage expectations. Proposals need to identify an outline work programme, the number of days in placement and the main learning outcomes; and are subject to agreement of the Programme Leader.
Year 3
Core Modules
Optional
Year Abroad

The Year Abroad will provide students in Creative Arts with the opportunity to expand, develop and apply the knowledge and skills gained in the first two taught years of the degree within a different organisational and cultural environment in a partner academic institution. The host institution will appoint a Programme Co-ordinator who will oversee the student's programme during the Year Abroad and will liaise with the appointed UH Supervisor.

Sandwich Year (Creative Arts)

The optional 'Sandwich' placement year may be undertaken between the levels 5 and 6. Students undertake the placement within a commercial, public or not for profit setting that is able to provide an appropriate learning experience related to the creative and cultural industries. A placement could take a variety of forms, including: * working in an external organisation; * working with a University company or professional team within the University; * self-employment within defined context and externally refereed. The placement duration would typically be sustained for at least 36 weeks (from a maximum of two separate placements, neither of which should normally be less than 12 weeks in duration), though may be sustained for a full year. While the School actively supports the placement process, ultimately it is the placement provider that will agree to manage and select students, normally through an interview process. During the placement a member of the academic staff will be assigned to the student as a tutor and will monitor the student's progress during the placement period.
Year 4
Core Modules
Professional & Industrial Context 3

This module provides students with a wider perspective on music and media related industries and associated career options. Project management skills are covered with a view to professional development. Also included is the evolution of music/audio technologies and companies from historical origins through to the present day. Students participate in managing, staging or recording Music activities such as UHR, Infuse, Schools outreach projects and MayFest, or may generate their own field project.

MT Technology Project (Version 2)

This module allows students to undertake a substantial piece of independent work, which demonstrates an area of interest or specialism. Students will be assigned a tutor, and regular tutorials and guidance will be given throughout the academic year in order to help the student maintain sufficient progress to complete the project successfully.

MT Music and Production 3 (Version 2)

Building upon Music & Production 1 and 2, this module explores advanced concepts of linear and non-linear sequencing in a variety of creative contexts. It also covers further composition and performance practice within popular, commercial and high-art genres. In addition, this module covers the theory and practice of sound design across a range of media. The module involves a mixture of theoretical background and practical applications.

T/Studio Technology 3 (Version 2)

Building upon Studio Technology 1 and 2, this module develops a higher understanding and advanced skills concerning key studio technologies. Typically, aspects of multi-microphone recording techniques and advanced sound-editing and manipulation are investigated through in-depth tasks and assessed exercises which will require the full use of DAW (digital audio workstation). In addition, the module will introduce modern surround-sound production techniques along with studio and field techniques for the support of live sound. Additionally, this module also covers sophisticated interactive and real-time audio applications through the use of Max/MSP programming.
Optional
Fees & funding
Fees 2017
UK/EU Students
Full time: £9,250 for the 2017 academic year
Part time: If you decide to study this course on a part time basis you will be charged £1155 per 15 credits for the 2017 academic year
International Students
Full time: £11,850 for the 2017 academic year
Part time: If you decide to study this course on a part time basis you will be charged £1395 per 15 credits for the 2017 academic year
*Tuition fees are charged annually. The fees quoted above are for the specified year(s) only. Fees may be higher in future years, for both new and continuing students. Please see the University's Fees and Finance Policy (and in particular the section headed "When tuition fees change"), for further information about when and by how much the University may increase its fees for future years.
View detailed information about tuition fees
Additional course-related costs
There may be some additional costs or charges associated with studying on this course. These costs or charges may be compulsory (ie you have to pay them if you are studying this course) or they may be optional (ie you don't have to pay them, but they may help you get the most out of your course).
Any such costs or charges will be outlined in the About your course factsheet that can be found on the course Overview page.
Additional course costs
In addition to the fees there are some compulsory course attached to this course:
Year 1
Good quality headphones Compulsory £40-£50
Other financial support
Find out more about other financial support available to UK and EU students
Living costs / accommodation
The University of Hertfordshire offers a great choice of student accommodation, on campus or nearby in the local area, to suit every student budget.
i
Key course information
Institution code

H36

UCAS code

W352

BSc (Hons) Music Technology

Course code

CCMUS

Course length

Full Time,

3 Years

Part Time,

5 Years

Sandwich,

4 Years

Locations

University of Hertfordshire, Hatfield