MSc Mental Health Recovery and Social Inclusion (Online)
About the course
This is an innovative e-learning programme developed through partnerships between experts by experienced practitioners, academics and service providers in the areas of mental health, social inclusion, leadership and recovery. The course was developed as part of an EU partnership to provide an international perspective on recovery and social inclusion issues.
This two year part-time course will provide you with the knowledge and skills to make a difference in to the recovery and social inclusion of people experiencing mental distress. This is a 5 module programme covering mental health recovery and social inclusion:
Theory and Practice (30 credits)
Recovery Research (30 credits)
Leadership and Collaboration in innovative practice (30 credits)
Legislation and Policy (30 credits)
Mental Health Recovery and Social Inclusion Project (60 credits)
Free sample materials!
See how online study works and what kind of learning environment and materials you will access as an online student. Access free sample materials
Why choose this course?
Recovery is an innovative and empowering approach to working with and alongside people experiencing mental distress and illness. It is an approach that has gained great credence with service users, agencies and staff in recent years.
This fully online part-time course will provide you with the knowledge and skills to make a difference to mental health recovery and social inclusion. You will develop the skills to work directly with, develop policies and manage mental health work to aid the recovery and social inclusion of people experiencing mental distress. You will also develop an international understanding of processes and developments in the recovery and social inclusion.
This course is ideal for professionals from all mental health disciplines, service users, carers, service managers, policy makers and those who aspire to be leaders in their areas of expertise in their country.
Contact UH Online
If you have any questions about UH Online, our online distance learning courses, or the University in general, please don't hesitate to contact us.
tel +44 (0) 1707 281121
UH Online
University of Hertfordshire
First floor MacLaurin Building
4 Bishops Square
St. Albans Road West
Hatfield
AL10 9NE
United Kingdom
Graduation Day!
Get inspired and share some of the experiences our students and staff had during this course in our graduation video below!
Entry requirements...
Typically, a good first degree or equivalent, as well as having involvement in mental health services delivery.
We also welcome applications from service users, carers, or those involved in mental health services delivery that do not have a first degree. If you have missed the opportunity to become a graduate but can nonetheless demonstrate your potential to work at Master's Level, we will consider your application.
I don't have a degree, how do I demonstrate my potential to work at Master's level?
If you do not have the required academic qualifications, you will be set a written task to demonstrate your motivation, knowledge and potential to work at Masters Level. This task will demonstrate your ability to critically digest and discuss a relevant article, as well as reflect upon and articulate perceived personal challenges involved in working at Masters level. You will also need to submit a personal statement outlining your current involvement in mental health services or personal experience, as well as your motivation for studying the course.
The programme is subject to the University's Principles, Policies, Regulations and Procedures for the Admission of Students to Undergraduate and Taught Postgraduate Programmes and will take account of University policy and guidelines for assessing accredited prior certificated learning (APCL) and accredited prior experiential learning (APEL).
English language requirements
All students from non-majority English speaking countries require proof of English language proficiency. The following qualifications and grades will be considered:
GCSE English language grade A-C.
IELTS 6.5 (with no less than 6.5 in any band).
Other English language tests are accepted. Please contact the International Office for details.
If you do not have the required level of English for entry, our academic English courses can help you to achieve this level.
Careers
If you're already working in mental health services:
Progress up the career ladder: a Master's degree is becoming more of a requirement for career progression in health and social care services.
A different approach: Develop innovative practice in your workplace towards a more recovery and inclusive focus.
Innovate: Develop innovative projects relating to mental health recovery and social inclusion and skills to evaluate them.
Academia: Go into research or teaching.
For those who are service users or carers, a successful completion of the course could open the possibility of considering a career in mental health, or in mental health research.
Additionally, through learning about recovery and social inclusion you will hopefully be able to adapt approaches and understanding of your own recovery journey and the journey of loved ones. The underpinning philosophy of this course is to bring innovation and change to practice and we hope that the course will help you be able to work collaboratively with services towards this goal.
Teaching methods
Studying 100% online means you can study when and wherever you want anywhere around the globe. There are no attendance requirements, although you will be offered at least two individual online tutorials and two group tutorials, as well as regular contact with tutors. To find out more about distance learning, funding and how to apply, please visit UH Online
Course length
Structure
Year 1
Core Modules
Innovation in Mental Health Recovery Theory and Practice

- User's perspective (personal accounts) – re-authoring elements of recovery: coping, healing, wellness, thriving - Carer's perspective - Mental health professionals' perspectives - Models of health care (the disease centred model, psychiatry as an oppressive medicine discipline, aspects of users' satisfaction) - Innovations in mental health (active client participation at all stages of assistance; supporting informal social networks; peer support; shared decision making; self medication) - Medical, psychological and social contexts of helping - Concepts of empowerment and its application in practice: roles of providers, person, carers, community - Resilience: definitions; key constructs: adversity and positive adaptation - Definitions of stigmatization, and methods of counteracting stigma - The relationship between socio- economic inequalities and mental health - Employment options: social firms, supported employment, volunteering; Innovative approaches to addressing employment issues

Research in Mental Health Recovery Practice

- Key issues researched and key findings, highlighting their significance to the development of theory and practice of mental health recovery and social inclusion. - Main methodologies and methods applied in recovery and social inclusion research. Qualitative and quantitative methods in recovery research, the value of comparative research, an overview of the process and a critical appreciation of research. Longitudinal studies. Analysing textual and numerical data. - Participative approaches in research for recovery: Emancipatory research, Action Research and Participatory Action Research - User and Carer involvement in research: ethical practice, key issues in implementation, and value of this type of involvement in research -Key skills in applying research to practice and the impact of evidence based practice on eg: innovation, motivation and the recovery journey, identity change and improved functioning, effects of long term physical health conditions, impact on policy/practice/education, employment/meaningful activity, spirituality, social networking, measuring outcomes (satisfaction/clinical/social), leisure activities, housing
Optional
Year 2
Core Modules
Leadership and Collaborative Practice for Innovation

• The impact of different styles and types of leadership on service and organisational development • Collaboration in health and social care services: transformational leadership and shared decision-making within recovery-oriented services • Identifying stakeholders and developing co-production and co-ownership strategies within shared communities of interest • Issues and dilemmas in making socially inclusive services a reality: individual and organisational capabilities for socially inclusive practice • Understanding different approaches to organisational change to promote recovery, evaluating organisational change from a recovery perspective • Barriers and opportunities in shifting the balance of power: power and empowerment in new ways of working • Methods and models of service evaluation, measuring outcomes for service users. • Critically evaluate the delivery of recovery oriented intervention.

Legislation and Policy: Mental Health Recovery and Social Inclusion

- Definition, history, development and principles of recovery policy, strengths and limitations and future perspectives: general background and global perspective with an understanding of general principles and methodologies of mental health policy development and structure. Examples of the qualities of good practice and barriers to implementation. Informal and formal evaluation and involvement of stakeholders in setting vision, values, principles, areas for action and responsibilities - Mental health and recovery legislation: general background and global perspective and an understanding of general principles, formal and informal processes and methodologies of developing the nuclear content of mental health and recovery legislation. Examples and evaluation of the qualities of good practice, interaction with stakeholders and drive to a recovery oriented health system. - Principles of organisation of mental health services, funding (taxes, out-pocket, health insurances), Compulsory admission and mandated settings, legislation related to professional training,

Mental Health Recovery and Social Inclusion Project Report

This module represents an exciting opportunity for students to engage in a negotiated practice-based project that will encourage students to focus upon a practice issue of interest. Students will be encouraged to explore this in an imaginative and innovative manner which may lead to new ways of improving practice for the benefit of service-users from an individual, group or whole service perspective. The project is conceived as being primarily an academic proposal with potential to be taken further by care/service teams should they wish to either during or post development of the project. The module will call upon students to employ both their skills of research awareness and appreciation and management in adopting a rigorous approach to the project design and organisation. Whilst the project will not concern itself with personal data gathering, it will nevertheless act as an academic opportunity and vehicle for students to begin to hone their skills in engaging with potential future research activity. - Project planning skills - Time management strategies - Identifying and refining the project focus - Undertaking and constructing a literature review - Project & research evaluation - Dissemination of research & findings - Review of research approaches
Optional
Fees & funding
The government has yet to announce the upper limit of Tuition Fees for applicants wishing to study an undergraduate course in 2018/19. As soon as this information becomes available, our website will be updated and we will contact everyone who has applied to the University to advise them of their Tuition Fee.
Fees 2017
UK/EU Students
Part time: If you decide to study this course on a part time basis you will be charged £640 per 15 credits for the 2017 academic year
International Students
Part time: If you decide to study this course on a part time basis you will be charged £640 per 15 credits for the 2017 academic year
Scholarships
Find out more about scholarships for UK/EU and international students
Other financial support
Find out more about other financial support available to UK and EU students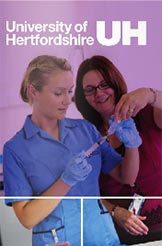 Download the Prospectus