MSc Mechanical Engineering
About the course
This programme has been developed to meet the growing need for postgraduate skills within the engineering industry, and the demand for professional development for graduate engineers. The programme integrates the mechanical engineering subjects with key generic skills in management and research methods. This approach will help to develop your critical thinking skills as a future engineering manager, or technical specialist enabling you to effectively analyse technical and management issues. The University of Hertfordshire has a worldwide reputation for excellence in applied mechanical engineering. This international reputation will give you the opportunity to study with graduates from universities worldwide. You will benefit from the expertise of guest speakers from industry where relevant and appropriate.
The programme will:
provide education and experience to support your professional employment and career development within the industry
focus on the links between engineering analysis and design and supporting management skills management
provide a blend of knowledge and application experience through case studies and project work
equip you with the theory and practice of relevant subjects, technologies and analytical tools to provide solutions for mechanical and related manufacturing problems
Why choose this course?
The School has over 50 years' experience of teaching mechanical engineering and has established an excellent international reputation in this field;
We offer extensive lab facilities for engineering students as well as the latest software packages and windtunnels;
This MSc combines mechanical engineering subjects with key management and research methods.
Entry requirements...
An honours degree (at least 2:2 or above) in aerospace or aerospace systems engineering. Other disciplines may be considered. International qualifications will be considered on the basis of their equivalence to UK qualifications, typically guided by a resource such as the National Academic Recognition Information centre (NARIC). Candidates will be required to demonstrate a suitable level of proficiency in written and spoken English. An IELTS score of 6.0 (or equivalent) would typically be required from candidates whose first language is not English. Candidates who do not satisfy these requirements will be considered on a case-by-case basis.


If you need to apply for a visa to enter the UK on acceptance to this course you will need to apply for an ATAS certificate before you are eligible to apply for UK entry clearance. Details of this requirement will be included in your offer. More information is available online.
If you do not have the required level of English for entry, our academic English courses can help you to achieve this level.
Professional Accreditations
Accredited for Chartered Engineer (CEng) status by the Institution of Engineering and Technology (IET) and by the Royal Aeronautical Society (RAeS).
Careers
This programme will help you to develop your critical thinking skills as a future engineering manager or technical specialist as it will enable you to effectively analyse technical and management issues. This blend of technical and managerial content is invaluable in job applications as well as helping to fast-track your career in the industry.
Teaching methods
The School of Engineering and Technology has a reputation for innovation in teaching and learning, where nearly all MSc modules are delivered through a combination of traditional face-to-face teaching and backup tutorial's using the University's StudyNet web based facility. StudyNet allows students to access electronic teaching and learning resources, and conduct electronic discussion's with staff and other students. A heavy emphasis is placed on theory and practice, and AADE has a policy of using industrial standard software wherever possible. AADE also operate an open access laboratory, and computer policy, that will help students complete coursework and assignments, at a scheduled pace and on time.
Structure
Year 1
Core Modules
Advanced Thermodynamics & Thermal Systems

cycles/systems. It covers the analysis of these cycles and the assessment of their performance parameters. The course also examines new developments in power and refrigeration cycles and assesses their impact on the environment. The developments of power-power and power-heat cycle/systems are introduced and their performances are investigated.

CFD Techniques

This module develops the student's knowledge of aerodynamic applications of CFD. It comprehensively reviews the governing equations of fluid flow and their area of application. The major numerical methods of solution are introduced, together with turbulence modelling. Meshing procedures are introduced, including physical measures of adequate meshing, solution adaptive meshing, multi-block and multi-grid methods.

Control of Engineering Systems

This module will extend the students understanding of how to model the dynamic behaviour of engineering systems using advanced mathematical modelling techniques and appropriate simulation software commonly used in industry. Conventional and modern methods of controller design will be used in order to modify the dynamic performance of engineering systems. Students will implement their controller designs using laboratory facilities. A particular emphasis will be placed on digital implementation of controllers using microcontrollers.

Dynamics and Performance of Mechanical Systems

This module will extend the students understanding of dynamic motion in mechanical systems using advanced mathematical modelling techniques to predict mechanical system behaviour and hence its performance. Condition monitoring / and Fault diagnosis methodologies will be used to measure mechanical system performance. Application of such techniques as used in a reliability/maintenance management strategy of mechanical systems is considered. The module will make use of simulation and laboratory facilities and in house as well as industrial based case studies.

FEA & Applications

This module aims to enable students to: (i) construct computer simulation models for a range of mechanical engineering requirements from industrial complex models to models requiring sophisticated numerical solutions using CAD surface/solid information; (ii) examine the effect of mesh density, domain size, boundary conditions, physical approximation technique, material properties and appropriate numerical schemes on the accuracy of results, using an FEA package; (iii) validate and correlate the results against benchmark solutions or analytical approximations. The students will also consider a range of modelling techniques in solving fundamental problems in mechanical engineering. A part of the module covers the advanced numerical methods within FEA method as well as the governing equations relevant to nonlinear analysis and dynamic analysis. Convergence and monitoring of solutions is considered together with post-processing issues. The students will also consider a wide range of modelling techniques for applications in mechanical engineering, including linear and nonlinear engineering problems.

MSc Project

The Masters Project is a key integrating feature of the programme. It is designed to challenge and develop critical thinking skills at a post-graduate level. It provides the student with the opportunity to bring together and apply much of what they have learnt both in their undergraduate and postgraduate studies. Potential projects are identified with the support of staff across the school covering a wide range of appropriate areas. Some will be based in industry, others based within our own laboratories. Students are supported through the delivery of an initial short course training programme designed to equip them with the necessary project management, research methodology, investigation tools and analysis skills necessary to undertake a Masters level project. They will also be allocated and supported by individual project supervisor. It is expected that the project will require 600 hours of student effort and will result in a worthwhile and practical contribution to the chosen subject area.

Operations Management

This module will cover the fundamentals and strategic aspects of operations management and will enable the students to develop their understanding of operational processes, techniques, planning and control systems. Manufacturing is considered from the raw material through manufacture of products to recycling. Students will examine case studies relating to both manufacturing and service operations to support lectures and guided learning.

Operations Research

What makes the difference between a good decision and a bad decision? A 'good' decision is one that uses analytical decision making, and is based on logic and considers all available data and possible alternatives. Engineers and managers are decision makers, thus to achieve their goals, they must understand how decisions are made and know of which decision-making tools to use. To a great extent the success or failure of human resources and management depends on the quality of their decisions. Therefore, this module determines that with the use and implementation of good operations research decision-making tools, then the process of decision making should be made easier.

Quality Reliability & Maintenance

This module explains the concepts of quality, reliability, and maintenance in a business and manufacturing environment. Students will be introduced to a range of topics including systems and reliability management and how to manage quality and maintenance in a manufacturing and operational environment. As part of this course, students will be expected to design, carry out analytical work on case studies, and utilise scenarios and simulation to support their learning.
Optional
Fees & funding
Fees 2016
UK/EU Students
Full time: £7,700 for the 2016 academic year
Part time: If you decide to study this course on a part time basis you will be charged £645 per 15 credits for the 2016 academic year
International Students
Full time: £12,500 for the 2016 academic year
Part time: If you decide to study this course on a part time basis you will be charged £995 per 15 credits for the 2016 academic year
Fees 2017
UK/EU Students
Full time: £8,150 for the 2017 academic year
Part time: If you decide to study this course on a part time basis you will be charged £645 per 15 credits for the 2017 academic year
International Students
Full time: £12,600 for the 2017 academic year
Part time: If you decide to study this course on a part time basis you will be charged £1050 per 15 credits for the 2017 academic year
*Tuition fees are charged annually. The fees quoted above are for the specified year(s) only. Fees may be higher in future years, for both new and continuing students. Please see the University's Fees and Finance Policy (and in particular the section headed "When tuition fees change"), for further information about when and by how much the University may increase its fees for future years.
View detailed information about tuition fees
Additional course-related costs
There may be some additional costs or charges associated with studying on this course. These costs or charges may be compulsory (ie you have to pay them if you are studying this course) or they may be optional (ie you don't have to pay them, but they may help you get the most out of your course).
Any such costs or charges will be outlined in the About your course factsheet that can be found on the course Overview page.
Scholarships
University of Hertfordshire Sports Scholarships
Find out more about scholarships for UK/EU and international students
Other financial support
Find out more about other financial support available to UK and EU students
Living costs / accommodation
The University of Hertfordshire offers a great choice of student accommodation, on campus or nearby in the local area, to suit every student budget.
i
Key course information
Course code

EIMASTADME

Course length

Full Time,

18 Months

Full Time,

1 Years

Part Time,

3 Years

Locations

University of Hertfordshire, Hatfield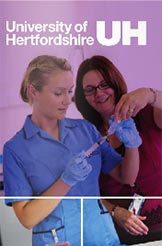 Download the Prospectus