BA (Hons) Marketing with Fashion with Optional Sandwich Placement/ Study Abroad
About the course
Access indicative course structure
Our course, accredited by the Chartered Institute of Marketing (CIM); the leading global professional body for marketers worldwide, enables you to develop key fashion and marketing skills and stay up-to-date with key trends in this fast paced sector.
This practical and contemporary course has been designed to give the best preparation for a career in marketing within the fashion industry or within the retail sector. It also provides you with the opportunity to study professional CIM qualifications and become Affiliate Members of the professional body.
Course content
The course offers a foundation in business, communications and quantitative techniques and, develops the interpersonal and employability skills necessary for succeeding at work. The study of marketing and fashion starts with basic principles in first year and develops in the second year through more specialist modules in marketing and fashion such Creative Industry Marketing, Product Innovation and Strategic Marketing Planning. The final year offers in-depth specialist study in Managing Media and Communications, Market Research and a fashion portfolio, among other options.
The programme is designed to develop you both intellectually and academically. Given Hertfordshire's successful and award-winning track record as a business-facing and enterprising University, we have designed assignments that allow you to work directly with business clients, to make videos, presentations and pitches, and to prepare detailed plans and reports.
Partnerships and opportunities
As part of our enterprise focus, we give you many options to gain work experience. You can undertake internships during the summer, engage in multiple work shadowing opportunities, and take on a yearlong placement between your second and third year. Our students completed placements with a wide variety of commercial and industrial companies, such as Walt Disney, IBM, Porsche, Toyota, BMW, Body Shop, Rent-a-car Enterprise, House of Commons, Hugo Boss.
The course is taught by a range of staff with relevant expertise and knowledge appropriate to content of the modules taught. Senior academic staff, qualified professional practitioners and researchers enhance module content with relevant up to date trends.
Many students also choose to broaden their horizons through our study abroad programme in second year with one of our partner universities in Europe, North America or Australia.
Study for a Chartered Institute of Marketing Qualification
Students taking BA Marketing with Digital Communications degrees are eligible to study for Chartered Institute of Marketing qualifications whilst at university. In the first year, students are given the opportunity to become Affiliate Members of the Chartered Institute of Marketing and study for a first CIM award. Opportunities to gain additional CIM qualifications are offered during the second and final years.
You may also be interested in the following courses: Marketing, Marketing and Advertising, Marketing with Digital Communications.
Why choose this course?
5 Reasons to Study BA(Hons) Marketing with Fashion
The course is professionally accredited by the Chartered Institute of Marketing and gives you chances to study professional qualifications.
You will get to work on live industry projects using real data and working with businesses and charities across the UK.
The course gives you the opportunities to do a work placement in SMEs or large corporations, developing key employability skills.
All students have the option to study abroad developing a global attitude towards fashion and marketing.
You will develop key marketing and communications skills at a leading international business facing University focussing on the fashion industry.
Entry requirements...
96-112 UCAS points from qualifications which include a minimum of two 4 unit qualifications (e.g. A Levels), one 8 unit qualification (e.g. Pearson BTEC Diploma) or one 12 unit qualification (e.g. Pearson BTEC Extended Diploma).
GCSE Maths and English at Grade C (Grade 4 if completed from 2017 onwards).
'All students from non-majority English speaking countries require proof of English language proficiency, equivalent to an overall IELTS score of 6 with a minimum of 5.5 in each band.
If you do not have the required IELTS or equivalent for direct entry on to your degree programme, our Pre-sessional English and International Foundation courses can help you to achieve this level.
For country specific qualifications, please visit our Your Country page.'
For more details on the University of Hertfordshire's entry requirements, please visit our Undergraduate Entry Requirements page.
N.B. We have expressed our entry requirements within a tariff range. We operate a flexible admissions policy and treat everyone as an individual. This means that we will take into consideration your educational achievements and predicted grades (if applicable) together with your applications as a whole, including work experience and personal statement, and may make an offer at any point within the stated tariff range.
Professional Accreditations
As this course is accredited by the Chartered Institute of Marketing, you have the opportunity to study for CIM professional qualifications. The course also offers value exemptions from a variety of CIM qualifications through the Graduate Gateway. The Chartered Institute of Marketing has commended Hertfordshire Business School on numerous occasions for the success of the students studying CIM qualifications alongside their course.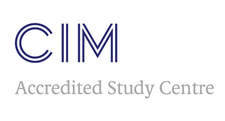 Careers
Graduates have found employment in fields such as marketing, sales, advertising, marketing agencies, market research, merchandising and B2B marketing. Our graduates can leave with key employability, enterprise and strong interpersonal skills. The average salary six months after graduating is £20,000 rising to an average of £26,000 after 40 months. 92% of BA(Hons) Marketing with Digital Communications graduates are in work or full time study after 6 months.
Teaching methods
You will be studying 4 modules in each semester and your contact time varies between modules, but usually you will have two sessions per week for each module, a one-hour lecture following by a one-hour seminar/tutorial. Typically, a new topic or theory will be introduced in each lecture and will be followed up with class discussion and feedback in the subsequent seminar. In addition, as part of your study time, you will be collaborating with your peers on tasks and group assignments. Module leaders also offer weekly drop in and feedback sessions, usually 2x1 hours per module as well as revision sessions.
The University's 'online learning environment' means you can access all your course resources, literature and timetables from anywhere in the world.
Usually, assessment is split between coursework and examinations. The style of coursework can vary from presentations to business reports, essays depending on the taught topics.
International Focus
All students have the option to study abroad in more than 30 countries across 6 continents. The course allows you the opportunity to study abroad, giving a firm grounding an internationally and globally employable marketer.
Study abroad opportunities are available worldwide and in Europe under the Erasmus+ Programme. Find out more about what Study Abroad can do for you.
Work Placement
As with all courses at Hertfordshire Business School, you can undertake a paid work placement in a UK or International business. During this time you will be employed by a business and will be subsequently paid. The Careers, Employment and Enterprise team based on the campus can help you find and tailor applications to maximise the chance of securing a relevant placement.
Structure
Level 4
Core Modules
Fashion: Introduction to Creative Processes

Credits: 15

This module provides opportunities to understand some of the processes at work within the field of fashion creation and development. It will establish the notion of the 'anthropologist' within the retail environment investigating how shops function and how/why consumers buy fashion. Projects will focus on developing research skills in relation to design and will include aspects of drawing, representation and communication; the beginnings of designing and making for specific contexts.

Fashion: Introduction to Technical and IT Skills

Credits: 15

This module is aimed at introducing students to the fundamental skills and technologies underpinning the design and making processes. Both manual skills and the use of basic technologies are employed. The module includes introductions to construction methods, fabric awareness, basic pattern cutting and development techniques. Induction to general health and safety issues, as well as specific inductions to health and safety in relation to specific workshop areas and equipment. Students undertake learning in the workshops and studio spaces, working in groups on practical activities. Students are expected to document their work as they progress through the module.

Introduction to Marketing Communications

Credits: 15

The module will introduce students to the various aspects of marketing communications tools from initial analysis of the market through to developing an expanding range of promotional techniques. The module combines an understanding of relevant marketing theories, for instance consumer and organisational buyer behavioural models, buyer behaviour; market segmentation, targeting and positioning; and marketing research, exploring the use of all elements of the promotion mix. This module will cover the main areas of advertising, personal selling, sales promotion, public relations, sponsorship and direct marketing. Attention is also given to new areas of increasing relevance such as product placement and electronic media.

Creativity, Technology and Innovation

Credits: 15

This module covers the main theoretical models of the discipline, and an understanding of the external environmental climate for products and services, and the main business processes and resources affected when businesses react to these new challenges. Appropriate international perspectives will be included. Creativity, technology and innovation are three important interrelated drivers for internal and external marketing strategy. Marketers are increasingly being challenged to manage these assets, and driver changes in business processes and resource skills. How can marketers utilise these assets to create, develop and deliver customer valued products and services? How will this reconcile with the corporate imperative to make profits? Externally, how does the consumer and customer react to these new technologies? Will patterns of business and markets change as a consequence of these sometimes discontinuous innovations? Creativity in the products and marketplaces produce their own unique challenges, do they represent opportunities or threats to market leadership?

Marketing Data Analysis

Credits: 15

The module will introduce students to a variety of data analysis techniques for marketing. Using these techniques, students will be guided into formulating and solving models of business problems, using marketing data sets where possible. Students will learn to interpret the solutions. Students will be introduced to and encouraged to use spreadsheet and statistical software. The main topics studied include: investment appraisal; summary statistics; probability distributions for marketing; correlation and linear regression; forecasting techniques for time series; and project management.

Professional Development for Marketers

Credits: 30

The module provides students with: 1) A series of academic skills and study strategies which will underpin their subsequent studies. This part of the module is composed of several themes which will include research and enquiry, referencing, written communication and oral communication. 2) A series of practical business skills that will assist them in becoming effective marketing professionals.

Principles of Marketing (CIM)

Credits: 15

The module aims to introduce students to some of the key ideas of marketing and is suitable for both marketing and non-marketing students. It examines the environment within which organisations operate and the role of marketing within the organisation so that students can understand the context within which marketing personnel work, and the different activities which are carried out under the umbrella term of 'marketing'. Concepts central to an understanding of marketing are considered - segmentation; targeting and positioning; the product life cycle; the 4Ps; buyer behaviour, etc. The module also provides some insight into the practicalities of developing internal and external relationships, including consideration of networking, collaboration and co-operation in order to reduce the potential for conflict.
Optional
Level 5
Core Modules
Fashion: Understanding Market and Trends

Credits: 15

This module is focused on the 'realworld' industrial and commercial context of fashion and clothing. The content is based on selected topics from contemporary industry practices and problems, and examines the various stages from design to production as an interactive process in order for students to begin to relate their work to aspects of this economic sector. The content will be drawn from the stages of design development, business practices, manufacturing and retailing from the UK, Europe and internationally. The focus will include examining case studies from contemporary fashion and clothing businesses. Aspects of career choice and employability matters inform the curriculum for this module. Teaching and learning will take the form of lectures and seminars to which students are expected to contribute. Visits to appropriate external venues and external contributors representing different sectors will be included as part of the module.

Fashion: Developing Design for Production

Credits: 15

In this module students are asked to research 'what are people wearing in the high street and why?'. It provides opportunities for in-depth customer analysis, team work and the eventual design of a garment. In addition, the use of practical skills and technologies are an important part of this module to ensure that technical competence continues to develop.

Marketing for the Creative and Cultural Industries

Credits: 15

This module focuses on the role and application of marketing theories and techniques to the arts, both in the profit and non-profit sectors. It focuses on the arts marketing environment, reflecting on well known marketing concepts, and develops themes such as celebrities, social arts marketing, multi-culturalism, controversy and ethics.

Enterprise

Credits: 15

In this module, students study the nature of enterprise and entrepreneurship, its importance to society and the individual personal opportunities that developing enterprise skills provides. Students will also work in a team to identify a new business opportunity and take this idea through the full business planning cycle, ending in a formal presentation of their proposed enterprise. Topics covered will normally include: - Concepts of enterprise and entrepreneurship - The economic impacts of enterprise - Insights into developing new ideas - Construction of business plans - Sources of advice and support schemes - Net working

Enhancing Employability in Marketing

Credits: 15

The module will enable students to research employment issues and opportunities and in marketing and to develop an action plan to help them secure eventual employment. It will also help students to continue to develop their employability skills. Module content will include: - The changing nature of the workplace and employer needs - Job search and career planning - Personal development planning - Recruitment and selection processes including the use of selection centres - Contemporary issues affecting employability within marketing Students will identify a potential career area, research relevant employment issues and analyse specific opportunities available in this field, before carrying out appropriate personal analysis leading to the formalisation of a career action plan.

Strategic Marketing Planning

Credits: 15

This module will introduce students to the underlying philosophy of marketing planning and the significance of the planning phase in order to give an overall perspective of what planning aims to achieve. It will introduce a range of tools and techniques for use when developing marketing audits and plans and test students' ability to synthesise and apply these.

Product Innovation (International)

Credits: 15

Developing new products and services on a continuous basis is essential for organisational survival and for organisations to sustain a competitive position. Innovation is also essential for the continued growth and success of economies throughout the world. In addition to allowing companies to say competitive, new product and service ideas are driven by creativity, human needs, and by opportunities that arise from other developments such as new technologies or changes in the macro environment. Entrepreneurs and social innovators have the knowledge and skills to act on these opportunities and to provide effective, useful and profitable products or services that fill needs and solve problems, however, a number of considerations must be taken into account to allow for successful commercialisation. Attention will be given to the NPD (new product development) process of large, medium and small businesses who are planning to enter international markets at the individual country, regional and/or global levels.

Understanding Customers

Credits: 15

The understanding of consumers and their buyer behaviour will enable students to have a greater understanding of targeting customer group, product and brand positioning for the development of new product ranges, target marketing and tailored communication strategies. This module will arm students seeking to gain a career in market analysis, customer analysis , advertising and marketing communications.
Optional
Level 6
Core Modules
Fashion: Professional Portfolio (MKTG)

Credits: 30

This module provides students with the opportunity to produce a consolidated body of work, based on personal strengths and interests. The portfolio of work will demonstrate the students abilities within a chosen area in the field of fashion and an informed understanding of the professional context for their work. This module represents the culmination of the students experience.

Managing Media and Communications

Credits: 30

This module is offered to specialist marketing students. It aims to provide a critical understanding of the theory underpinning marketing communications. The theory reviewed includes communications theory, buyer behaviour theory as well as integrated marketing communications theory. The module considers how marketing communication works, taking into account various contexts including the global context. Organisations are considered in detail in terms of their inter-relationship with various stakeholders.

Market and Social Research

Credits: 30

This module is designed to provide students with a good understanding of research theory and practice, from the perspective of marketing management. We will look at the development, nature, scope and organisation of research. Identifying and refining problems, formulating objectives (organising hypothesis testing) and setting decision criteria will provide the key to integration in the learning experience process. We will explore the fundamentals of sampling and sample design. Survey, experimental design and methods of data collection (questionnaire design, face-to-face interviews, postal questionnaires, telephone interviewing, focus groups) will follow. The research interview, comprising the role, selection, training and supervision of interviewers, is examined in depth; as are the principles and practice of qualitative research. We also look at how market researchers construct market segmentation models (demographic, lifestyle, psychological categories, geodemographics, etc) and, finally, we will assess differences that exist between consumer and industrial markets, and between different sized businesses.

Placement Portfolio

Credits: 0

This activity is self-directed by the student and carries no credits. Students will be supported by the Placement Visit Co-ordinator, The Placement Experience Module Leader, an Academic Mentor and the Centre for Academic Skills Enhancement (CASE). Successful completion of the placement leads to the award suffix 'Sandwich' on students' degree title. Students who have been on placement are also eligible to apply for LCGI from City & Guilds, and should contact the Placement Experience Module Leader for more information on this.

Contemporary Issues in Marketing

Credits: 15

Selected contemporary issues in marketing will be explored from a critical perspective. Students will look at the research methods are used to explore marketing topics and concepts and investigate how different researchers have presented themes in marketing and the arguments they have made.

HBS Placement

Credits: 0

This activity is self-directed by the student and carries no credits. Students will be supported by the Professional Experience Module Leader, Professional Experience Visit Co-ordinator, an Academic Mentor and the Centre for Academic Skills Enhancement (CASE). Successful completion of the Professional Experience Module leads to the appropriate suffix on students' degree title stated on the programme specifications.
Optional
Industrial Placement Sem B only

Credits: 0

Industrial Placement Year

Credits: 0

Placement Study Abroad (South East Asia)

Credits: 0

The student will complete a period of study abroad at a partner institution following an appropriate programme of study, set out in a learning agreement, agreed by the student, the programme tutor at Hertfordshire and the international office at the partner institution. The programme of study in a placement year is less prescribed and can both reflect the interests of the student in their discipline area or to broaden their education.

Placement Study Abroad (North America)

Credits: 0

Placement Study Abroad (Australia)

Credits: 0

Placement Study Abroad A (Europe)

Credits: 0

Placement Study Abroad B (Europe)

Credits: 0

Placement Study Abroad (Europe)

Credits: 0

Industrial Placement (Semester A)

Credits: 0

Strategic Brand Management

Credits: 15

This module explores in-depth the concepts of the strategic brand management process and underpinning theories. Content will include international perspectives where appropriate. Students may work in groups to critically analyse elements of brand building, positioning - designing and implementing brand strategies. Students will be required to evaluate their choices and decisions. Students will be guided in workshops in groups throughout the module. They will acquire the necessary skills to research marketing data and to use this information to understand how the strategic brand management process is formulated, planned and executed.

Industry Practice in Marketing

Credits: 15

In this module students will assess, develop and evaluate their employability skills through work-based learning. Students will use the professional framework relevant to their specialism to demonstrate competencies. Through their work, students will have opportunities to apply and critically evaluate academic theories and current business school research. Work-based learning opportunities include: placement, part-time work, internship, project work, involvement in research or volunteering.
Fees & funding
The government has yet to announce the upper limit of Tuition Fees for applicants wishing to study an undergraduate course in 2018/19. As soon as this information becomes available, our website will be updated and we will contact everyone who has applied to the University to advise them of their Tuition Fee.
Fees 2017
UK/EU Students
Full time: £9,250 for the 2017 academic year
International Students
Full time: £11,350 for the 2017 academic year
Fees 2018
UK/EU Students
Full time: £9,250 for the 2018 academic year
International Students
Full time: £11,950 for the 2018 academic year
*Tuition fees are charged annually. The fees quoted above are for the specified year(s) only. Fees may be higher in future years, for both new and continuing students. Please see the University's Fees and Finance Policy (and in particular the section headed "When tuition fees change"), for further information about when and by how much the University may increase its fees for future years.
View detailed information about tuition fees
Other financial support
Find out more about other financial support available to UK and EU students
Living costs / accommodation
The University of Hertfordshire offers a great choice of student accommodation, on campus or nearby in the local area, to suit every student budget.