MSc Management
About the course
This course is designed to meet the growing demands of businesses for graduates who possess rigorously developed personal, as well as business skills. It aims to produce graduates who are ready for employment in a management role.
The course is open to graduates of any academic discipline, and also to non-graduates who have appropriate work experience and hold a sub-degree or professional qualification.
Modules cover the basics of marketing, project management, accounting, and people management, amongst other key areas. This breadth gives you highly transferable skills, relevant to most work environments, which will enable you to become an effective employee or a future entrepreneur.
Why choose this course?
Work in a Business School with a rich academic culture, taught by staff from a range of management professions
Enjoy a supportive, engaging and diverse environment
Gain a broad qualification that can prepare you for a diverse range of careers
Flexible part-time study options allow you to fit the course around your existing commitments.
Who should choose this course?
If you are a new graduate looking for a broad management qualification
Or you already have significant work experience (min. five years) but do not have a formal qualification
You want to study part-time in a flexible way that suits your needs.
Entry requirements...
An honours degree (at least 2:2 or above) in any discipline, a degree equivalent professional qualification or appropriate work experience combined with a relevant qualification.
If you have a Diploma in Management Studies (DMS) or PgD in Management from the University, gained within the last five years, you will be able to complete our MSc by attending the research methods sessions and completing a dissertation.
All students from non-majority English speaking countries require proof of English language proficiency. The following qualifications and grades will be considered:
- GCSE English language grade A-C
- IELTS 6.5 (with no less than 5.5 in any band)
Other English language tests are accepted. Please contact the International Office for details.
If you do not have the required level of English for entry, our academic English courses can help you to achieve this level.
Careers
The breadth of this course means that graduates are in an excellent position to succeed in any chosen sector or industry.
You will develop a sound understanding of business/organisational contexts and issues, enabling you to make an early and significant contribution to your current or future employers.
Skills developed
Problem solving skills are explored, developed and enhanced across the programme, and you will have the opportunity to be a creative, imaginative and independent learner from the start – essential in the modern business world.
The programme also aims to strengthen your critical thinking and communication skills. This enables you to become more creative and innovative, and able to identify, analyse and manage business issues and problems to produce viable solutions and/or recommendations.
Our emphasis on the course is to prepare you for a career in business and management where knowledge of a range of disciplines (business functions) is imperative. In addition the range of professional, individual, and transferable skills necessary for a successful career in management form a key component of the programme and its design.
The MSc Management offers students an academically rigorous experience, providing you with knowledge of a wide range of business functions essential for future career success. However, the course also has a strong practical orientation designed to develop your personal and management skills.
Teaching methods
We offer a varied programme of teaching that includes facilitated seminars, practical workshops, web-based learning, case study analysis and traditional lectures. We also provide sessions by visiting staff, practitioners and consultants to give a varied perspective of the topics covered.
You will be assessed through a variety of coursework including presentations, reports and projects. You will also be required to complete a dissertation and will be supported by a dissertation supervisor.
There are 8 taught modules and a dissertation.
Postgraduate Certificate and Diplomas
You can also choose to complete the programme in stages, and achieve recognised individual qualifications at each level.
Full-time participants who register for the Postgraduate Certificate (PgCert) in Management will complete their studies after the first four modules; successful completion of a further four modules awards a Postgraduate Diploma (PgDip) in Management; and then completion of dissertation leads to the MSc Management.
There is no obligation to continue to the next award, and equally you may apply to do the PgCert or PgDip then, on successful completion of this award, decide to continue on to the PgDip or MSc.
Studying part time
If you choose to study part-time, you can complete the modules in any order to fit around your existing work commitments and to suit any appropriate work projects.
On the basis of two years of study, you would complete two modules each semester finishing with the Management Research Project or Dissertation. However, longer study modes are available and can be individually designed in discussion with the Programme Tutor.
Structure
Year 1
Core Modules
Competing Through Marketing B

This module will equip students with the key concepts and techniques that will enable them to engage in any sector of business; profitable, entrepreneurial or not for profit. Marketing is a core business function and all those who embrace the challenges of business can benefit by undertaking this module. Students will access marketing contributes to the growth of large organisations as well as small to medium business enterprises, and develop an ability to use marketing tools to support creative and innovative approaches to solving business problems. Lectures will use videos and case studies to give students the opportunity to debate and discuss contemporary issues that drive the world of business from a marketer's perspective. Most sessions will be led by academics with real world experience in marketing in various industry sectors, and there may be additional guest lectures by practitioners from different sectors to extend the student learning experience. Lectures will normally be workshop-based.

Managing Information

Many large organisations from Tesco to the NHS rely upon their information systems to improve their strategies and operations. Information systems can be considered as the nervous system of an organisation, allowing it to recognise and manipulate internal and external data to provide information, for the control and enhancement of business strategies. So today's information systems can be used to gain greater knowledge of the environment, enhance customer relations, control the supply chain and thus gain competitive advantage. You will learn about the role and function of information in the decision and communication processes of an organisation. You will also develop an understanding of the role of information systems within the organisation, and an appreciation of issues in relation to information systems strategy.

Research Skills for Management

This module will cover a range of research issues relating to a range of functional areas of management in support of the preparation of a research proposal which will form the foundation for the development of a research project or dissertation to complete the MSc Management Programme. Areas that will be covered will include: identifying appropriate research topics, setting out research objectives, evaluating the literature, drafting a research methodology and conceptual framework, examining a range of theories and theorising their selected topic. This module gives the students the knowledge and skills to begin developing as researchers and, with this in mind, the module will have both a learning and a teaching focus.

The Management Environment

A module examining the impact of the external environment on the management of organisations, set in an international context. The module will commence with an examination of the historical, cultural, social, and economic influences on organisations in countries. Then the module will move to see how these influences manifest themselves in formal accounting and regulation of organisations. Finally the module will make a critical analysis of the key factors to bring about change and improvement.
Optional
Fees & funding
Fees 2016
UK/EU Students
Full time: £6,100 for the 2016 academic year
Part time: If you decide to study this course on a part time basis you will be charged £510 per 15 credits for the 2016 academic year
International Students
Full time: £12,000 for the 2016 academic year
Part time: If you decide to study this course on a part time basis you will be charged £945 per 15 credits for the 2016 academic year
Fees 2017
UK/EU Students
Full time: £6,450 for the 2017 academic year
Part time: If you decide to study this course on a part time basis you will be charged £510 per 15 credits for the 2017 academic year
International Students
Full time: £12,100 for the 2017 academic year
Part time: If you decide to study this course on a part time basis you will be charged £1010 per 15 credits for the 2017 academic year
*Tuition fees are charged annually. The fees quoted above are for the specified year(s) only. Fees may be higher in future years, for both new and continuing students. Please see the University's Fees and Finance Policy (and in particular the section headed "When tuition fees change"), for further information about when and by how much the University may increase its fees for future years.
View detailed information about tuition fees
Additional course-related costs
There may be some additional costs or charges associated with studying on this course. These costs or charges may be compulsory (ie you have to pay them if you are studying this course) or they may be optional (ie you don't have to pay them, but they may help you get the most out of your course).
Any such costs or charges will be outlined in the About your course factsheet that can be found on the course Overview page.
Other financial support
Find out more about other financial support available to UK and EU students
Living costs / accommodation
The University of Hertfordshire offers a great choice of student accommodation, on campus or nearby in the local area, to suit every student budget.
i
Key course information
Course code

BSMGMT

Course length

Full Time,

1 Years

Part Time,

3 Years

Flexible Route (Part Time),

3 Years

Locations

University of Hertfordshire, Hatfield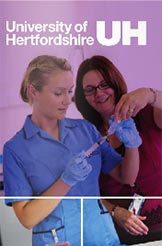 Download the Prospectus