MSc International Business
About the course
At the University of Hertfordshire, we've created an innovative Master's in international business, designed to help you build a strong understanding of the way organisations operate globally and help you develop the skills for a hugely rewarding career.
You can now combine this internationally focussed Master's with a year long placement in industry. An attainment of 60% is required from students if they wish to undertake a placement during the course.
Based just 20 minutes from one of the world's most dynamic global cities, the Hertfordshire campus is a vibrant, supportive study environment, where you'll learn from leading industry experts and acclaimed academics, developing a detailed understanding of global practices and trends.
You'll explore international business from a number of perspectives, including economics, finance, strategy, supply chain, management, marketing across cultures and research methods. There's also the opportunity to choose optional modules to tailor your Master's studies, as well as to conduct a piece of individual postgraduate research, creating a dissertation or business plan.
Throughout your time at Hertfordshire, you'll also develop specialist skills that enable you to work effectively across national borders. These include communication, numeracy, graphics, multicultural team-working, reflective learning and the ability to critically analyse complex business challenges to reach considered creative solutions. You'll also build a strong awareness of cultural, socio-economic and political differences.
This is a life-changing Master's, dramatically developing your skills, understanding and confidence. You'll graduate as a more mature professional, better able to cope with stress and change, more sensitive to cultural differences, more capable of operating in a fast-moving global environment, and more able to see opportunities where others only see threats.
You'll have a unique combination of skills sought after by employers all over the world, as well as a strong network of international contacts – some will become your close friends and a few may even become your future business partners.
Partnerships and opportunities
While the majority of our postgraduate students begin this Master's with a degree or experience in business or management, this isn't essential. We welcome students without a business background who want to move their career in this direction. We also offer a choice of starting dates and course lengths, so you can shape your studies to suit you.
You'll be joined here in Hertfordshire by postgraduate students from our partner institutions in Vancouver and Los Angeles, who spend part of their courses studying with us. This is a great opportunity to draw on experiences and perspectives from other parts of the world and creates a vibrant student community, as well as a network of contacts overseas.
The research element of this postgraduate course gives you the opportunity to explore any aspect of global business that particularly interests you. You'll write a dissertation, business report or business plan and many students find this helps them to focus their ambitions and begin to carve out a specific career path.
Why choose this course?
Develop the valuable skills and in-depth knowledge you need for a successful international business career.
Learn from leading academics and industry experts in the University of Hertfordshire's fantastic learning environment.
Study alongside postgraduate students from around the world, developing a truly international perspective on today's corporate challenges.
Tailor your Master's to suit you, with a range of optional modules, start dates and course lengths.
Build a global network of contacts, creating friendships, collaborations and potential career opportunities.
Entry requirements...
An honours degree (at least 2:2 or equivalent) in any discipline, a degree equivalent professional qualification or appropriate work experience.
All students from non-majority English speaking countries require proof of English language proficiency. The following qualifications and grades will be considered:
- GCSE English language grade A-C
- IELTS 6.5 (with no less than 5.5 in any band)
Other English language tests are accepted. Please contact the International Office for details.
If you do not have the required level of English for entry, our academic English courses can help you to achieve this level.
Key staff
Dr Keith Salmon

Find out more about Dr Keith Salmon
Dr Peter Fraser
Senior Lecturer and module leader for Managing a Small Business

Ms Siegrid Beck
Research Coordinator

Careers
Every aspect of this Master's is designed to give you an international experience. You'll benefit from our academic team's international expertise and connections, as well as the School's excellent global business links. You'll also study alongside postgraduate students from all over the world, gaining direct experience of other cultures and creating a worldwide network of friends and contacts.
The University of Hertfordshire also regularly hosts visiting professors from international universities and speakers from leading companies, who each bring their own perspectives on the challenges facing the business world today.
Teaching methods
We offer a varied programme of teaching and learning that includes small group discussions, practical workshops, web-based learning, case study analysis and lectures. We also provide sessions by visiting staff, practitioners and consultants to give a varied perspective on the topics covered.
You will be assessed through a variety of coursework including written reports of various lengths, presentations and practical assignments. You will also be required to complete a longer research document, in conjunction with a supervisor, for the research component of your programme.
Work Placement
As part of our MSc International Business, you'll have the opportunity to undertake a one-year placement. This will develop your practical understanding of business and allow you to take academic theory and combine it with practical skills.
Our academics draw on a wealth of real-world, hands-on experiences in organisations of all sizes, in all kinds of sectors. They also effectively use case studies to explore the challenges companies face, the approaches they take and the results they achieve.
Structure
Level 7
Core Modules
International Business Strategy

Credits: 15

This module explores the challenges faced by international firms in building and sustaining competitive advantage within a complex, uncertain and rapidly changing global business environment. It will use a range of theoretical tools and concepts to explore the meaning of both quantitative and qualitative case study evidence. Students will examine how and why firms develop a range of strategic approaches to international business challenges, balancing a consideration of internal organisational influences and stakeholder pressures against an evaluation of the impact of competitive rivalry and broader environmental forces. A range of theoretical perspectives and debates will highlight the conflicting tensions felt by managers engaged in the international business strategy process, particularly the tension between demands to be responsive to national differences and economic pressures while also becoming more efficient and globally integrated. Students will generate and critically assess a range of strategic options available to managers in specific case situations.

International Supply Chain Management

Credits: 15

This module offers students the chance to study this new and exciting area of business and management. The focus is on the theory and practice of international supply chain management in the context of organisations. Topics to be covered include: logistics, supply chain strategy, performance and structure of supply chains; purchasing considerations in supply chain management; supplier relationships; managing quality; matching supply and demand and the concept of lead-time in the supply chain; inventory control, sourcing and managing suppliers; buying considerations; the role of e-business in the supply chain; risk management in supply chains, supply chain integration, and future challenges of supply chain management. The module will introduce the students to the main methods and techniques commonly used in the management of international supply chains. These include techniques such as simulation, forecasting, optimisation, distribution, network analysis, and so on.

Managing in International Business

Credits: 15

The module explores a range of management attributes and skills, and their application to people, projects and business management in a multicultural and international business context. Management theory, models and styles are analysed, including their impact on individual and team performance. Key concepts of leadership, management, teambuilding, group behaviour, communication, feedback, power and conflict are explored and presentation, communication, critical thinking and self-assessment skills are developed. The content of the module may include: 1. Leadership and Management theory in an international context 2. Roles and Styles of an International Business Manager 3. Communication and Negotiation across cultures 4. Networking skills 5. International Team Management 6. Giving and Receiving Feedback 7. Conflict and Co-operation 8. Power; Individualism; Group Orientation 9. Stress and Work/Life balance 10. Practical self-development and self-diagnostic tools, including an understanding of continuing professional development.
Optional
Managing a Small Business

Credits: 15

This module addresses the small business and its management. Students will consider the entrepreneur; their nature and motivation, and the character of the small business environment. What are small businesses and how can survival and growth be addressed? The wide range of issues to be considered will include: consideration of opportunities and sources of new ideas; examination of legal forms available, including assessment of management buy-outs and the purchase of established businesses. We will consider finance including estimation of costs, and sources of finance such as banks, equity financing and other sources of finance; and move on to consider construction of business plans; failure and its causes; and sources of advice. We will also look at some of the broader themes such as family business and its importance; and examine aspects of marketing of special relevance to small business such as networking, word of mouth, and personal selling.

International and Comparative Human Resource Management A

Credits: 15

This module is designed to provide an in-depth and theoretically informed exposition of the human resource complexities in managing across borders as a primary strategic concern of multinational corporations (MNCs). It is organised around international and comparative themes on an integrated basis as follows: - International: insights are provided into the challenges of managing staff in home and host localities, including the selection, training and rewarding of expatriates. - Comparative: awareness will be stimulated of the diverse institutional and cultural environments providing the host destinations for MNCs, including North America, 'Western' and 'Eastern' Europe, Japan, China and a selection of emerging/developing countries.

Global e-Business

Credits: 15

This content is illustrative and may be changed. - Development of e-commerce components - E-commerce as part of the total company profile - E-commerce marketing - Internal and external effects of e-commerce - International methods of e-commerce - Strategic advantage through e-commerce - Payment Systems - Privacy and Security

Business Plan

Credits: 60

The process of preparing a business plan requires some formal introduction/refreshment to the theories and practices of project management, social research, and business start-up and development. Students must attend the Research Methods module, which will provide this essential underpinning for the different sections and key areas to be developed as part of the business plan. Each student will be allocated an individual supervisor who will brainstorm the proposed business idea with the student and guide him/her through the viability of the project, the process of research, the development of the business plan and the consideration of appropriate and managerially-significant conclusions and recommendations. The completed work will comprise approximately 12,500 words and will demonstrate a rounded expertise in all the module areas within the MSc International Business.

International Business Report

Credits: 60

The International Business Report is an independent piece of work incorporating research, study and evaluation. It is the culmination of a successful Masters programme. It is underpinned by the taught module Business Research Methods, by research support material available on-line through the Centre for Academic Skills Enhancement (CASE), by introductory workshops and by the other taught modules on the programme. Each student will be allocated a report supervisor. The International Business Report may focus on any aspect of international business justified as relevant for research. It will adopt a similar structure to that of a dissertation but will have a more applied orientation and a less broad literature review
Fees & funding
The government has yet to announce the upper limit of Tuition Fees for applicants wishing to study an undergraduate course in 2018/19. As soon as this information becomes available, our website will be updated and we will contact everyone who has applied to the University to advise them of their Tuition Fee.
Fees 2017
UK/EU Students
Full time: £6,450 for the 2017 academic year
Part time: If you decide to study this course on a part time basis you will be charged £540 per 15 credits for the 2017 academic year
International Students
Full time: £12,100 for the 2017 academic year
Part time: If you decide to study this course on a part time basis you will be charged £1010 per 15 credits for the 2017 academic year
Fees 2018
UK/EU Students
Full time: £8,000 for the 2018 academic year
Part time: If you decide to study this course on a part time basis you will be charged £665 per 15 credits for the 2018 academic year
International Students
Full time: £12,500 for the 2018 academic year
Part time: If you decide to study this course on a part time basis you will be charged £1040 per 15 credits for the 2018 academic year
*Tuition fees are charged annually. The fees quoted above are for the specified year(s) only. Fees may be higher in future years, for both new and continuing students. Please see the University's Fees and Finance Policy (and in particular the section headed "When tuition fees change"), for further information about when and by how much the University may increase its fees for future years.
View detailed information about tuition fees
Other financial support
Find out more about other financial support available to UK and EU students
Living costs / accommodation
The University of Hertfordshire offers a great choice of student accommodation, on campus or nearby in the local area, to suit every student budget.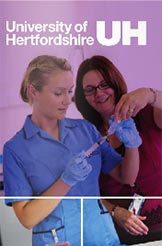 Download the Prospectus