MSc Global Business (Multiple Locations)
About the course
The MSc Global Business is due to be revised at a Periodic Review event in early 2016. We anticipate enhancements made to the programme as a result of this. Therefore our website will be updated within 28 days of the successful completion of the Periodic Review, in order to provide applicants with further, confirmed details on the following:
Module titles
Whether modules are core or optional
Expected contact hours
How the programme will be assessed"
Please note that fees for International applicants will be outlined in their offer email.
This one year programme spans three trimesters:
In the first trimester (October to January) you will study five subjects either at Hertfordshire or at one of the partner institutions (click here to view table):
Global Strategic Analysis
International Finance
International Human Resource Management
Global Marketing Strategies
and International Law
In the second trimester (February to May), if you have taken the first trimester at Hertfordshire, you can choose a partner institution to undertake your second trimester and specialise in (click here to view table):
International Logistics and Supply Chain Management (Bremen, Germany)
Transitional Economies & Emerging Markets (Moscow, Russia)
International Business Development & Consulting (Paris, France)
International Finance and Investments (Wilmington, USA)
International Marketing (Valencia, Spain)
If you have studied at a partner institution in the first trimester you can take the second trimester at Hertfordshire where the specialisation is in Human Resource Management.
You will complete your studies with a dissertation in the third trimester (June to September), taken normally at the institution in which you followed the specialisation.
Note: The degree will be taught wholly in English at all of the IBSA partners.
The International Human Resource Management specialism
The International Human Resource Management specialism is in the second trimester and consists of four modules:
Organisational Behaviour, Theory and Practice
Comparative Employment Relations
Cross Cultural Management
Strategic Human Resource Management
Module aims
Organisational Behaviour Theory and Practice
The aims of the module are to:
study a range of theoretical perspectives on organisations
consider the organisational context of behaviour with reference to both the main and alternative perspectives
consider the roles of the actors both within and outside the organisation
consider the role of relationships between the actors within the organisational context
Comparative Employment Relations
The module aims to enable students to critically explore employment relations from an international perspective, analysing the complex employment relations policies, strategies and practices that organisations pursue in the context of globalisation.
Managing Across Cultures
The module enables students to:
comprehend global and national contexts for the conduct of international business
gain insight into the strategies of multinational corporations
formulate policies and practices for the management of people across international boundaries and in multinational corporations
Strategic Human Resource Management
The aims of this module are to:
advance their understanding of the changing context of management
develop a range of intellectual, social and practical skills required to undertake managerial work in this context
You will also get the opportunity to attend a number of HR talks and research seminars given by a variety of speakers.
Input is also given on research methodology and the dissertation/thesis requirements are introduced.
A dissertation/thesis on an HR-related topic is undertaken in the third trimester.
Aims of the programme
The programme aims to develop the distinctive competences required for you to operate as managers in a global business environment.
These competences include a sound knowledge of finance, marketing and human resource management. In addition a range of communication, IT and problem-solving skills are also developed.
It is equally important, however, that you should develop the cultural sensitivities that will enable you to operate in different countries and in multicultural and multinational environments.
It is intrinsic to the philosophy of the programme that such sensitivities can only be fully acquired and developed through the experience of living and working in cultural settings other than that of your country of origin, hence the insistence on this programme that half of the study should be in an overseas partner institution. In addition, consideration of cross-cultural issues and different ethical viewpoints are built into the programme.
At the end of the programme you will be a different person; more mature and better able to cope with stress and change, more sensitive towards cultural differences, more capable of operating in a fast moving, multinational environment. You will have a unique combination of skills that employers will value.
In addition, you will have a network of contacts across the world, some of whom will become your close friends, a few of whom may even be your future business partners.
Why choose this course?
This one year programme offers you the opportunity to gain two Master's degrees within the international business field, validated by two universities - the University of Hertfordshire in the UK and one of our partners in the International Business School Alliance (IBSA) in Europe or the USA.
You will develop the business skills and cultural awareness required for success as a manager in a multinational environment, and have the opportunity to build a global network of business contacts.
When applying to study at the University of Hertfordshire, please specify which one of the following specialisms you wish to study in your personal statement. If you are undecided, you may inform us during your induction in September. However, as the number of places on each specialism is limited, delaying your decision may mean that we will be unable to offer you your first choice.
Hochschule Bremen, Germany: International Logistics and Supply Chain Management (MBA)
Institute of Business Studies, Moscow, Russia: Transitional Economies & Emerging Markets (MSc)
Novancia Business School Paris, France: International Business Development & Consulting (MSc)
University of North Carolina Wilmington, USA: International Finance and Investments (MBA)
University of Valencia, Spain: International Marketing (International MBA)
Entry requirements...
A good honours degree (2.2) in a business or related discipline. Demonstrated English proficiency at an IELTS score of 6.5 or equivalent.
All students from non-majority English speaking countries require proof of English language proficiency. The following qualifications and grades will be considered:
- GCSE English language grade A-C
- IELTS 6.5 (with no less than 5.5 in any band)
Other English language tests are accepted. Please contact the International Office for details.
If you do not have the required level of English for entry, our academic English courses can help you to achieve this level.
In order to participate actively and effectively in the IBSA Program, students must have a sound basis of knowledge in business and economics at the undergraduate level. They must therefore hold at least a second lower class degree relevant (or cognate) to business management (e.g., bachelor's degrees in business, economics, accounting, finance or management). If they have another bachelor's degree, it is necessary to give proof of participation in several business classes and/or provide proof of additional relevant skills or professional experience.
Teaching methods
We offer a variety of teaching methods that include traditional lectures, facilitated seminars, practical workshops, web-based learning and case studies. We also deliver sessions with visiting academics, practitioners and consultants to give a varied perspective of the topics covered, as well as a number of external visits.
You will be assessed through examinations, coursework, presentations, reports and research projects
Structure
Year 1
Core Modules
Dissertation: International Business

Postgraduate Online Research Methods

This module prepares the students for an individual research dissertation in their chosen field. The aim of the dissertation is to provide the opportunity for students to develop and apply postgraduate level skills of independent research, analysis, evaluation, writing and presentation; and to deepen students' knowledge and understanding of a specific subject and its location within their academic discipline as a whole.

Strategic Human Resource Management A

This module aims to provide students with a critical understanding of the key issues and debates in Strategic Human Resource management and an appreciation of the importance of managing people strategically. Different approaches to strategy and strategy making are introduced and the HR implications considered. The history and origins of Strategic HRM are explored as well as the forces shaping SHRM at work. The main theoretical models are considered as well as their application in practice, and the contribution of SHRM to organisational performance evaluated. Key themes, emergent issues and tensions are reviewed. Managing people strategically is considered in relation to employee resourcing, performance and reward, development and relations.
Optional
Leadership and Management Development A

This module explores how leadership & management development can contribute to organisational effectiveness and the drive for high performance. We will explore the key stakeholders and other factors that can affect successful implementation of leadership & management development progress. Students analyse and interpret how success can be measured, including assessment of a range of measures of success including staff satisfaction, customer satisfaction and profitability; and the links between these factors. We will analyse how organisational change affects the roles and development needs of managers; and critically evaluate how leadership & management development can be integrated with other management approaches to contribute to the successful implementation of organisational change programmes.

Managing Across Cultures

This module is designed to provide an in-depth and theoretically informed consideration of the complexities of managing across cultures within the context of people management practices. The module explores the link between national, regional, industry and organisational cultures. It draw s upon cultural theorists in order to explore cultural dimensions related to time, space and change; cross-cultural communication; co-operation in multicultural teams. It allow s for an exploration and understanding of how cultural differences are, and can be, addressed by individuals involved in managing across cultures. The module also enables students to develop a range of skills to perform effectively in a cross-cultural team setting.

People Resourcing A

The module aims to develop a critical knowledge and understanding of key people resourcing and talent management strategies within the wider national and international employment market. It covers attraction, selection and retention of employees and the alternative interventions that can be utilised to suit the needs of the business. Current resourcing issues such as flexibility, employee engagement, work life balance and the debate about outsourcing and off shoring are key elements of the module. Contemporary HR developments in the field of resourcing and talent management will be the basis of much of the debate within the module. The module also enables students to develop a range of skills to perform effectively in a professional resourcing or line managerial role and to provide opportunities for related continuous personal and professional development.

Remuneration Strategy and Practice A

This module aims to provide students with the know ledge and understanding of how relevant remuneration policies and practices are planned, implemented and evaluated to support strategic organisational goals, and of the environments which impact on these goals and strategies. Critical understanding is developed to enable students to reflect on the strength and limitations of different approaches to remuneration and the effect on individual and organisational performance. Fairness and flexibility issues are also encompassed. The module considers the influences on pay and benefits management in the private, public and third sectors as w ell as the specific challenges involved in international and executive pay arrangements.
Fees & funding
Fees 2016
Fees stated below are for the 2016/17 academic year.
MSc Global Business (Dual award one semester at UH) * £5380
MSc Global Business (Dual award two semester at UH)* £6570
*This course is taught at a number of partner institutions around the world. Please see the course page for full details.
Students pay 45% of the fee to the home institution for semester 1 and 55% of the fee to the host institution for semesters 2 & 3. Please note as partner institutions fee payments will be payable in different currencies (i.e. in euros in dollars) the exact amount will vary depending on exchange rates. Fees will therefore vary depending on the institution and study pathway you choose and will be detailed in your offer.
Students on this course are not eligible for the £500 full payment discount
*Tuition fees are charged annually. The fees quoted above are for the specified year(s) only. Fees may be higher in future years, for both new and continuing students. Please see the University's Fees and Finance Policy (and in particular the section headed "When tuition fees change"), for further information about when and by how much the University may increase its fees for future years.
View detailed information about tuition fees
Additional course-related costs
There may be some additional costs or charges associated with studying on this course. These costs or charges may be compulsory (ie you have to pay them if you are studying this course) or they may be optional (ie you don't have to pay them, but they may help you get the most out of your course).
Any such costs or charges will be outlined in the About your course factsheet that can be found on the course Overview page.
Other financial support
Find out more about other financial support available to UK and EU students
Living costs / accommodation
The University of Hertfordshire offers a great choice of student accommodation, on campus or nearby in the local area, to suit every student budget.
i
Key course information
Course code

BSGB

Course length

Full Time,

1 Years

Locations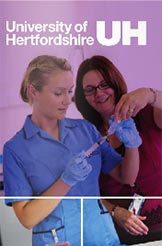 Download the Prospectus