FdA Fine Art Practice
About the course
This course is available to UK/EU students only.
The 2 year full time programme in Fine Art Practice involves the pursuit of visual languages and imagery that have meaning and significance for the artist. The students will investigate areas such as drawing, painting, sculpture, printmaking, digital applications, film, performance, textiles and photography, and have the opportunity to develop their own ideas through appropriate projects.
Students who follow this pathway have the opportunity to develop their own work as an independent practitioner and are regularly given the chance to exhibit their work in various places.
Take a look at the course booklet to find out more.
Progression routes
All progression routes outlined below are currently valid; however available progression will be updated on an annual basis in accordance with changes in UH provision.
Entry is to Level 5 or Level 6 depending on individual performance. Additional routes may be available to students at the time of FdA completion.
FdA Fashion & Textiles - BA Fashion, BA Fashion and Fashion Business, BA Contemporary Design Crafts (Textiles)
FdA Fine Art Practice - BA Fine Art, BA Contemporary Design Crafts (Multi-disciplinary), BA Photography
FdA Graphic Design - BA Graphic Design
FdA Illustration - BA Illustration
FdA Three-dimensional Design - BA Product Design, BA Interior Architecture and Design, BA Industrial Design, BA Model Design (Model Effects), BA Contemporary Design Crafts (Multi-disciplinary)
FdA Media Production - BA Film and Television Production
FdA Photography - BA Photography, BA Fine Art
FdA Visual Merchandising - BA Interior Architecture and Design
Why choose this course?
This programme aims to develop your creativity and skills in carrying out projects to meet the needs of clients and audiences. In addition the programme will provide you with:
the knowledge and skills to embark on a career in the creative and cultural industries;
opportunities for work-based learning and experience in the creative arts and cultural industries;
an opportunity to gain a nationally recognised qualification in two years of full-time study;
a progression route to the final year of appropriate honours degree programmes at the University of Hertfordshire.
Entry requirements...
2017 entry
UCAS are introducing a new tariff for 2017 entry so the points being asked for are substantially different to previous years.
48 UCAS points
IB - 48 points with a minimum of 1 HL subject at grade 4 or above (with the remaining points to come from a combination of HL, SL and Core).
GCSE Maths and English Language at grade 4 or above. Plus an interview or presentation of portfolio may be required.
The University also accepts a number of other equivalent qualifications including BTEC, IB and Access courses – to find out more about the requirements for these and other equivalent qualifications please visit UCAS
Mature students with GCSE grade C or above English language and maths or equivalent, but lacking traditional level 3 qualifications will be considered on the basis of relevant experience and an appropriate portfolio of work.
Careers
On successful completion of the programme you will be qualified to level 5 and prepared for a career and/or progress your studies to top up your degree to a BA Honours at level 5/6 in Fine Art, Contemporary Design Crafts (Multi-disciplinary), Photography, 3D Games Art and Design.
Teaching methods
This programme addresses the thinking processes, attitudes and skills that are common to all creative activities. It provides a structure that enables you from a variety of starting points to develop your own creativity within a context provided by the industries and organisations that utilises this creativity.
You will be taught through a combination of lectures, small group tutorials, course work and practical assignments. Throughout you are encouraged to undertake independent study to consolidate your learning and to broaden your knowledge and understanding of the subject.
In addition, you will be exposed to the application of creative and cultural skills and knowledge in the workplace through work based learning. You will study work based learning modules in year one culminating in a work based learning project negotiated with an employer in year two.
Structure
Level 4
Core Modules
Creative Problem Solving (HRC)

Credits: 30

This is a 30-credit module delivered during semester A of the level 4 programme. The module is designed to prepare you for further study and for the workplace you will eventually enter. You will gain an understanding of key production processes and professional practices relevant to your specialist subject and the cultural and creative industries, in addition to learning methods of conceptualising creativity and authorship.

Historical and Contemporary Context (HRC)

Credits: 15

This is a 15-credit module which will introduce you to several historical and contemporary periods or movements from your discipline and the creative works which they produced. The cultural contexts in which these works were produced will be examined to identify the ways in which the time, place and conditions of their production influence and shape creativity and practice. You will then develop your research abilities, critical faculties and academic skills so that you can investigate, analyse and present your case effectively. Together these will develop your own creative, cultural and critical understanding.

WBL: Developing Professional and Employability Skills (HRC)

Credits: 30

This is a 30-credit module running through semesters A and B of the level 4 programme. The focus of this module, is planning your career and developing employability and professional skills. You will take a closer look at the creative and cultural sector to identify a route that reflects your strengths and preferences. You will prepare for progression by looking at job-hunting techniques, networking and self-promotion. You will also articulate your skills and knowledge to create an action plan for progression using appropriate report writing skills.

Creative Languages (HRC)

Credits: 15

The focus of this module is about creativity in action, and learning from the experts. You will take a look at several well-known practitioners in your broad subject area, concentrating on their expressive languages, comparing them with each other, and relating them to your own ideas. You will then produce a body of your own work where you build on this study and extend your own repertoire of ideas, ready to be incorporated into project work in other modules.

Creative Vocational Practice (Fine Art Practice) (HRC)

Credits: 30

This is a 30-credit module delivered in semester B of the level 4 programme. The module focuses on building professional and creative skills in realising and presenting a typical brief. Starting from a working knowledge of contemporary and historical art and culture, you will be encouraged to experiment with diverse methodologies in the search for your personal artistic vision. Studio practice and workshops will help you recognise your interests and ideas, developing selected skills in one or more of drawing, painting, textiles, film, video, installation, photography, printmaking, sculpture and performance. You will be expected to include consideration of aesthetics, ethics and function within your work. In the process you will gain an understanding of the requirements of fulfilling a vocational brief: audience/client needs and expectations, time management, internal and external constraints. You will develop the skills necessary for professional presentation and evaluate your performance against the given brief.
Optional
Level 5
Core Modules
WBL Project: Professional Practice (HRC)

Credits: 30

This is a 30-credit module running through semesters A and B of the level 5 of programme. You are required to work with an employer on a project that meets their needs whilst allowing you to express and develop your professional skills and understanding. The project will be shaped by negotiation between you, your tutors and your employer. It may be carried out on the employer's premises; however this will depend on the type of project that has been agreed. You may already have a specific idea that you think will prove commercially successful or you may seek to develop creative ideas with some of your fellow students. Working in teams, partnerships or as an individual you will develop the professional skills needed to undertake and communicate a project plan and present outcomes successfully to employers and/or potential clients.

Contextual Studies (HRC)

Credits: 15

This is a 15-credit module delivered in semester A of the level 5 programme. The module will offer an introduction to contemporary critical perspectives in the theory and practice of the creative arts. It will examine these creative practices within a variety of historical, socio-political, aesthetic and institutional contexts. The module is therefore primarily concerned with understanding these practices within wider frames of reference. This understanding is intended to provide a frame of reference for the creative practice in which you are involved and examine it in relationship with systems of visual and aural communication, providing a basis for a critical examination of that practice.

Cultural and Ethical Debate (HRC)

Credits: 15

This is a 15-credit module, delivered during semester B of the level 5 programme. You will undertake theme based explorations of the influences that inform creative messages, exploring dominant and alternative ideologies and their representative creative works from a range of contexts. You will develop awareness of how social and cultural constructs are formed, evolve, and are challenged, and used to influence future developments. You will also consider issues such as consumption, globalisation, sustainability, race, gender, diversity and the role of stereotypes. Ethical and moral factors impacting on creative and/or commercial production will be explored, with reference to your specialist pathway. You will develop critical thinking skills, which will enable you to present an argument and engage in debate and discussion. The development of this understanding will enable you to adapt your practice in the light of cultural change.

Final Major Project: Fine Art Practice (HRC)

Credits: 30

This is a 30 credit module that gives you the opportunity to put all your experience and learning together in a project that confirms you as a creative professional. To ensure that you meet the module requirements the brief will be negotiated between you and your tutors. In some disciplines this project will form the main part of your end of course show.

Portfolio Development (Fine Art Practice) (HRC)

Credits: 30

This is a 30-credit module delivered during semester A of the level 5 programme. The module enables you to explore, develop and apply the professional skills needed to build a portfolio of work for progression to employment or further study. As a fine art practitioner you will work and think independently and determine your own course of study, thriving on constructive criticism and discussions about your own work and that of others. You will learn how to make art and evaluate different critical approaches through integrated studio practice. You will explore selected media including drawing, painting, textiles, film, video, installation, photography, printmaking, sculpture and performance and develop your ideas in any media you wish. During this process, you will develop your understanding of professional practice, audience/client requirements and professional constraints. You will present and evaluate your own creative outcomes and reflect on your own personal professional development.
Optional
Fees & funding
The government has yet to announce the upper limit of Tuition Fees for applicants wishing to study an undergraduate course in 2018/19. As soon as this information becomes available, our website will be updated and we will contact everyone who has applied to the University to advise them of their Tuition Fee.
Fees 2017
UK/EU Students
Full time: £6,000 for the 2017 academic year
International Students
Full time: £6,000 for the 2017 academic year
Fees 2018
UK/EU Students
Full time: £6,165 for the 2018 academic year
*Tuition fees are charged annually. The fees quoted above are for the specified year(s) only. Fees may be higher in future years, for both new and continuing students. Please see the University's Fees and Finance Policy (and in particular the section headed "When tuition fees change"), for further information about when and by how much the University may increase its fees for future years.
View detailed information about tuition fees
Other financial support
Find out more about other financial support available to UK and EU students
Living costs / accommodation
The University of Hertfordshire offers a great choice of student accommodation, on campus or nearby in the local area, to suit every student budget.
How to apply
2018
| Start Date | End Date | Year | Location | Link |
| --- | --- | --- | --- | --- |
| 15/09/2018 | 23/05/2019 | 1 | Hertford Regional College | Apply online (Full Time) |
| 15/09/2018 | 23/05/2019 | 2 | Hertford Regional College | Apply online (Full Time) |
2019
| Start Date | End Date | Year | Location | Link |
| --- | --- | --- | --- | --- |
| 15/09/2019 | 23/05/2020 | 1 | Hertford Regional College | Apply online (Full Time) |
| 15/09/2019 | 23/05/2020 | 2 | Hertford Regional College | Apply online (Full Time) |
i
Key course information
Institution code

H36

UCAS code

W190

Foundation Degree in Fine Art Practice

Course code

IDFDCEFA

Course length

Full Time,

2 Years

Locations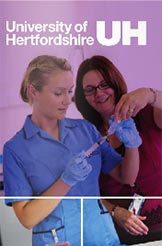 Download the Prospectus