MSc Environmental Management for Agriculture
About the course
Agriculture faces many challenges, not least coping with the rising demand for food, biofuel and other products by an increasing population combined with the demands for a more sustainable industry. Food security is key and requires the reconciliation of efficient production of food with reducing agriculture's environmental footprint.
The MSc Environmental Management for Agriculture course examines agriculture activities and their potential to impact both positively and negatively on the environment. It explains how environmental management systems, environmental auditing, life cycle assessment and environmental impact assessment can be used in the farm situation.
This course aims to use environmental management to deliver sustainable agricultural management. Students will gain a holistic understanding and the interdisciplinary training to identify on-farm environmental risks and the knowledge and skills needed to develop answers.
The two specialist core modules have been designed to ensure understanding of the issues, where the science is balanced with the practical demands of the farm/producer/grower. You will develop the expertise required for a career in research, development, policy, or within the advisory sector relating to sustainability in farming systems, the food supply chain, environmental management and rural development, or to apply there skills in agriculture.
Crop plants are prone to suffer the effects of pests, pathogens and weeds and these reduce crop productivity. The next generation of crop protection scientists need to be educated to undertake this task and the MSc Environmental Management for Agriculture course also has two option modules in crop protection to enable this route to be followed if you want to pursue a career in applied biology, particularly in the area of crop protection science, peri-urban agriculture/horticulture and related areas.
The structure of the MSc Environmental Management for Agriculture course is based on four core modules and a choice of five specialist modules, as well as a supervised research project related to the field of agriculture. Students will begin their studies, for both full-time and part time students, with a core module in Sustainability and Environmental Systems.
This course is available both full and part-time with intakes in September (Semester A) and January (Semester B). Full time study in Semester A takes 1 year. Full time study beginning in Semester B will take 15 months. Part time study options typically take two years but students are given a maximum of five years to complete.
Why choose this course?
Learn environmental skills to enable the delivery of sustainable agricultural production
Crop protection modules are available
BASIS points are available for specialist agriculture modules
Flexible modular structure enables students to study whilst working. This allows part-time student to not have to take more than 12 days off a year (if studying over 2/3 years).
Accredited by the Institute of Environmental Management and Assessement (IEMA) and the Chartered Institution of Water and Environmental Management (CIWEM)
Networking opportunities per module with lunch and refreshments provided within your fees
Learning resources such as textbooks will be provided within your fees
To find out more about this course you can come to one of our Postgraduate Open events. If you wish to visit us outside of our postgraduate open events then please contact admissionsenvman@herts.ac.uk to arrange an appointment. You can also book onto a campus tour.
You can find out more about our staff in Geography, Environment and Agriculture here.
Entry requirements...
A minimum of a 2.2. Honours degree, in agriculture, botany, plant sciences, horticulture, zoology, environmental sciences, or a related subject or a professional qualification and / or work experience equivalent to the above*.
1 appropriate reference
Students whose first language is not English are required to achieve a 6.5 IELTS score. If you do not have the required level of English for entry, our academic English courses can help you to achieve this level.
*Applicants with other qualifications and relevant experience will be considered individually by the Programme Tutor. Accredited Prior Learning Certified (APCL) is available for those who already have associate membership of IEMA.
For country specific international qualifications please check here.
Key staff
Dr Alina Congreve
Principal Lecturer and Programme Tutor for MSc Sustainable Planning

Dr Andy Green
Senior Researcher
Find out more about Dr Andy Green
Dr Avice Hall
Principal Lecturer in Plant Pathology
Find out more about Dr Avice Hall
Prof. Bruce Fitt
Professor of Plant Pathology
Find out more about Prof. Bruce Fitt
Dr Chantal Helm
Lecturer in Ecology
Find out more about Dr Chantal Helm
Dr Darren Crook
Senior Lecturer in Human Geography
Find out more about Dr Darren Crook
Dr Doug Warner
Senior Research Fellow
Find out more about Dr Doug Warner
Dr Frances Harris
Programme Leader
Find out more about Dr Frances Harris
Dr Ian Denholm
Senior Lecturer
Find out more about Dr Ian Denholm
Dr James Jenkins
MSc Environmental Management Programme Tutor & Undergraduate Admissions Tutor for Geography, Environment and Agriculture
Find out more about Dr James Jenkins
Dr John Tzilivakis
Senior Research Fellow
Find out more about Dr John Tzilivakis
Dr Kathy Lewis
Reader in Agri-environmental Science
Find out more about Dr Kathy Lewis
Dr Keith Davies
Senior Lecturer
Find out more about Dr Keith Davies
Paul Zukowskyj
Senior Lecturer in GIS
Find out more about Paul Zukowskyj
Dr Phil Porter
Admissions Tutor
Find out more about Dr Phil Porter
Dr Richard Southern
Principal Lecturer in Human Geography & Head of Department (Biological & Environmental Sciences)
Find out more about Dr Richard Southern
Dr Ronni Edmonds-Brown
Senior Lecturer in Aquatic Ecology
Find out more about Dr Ronni Edmonds-Brown
Dr Tim Sands
Programme Tutor
Find out more about Dr Tim Sands
Professional Accreditations
Three modules are accredited by the Institute of Environmental Management and Assessment (IEMA) for Associate membership (giving exemption from the Associate Entry Examination).
Accreditation by the Chartered Institution of Water and Environmental Management (CIWEM) is being applied for.
BASIS points are available for the specialised agriculture modules.
Teaching methods
The MSc Environmental Management for Agriculture course approach integrates blended learning, combining:
face-to-face teaching and tutorials with online learning materials
field and laboratory work
easy contact with tutors
online submission of assignments
All modules are delivered as intensive two or three day short courses that run primarily on Thursdays, Fridays and Saturdays.
Full-time students attend tutorials in the weeks following a short course, receiving face-to-face support.
Part-time students attend courses at the University for only about eight working days a year. These students complete their assignments through making use of our outstanding virtual learning environment Studynet and keeping in remote contact with tutors. Students normally complete the part time course within two years but we give maximum of five years.
Our outstanding virtual learning environment Studynet will enable you to keep in remote contact with tutors and submit assignments online
Assessment is primarily by assignments, often directly related to environmental management in the workplace or field. These can include reports, essays, seminars and online tests.
You have access to excellent University facilities including a field station, laboratories and state of the art Learning Resource Centres.
Each module can be studied individually as a stand-alone course, please enquire for further details.
Structure
Year 1
Core Modules
Agricultural Pollution and Mitigation

The module will introduce the causes and consequences of the main environmental impacts arising from European agricultural systems and related activities looking in particular at the environmental science processes involved. It will consider the main approaches to mitigation, and remediation and monitoring, and place these in the context of UK and European policy and legislation. The techniques commonly used to evaluate the environmental implications of agricultural pollutants will also be explored along with their advantages, disadvantages and limitations. Subjects tackled include: * European and UK agri-environmental policy and legislation including the Common Agricultural Policy; * activities contributing to climate change and their evaluation, mitigation and management; * the fate, transport, impacts and ecotoxicology of agricultural pesticides; * nutrient cycling and environmental pollution including the use of organic manures and organic amendments; * use of agri-environmental indicators, benchmarking approaches and other approaches to manage environmental quality; * management and monitoring of on-farm biodiversity and habitats commonly found in Europe.

Foundation in Environmental Auditing

This module provides the basic knowledge/awareness necessary to participate effectively in environmental audits and other related activities. It examines a range of audit types and their application to environmental protection and performance improvement. These include audits related to compliance, due diligence, risk issues (such as waste) and management systems. Audit principles and processes applicable to the audit types are covered. It introduces standards and guidelines, such as the ISO 14000 series, produced to ensure consistency and quality in the application of environmental management and auditing. The module will cover auditing skills and techniques, environmental legislation, identification and evaluation of environmental effects, performance monitoring, control and reporting. Practical sessions provide the opportunity to apply the skills necessary to assess environmental performance against policy, legislation and management commitments. It discusses preparation to be made before being audited.

Integrated Farm Management

Integrated Farming Management (IFM) is a whole farm management approach that can deliver efficient and profitable agricultural production that is also environmentally responsible. This module will provide a sound working knowledge of the philosophy and approaches that underpin European IFM. In contrast to its sister module (Agricultural Pollution and Mitigation), this module is concerned with -on-farm practice-based environmental management. It will also include a visit to a farm to gain insight to how the techniques discussed within lectures are put into practice. Subjects tackled include: * management and planning including UK regulatory compliance and auditing; * soil management, soil mapping and organic-fertiliser management, soil-water interactions, * Integrated Pest Management; * water and energy efficiency and waste management; * biodiversity, habitat management and land stewardship; * growing sustainability for specific markets - non-food cropping; * animal husbandry and welfare.

Management Skills for Environmental Management

This module explores the management skills required to successfully implement environmental programmes. Successful management requires an understanding of the way organisations function and are managed, and an appreciation of developments in management theory and practice. The module will examine the role of the manager, leadership, motivation, organisational behaviour, financial management and strategy.
Optional
Crop Pathogens, Pests and Weeds

This module will teach the biology of crop diseases (fungal, virus, bacterial), pests (insects, nematodes) and weeds and explain how they cause losses in crop yields in geographically diverse agricultural environments. It will describe the development of disease epidemics and pest outbreaks. The module will introduce the student to diagnostic methods (macroscopic, microscopic, immunological and molecular), including Koch s postulates to identify and confirm the identity of the causal pest, pathogen or weed. It will discuss the relationships between macro and micro climate in relation to agronomic factors and epidemic development .The use of decision support systems to reduce the impact of pests, weeds and diseases will be included. Threats posed by invasive pests, weeds and pathogens will be considered, in relation to trade in plant products and climate change.

Crop Protection; Principles & Practice

This module will teach the principles and practice of crop protection against diseases (fungal, virus, bacterial), pests (insects, nematodes) and weeds in temperate and tropical agricultural situations. It will describe the use of pesticides, biopesticides, cultivation methods and plant breeding to reduce the impact of pests. Global legislation covering registration and use of pesticides will be explained. The use of the scientific method to develop and evaluate crop management plans will be covered including the use of hypothesis driven experimental design and data analysis. The principles of designing decision support systems will be included. The potential benefits and drawbacks of the use of GM and novel technology in crop protection will be discussed.

Ecology and Conservation

The module will provide an understanding of fundamental ecological principles and theory and how these follow through into actual conservation practice in the field. The current policy and legislation background, for both the UK and Europe, for the protection of habitat and species will be examined including issues relating to biodiversity targets. Current techniques used for assessing and managing biodiversity will be studied. A range of methods and techniques used for collecting field data will be discussed. This is supported by field activities.

Environmental Management for Agriculture Individual Research Project

Students must carry out an independent research project and submit a dissertation and other assignments. The project is expected to address an environmental management topic in the field of agriculture. This may be based on an organisation, site or environmental management issue and may include the assessment of current environmental performance/options for environmental improvement, or the development of new methods for environmental management.

Integrated Waste and Pollution Management

This module provides a holistic approach to waste and pollution reduction in a broad sense including energy efficiency, clean technology and water conservation as well as waste minimisation and design for the environment. The module examines the environmental and financial benefits of waste and pollution management methodologies and covers the economic and legislative drivers designed to reduce waste and prevent pollution. These include fiscal measures such as permit trading, recycling credits and landfill tax as well as statutory compliance, the waste hierarchy, costs and benefits.

Research Methods

The module will introduce the main principles of research methodology, different approaches to solving a problem and the choice of appropriate research methodology. Natural science and social science research approaches will be explored including the development of the research question. Methods for sampling and data gathering will be described including experimentation, questionnaires, interviews, case studies, action research, content analysis and observation. Quantitative and qualitative data, its analysis, interpretation, presentation and reporting will be explored. A research proposal will be formulated with guidance from a project supervisor, which is relevant to the chosen pathway of environmental management, or environmental management for business, or environmental management for agriculture, or water and environmental management.

Sustainability and Environmental Systems

This module gives a basis for an understanding of a range of global, regional and local environmental issues. The module also explains the impacts of organisations and business processes, products and services on the environment and society. The philosophy and concepts underpinning sustainability, sustainable development and the role of environmental management are examined. The role of external drivers is explored and the module demonstrates how proper understanding of these drivers can lead to improved business management. Methods and tools for improving environmental performance are introduced including environmental management systems. The notion of the environment as a business opportunity is explored.

Water Pollution Control

This module will cover the nature of wastewater disposal and treatment systems and the estimation of pollution load. It will discuss the types of trade effluent and their treatment and discharge control to sewers and receiving waters, including the roles of water service undertakers and environmental regulators; charging for wastewater discharges; the nature of raw sewage and the design and operation of wastewater treatment plants to meet environmental standards and avoid nuisance. The nature of sewage sludges and the design and operation of treatment and disposal systems to meet environmental standards, methods of sludge utilisation, the associated environmental controls and the operational management of facilities, approaches to wastewater monitoring and management, water recycling and the precautionary principle will be covered. Biomonitoring and chemical monitoring may be conducted at two local but very different rivers (e.g. Lee and Mimram) and an STW may be visited. The causes and management of ground and surface water pollution will be studied. National and international aspects of water pollution control will be discussed.
Fees & funding
Fees 2016
2016/2017 fees

Full time
Home/EU students £6,575

International students £12,500
Part time
Home/EU students £680 per 15 credits (dissertation module is £1105)

International students £1480 per 15 credits (dissertation module is £1520)
*Tuition fees are charged annually. The fees quoted above are for the specified year(s) only. Fees may be higher in future years, for both new and continuing students. Please see the University's Fees and Finance Policy (and in particular the section headed "When tuition fees change"), for further information about when and by how much the University may increase its fees for future years.
View detailed information about tuition fees
Additional course-related costs
There may be some additional costs or charges associated with studying on this course. These costs or charges may be compulsory (ie you have to pay them if you are studying this course) or they may be optional (ie you don't have to pay them, but they may help you get the most out of your course).
Any such costs or charges will be outlined in the About your course factsheet that can be found on the course Overview page.
Additional course costs
Click here to apply for a bursary from The National Farmers Union. The NFU Mutual Charitable Centenary Award gives annual bursaries to pay up to 75% of course fees for selected post graduate students in agriculture (Masters or PhD),
Other financial support
Find out more about other financial support available to UK and EU students
Living costs / accommodation
The University of Hertfordshire offers a great choice of student accommodation, on campus or nearby in the local area, to suit every student budget.
i
Key course information
Course code

HHEM

Course length

Full Time,

1 Years

Full Time,

15 Months

Part Time,

2 Years

Locations

University of Hertfordshire, Hatfield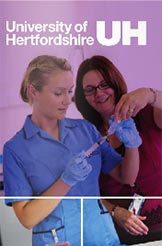 Download the Prospectus