BSc (Hons) Computing and Philosophy with Optional Sandwich Placement/ Study Abroad
About the course
Computing
Computing will provide you with an understanding of theoretical foundations, as well as building your knowledge as a designer and developer. You will complete practical work in well-equipped and spacious laboratories and our strong links with commerce ensure you are always working from the most up-to-date study materials.
You don't need any previous knowledge of computing for this course, your first year will provide you with a solid foundation in the basic principles of the subject. In your second and final years you'll have an opportunity to tailor your learning to your personal interests by selecting modules from one of three themes:
development of information systems
programme design
internal organisation of systems and networks
Philosophy
All the teaching staff in philosophy are researchers. We think that teaching philosophy, learning philosophy and researching philosophy are all really the same activity—philosophy!
This course will provide you with a good introduction to issues in ethics, knowledge and metaphysics, and the meaning of life. You will be encouraged to tackle the difficult and puzzling questions posed, systematically and objectively, helping to develop skills such as the ability to identify and analyse problems, to understand alternative solutions and their merits, and to make intelligent and well articulated judgments. All the while developing a number of key transferable skills, highly valued in a wide range of career pathways.
In your second and final years, you will build on this solid introduction to philosophy through the study of a wide range of topics, including: ancient Greek philosophy; continental philosophy; contemporary Anglo-American philosophy; logic and reasoning; metaphysics; aesthetics, philosophy of mind, philosophy of information and moral and political philosophy.
Don't just learn about philosophy; learn to do philosophy.
Why choose this course?
Computing
Study computing in some of the best facilities offered by any university in the UK
Benefit from excellent industry contacts and gain knowledge and skills valued within the industry
Gaining a practical understanding of a range of computing systems providing excellent preparation for a career in a range of roles
Philosophy
Gain an excellent grounding in philosophy while developing your essay-writing, critical analysis and debating skills
Become clearer and more systematic in the expression of your own philosophical ideas and in the critical assessment of those of others
Grow your own philosophical ideas at our student philosophy society and optional residential weekend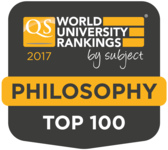 Careers
This programme gives you flexibility in your studies at university resulting in flexibility in your choice of career at the end of your course. You will acquire a much broader base of knowledge and experience that could really widen your employment opportunities. Graduates have found employment in diverse roles such as computer programmers, design engineers, management development specialists, accountants and project managers. 95.2% of University of Hertfordshire students are in work or further study six months after graduating, according to the latest Destination of Leavers from Higher Education (DLHE) survey.
Teaching methods
You will develop your capacity for independent study and interpersonal skills on this programme. There is an emphasis on structured research, well-prepared written and verbal presentations and computer literacy.
You will experience a wide variety of teaching styles on the programme including:
standard lectures
seminars
tutorials
laboratories
case studies
individual and group projects
In your final year you will normally have the opportunity to hone your independent study and interpersonal skills by undertaking a major project or dissertation.
Work Placement
You will have the opportunity to take a paid work placement or study abroad for a year between your second and final years, extending your degree from a three year to a four year qualification. You will not be required to pay tuition fees for this year and you will gain excellent experience that sets you apart from the crowd in the graduate jobs market.
A work placement provides you with an excellent opportunity to gain valuable experience and put your theoretical knowledge and understanding from your studies in to practice.
Our Careers and Placements service will help you to develop your CV and support you through the application process for a wide range of placement opportunities in a variety of sectors and organisations.
Study Abroad
This course offers you the opportunity to study abroad in the Sandwich Year through the University's study abroad programme. Study abroad opportunities are available worldwide and in Europe under the Erasmus+ Programme.
Find out more about Study abroad opportunities
Structure
Level 4
Core Modules
Human Dimensions of Computing (A)

Credits: 15

This module introduces the history and major accomplishments of computer science and information technology, and its impact on modern life. Technology is only one part of computer science and information technology, and the human and social dimension of computing, including user experience and interaction design, is just as important and relevant to the professional practitioner.

Programming (A)

Credits: 15

This module is primarily concerned with developing basic skills necessary to produce computer-based solutions to simple problems in high level languages. The emphasis is on problem solving, problem solving strategies; fundamental constructs such as structure, syntax and semantics; variables and data types, operations and the evaluation of expressions, control structures, and modularisation, data structures and recursion. Program code will be expected to perform according to specification, be readable, maintainable and well designed. Although the given problems will initially be relatively simple, there will also be an appreciation of how simple solutions can be used in the solution of more complex problems.

Programming (B)

Credits: 15

This module is primarily concerned with developing basic skills necessary to produce computer-based solutions to simple problems in high level languages. The emphasis is on problem solving, problem solving strategies; fundamental constructs such as structure, syntax and semantics; variables and data types, operations and the evaluation of expressions, control structures, and modularisation, data structures and recursion. Program code will be expected to perform according to specification, be readable, maintainable and well designed. Although the given problems will initially be relatively simple, there will also be an appreciation of how simple solutions can be used in the solution of more complex problems.

Models and Methods in Computing (B)

Credits: 15

This module introduces a number of principles that underlie computation and computer-based systems, and how they may be modelled. Both the static and dynamic aspects of computing systems are considered, with computation being viewed both in functional terms, and as a series of state transitions defined over abstract or virtual machines. The module provides a clear concept of modelling and specification of computational systems. The module illustrates some of the ways in which the use of formalisms in modelling and specification can aid those involved in the design, development and operation of computer-based systems.

Introduction to Philosophy

Credits: 30

You will gain a basic training in how to read and write essays in philosophy, while exploring perennial questions such as: Can we know right from wrong? How, if at all, can we tell a good act from a bad one? Is ethics merely a matter of personal opinion? What is knowledge? Can we reliably gain it, and if so how? Can we be certain of anything? What is pessimism? Is it justified? Are we really free? Do we need God in order for lives to be truly meaningful?

Reason and Persuasion

Credits: 15

We live in a world of persuasion. Advertisers would persuade us to buy their products while politicians press their policies on us. In personal life too, others want us to see things their way. We, of course, want others (colleagues, friends and family) to agree with us, to be persuaded by our arguments. Rhetoric is the art of persuasive speech and writing. It has been studied both for academic interest and for its practical, business and legal usefulness since ancient times. This module will explore the reasons why some persuasive efforts work while others do not. It will develop your ability to judge when you ought to be persuaded by the arguments of others and to present your own views in a way that increases their persuasive force.

Philosophy of Film and Literature

Credits: 15

The central theme of the module is to investigate what it is possible for film and literature to represent. How do we establish what is true in a fiction? Can the impossible happen in fiction? How, if at all, do we manage to engage with fictions that we take to be metaphysically or morally problematic (such as H.G.Wells' The Time Machine or Vladimir Nabokov's Lolita)? In what sense can film and literature explore not only how things actually are but how things could have been? Is there a difference between what can be represented in film and what can be represented in literature? We tackle these questions by engaging with various films and works of literature to see how they fit within a philosophical framework for thinking about them.
Optional
Level 5
Core Modules
Information Technology Development Exercise

Credits: 30

The core of the module is a realistic case study, undertaken in small teams, to develop a software system. Developing such a system is not just a matter of understanding the basics of software engineering and project management, but also requires skills acquired through hands-on practice. This approach of learning through experience involves the challenge of identifying, comprehending and critically handling a number of advanced methodologies, concepts, techniques and technologies. A further key element of the module is professionalism and the relevance of the academic content to professional practice in the IT industry. The module provides: Experience of working in a team on a complete systems development project; Knowledge of and skills in modern software engineering techniques; An appreciation of the relevance to the IT workplace, in part acquired through business case studies; The background and attitude for seeking professional employment in the IT industry, especially in software development.

Web Scripting

Credits: 15

This module introduces the fundamental concepts of the World Wide Web. It starts with an overview of HTML mark-up and cascading style sheets, and the importance of the separation between content and presentation. The bulk of this module is concerned with extending the practical programming skills, and applying these to the development of a web application that creates, reads, updates and deletes information using databases. Further, an important part of this module is understanding the constraints that the World Wide Web places on developers, such as those imposed by its stateless nature and the various recommendations that guide core web technologies.

Enterprise Databases

Credits: 15

This module provides an in-depth study of the design and implementation of relational databases. The module provides the principles and the techniques needed to develop relational database systems, together with the database theory on which these principles and techniques are founded. There is a large practical element, using a popular market leading product in the roles of database designer, database administrator and end user. The module also raises awareness of areas where new types of database are emerging.

Graduate & Employability Skills

Credits: 0

You will be offered a variety of employment enhancing workshops and online activities such as interview skills workshops, personality profiling and career planning in order to improve your employment prospects after graduation and make you aware of current areas of strength and weakness in relation to employability. You will also have the opportunity to learn about self-employment options, graduate schemes and will attend speaker sessions with successful professionals in areas of employment appropriate for Joint Honours graduates so you can learn about the skills and attributes required for these areas and how to enhance your prospects of entering such areas. You will be required to undertake a certain number of activities chosen by you from a career "menu" and to reflect on what they have learnt in order to complete the module successfully.
Optional
Themes in Plato's Republic

Credits: 15

If you could get away with morally unjust behaviour, why should you act morally? What would an 'ideal society' be like? What is the relationship between justice in the individual, and justice in society? This course investigates several major themes in Plato's philosophy. After an introduction to the importance of Socrates and the nature of Socratic enquiry, we shall focus predominantly upon the Republic - one of the most important texts in the history of western thought - in which the above questions are central. The course will aim to show connections between Plato's metaphysics and theory of knowledge, and his ethics, political thought and philosophy of art and literature. Students will develop their skills in reading, assessing and advancing arguments.

The Right and The Good

Credits: 15

Is happiness the only thing of value? According to Utilitarianism, my moral duty is to promote happiness. What do we mean by "happiness"? If our moral duty is to promote happiness does this mean that we are justified in adopting any means, including killing, that might promote happiness? Kant is one philosopher who considers that we should value human beings in their own right and this introduces constraints on what we are morally justified in doing. We have duties to assist and also not to harm other human beings. We study these two theories by looking at Mill's 'Utilitarianism' and Kant's 'Groundwork of the Metaphysics of Morals'. Application of these theories to moral dilemmas chosen by students will form the topic of the presentation. For example, is it ever morally right to use violence or terrorism in the pursuit of peace? Should we ever assist anyone to commit suicide?

Philosophy of Mind

Credits: 15

What are mental states? How do they relate to human actions? What is consciousness? Is there a real difference between the mental and the physical? This course explores philosophical approaches to understanding the nature of mind which range from dualism to strong forms of materialism. Students will be trained in the use of relevant terminology and will develop their skills in reading, assessing and advancing arguments. Students will be assessed on their knowledge and understanding of at least two approaches/issues in the philosophy of mind, their use of relevant terminology and their ability to produce structured arguments, which anticipate possible replies, in the form of essays.

Knowledge and Discovery

Credits: 15

What kind of justification is required to be able to say not just that we believe something but that we know it? Must we be able to cite reasons for believing something before we can be said to know it, or is it enough for those beliefs to have been generated in a reliable way? Must knowledge rest on a foundation that is immune from error, or are beliefs justified by being part of a network of mutually supporting beliefs? We shall discuss the extent to which the particular observations we make give us reason to believe (or disbelieve) general claims about the world and, further, what counts as a good explanation for why that thing has happened. We shall consider not just beliefs about those things we can see with our own eyes but whether there is any reason to believe in those things which we cannot observe directly (e.g., the very small and the very distant).

Philosophy of Art

Credits: 15

We go to museums, read novels, listen to music, talk about art. But what is art? In this module, we survey the main theories of art throughout history, observing as we go along, that while each theory has added to our understanding of art, it has not defined it once and for all. At the end of the survey, we shall ask whether a comprehensive definition is possible, or even necessary to our understanding of art. The survey will take us through passages from authors such as Plato, Aristotle, Tolstoy, Hume, Kant, Collingwood, Wittgenstein, Danto, Dickie and Wollheim. We will ask ourselves: Is art is a matter of personal taste or are there intersubjective criteria in the determination of art? Where is the boundary between art and craft? How is art related to morality? Is Tracy Emin's My Bed art; if so, is it good art? What makes anything art?

Social and Political Philosophy

Credits: 15

We tackle fundamental questions concerning how our society should function and what implications this has for the individual. How should goods (e.g. property, services, rights, liberties, power) be distributed in society? On what basis can some people claim ownership of property? Should goods be distributed on the basis of desert, entitlement or some notion of equality? On what basis can someone 'in authority' tell me what (or what not) to do? And if I don't do as they say, on what basis can I be punished for it? What are rights? Do we have them naturally or are they all conferred on us by an institution? Do all humans have rights or are children and/or the mentally impaired to be excluded? Do future generations of people have rights? Can these notions extend to non-human animals or the environment in general? And what are our obligations in each of these cases?

Metaphysics

Credits: 15

Metaphysics asks the most general questions about the most fundamental features of the world. How should we understand space, time and causation? Does time flow? Does the future already exist? Is space a substance? Is it possible for me to do something now so as to affect what happened in the past? What are things and what does it take for them to persist over time? What is it for things to have properties, such as being red? What are properties? Do they exist in the same way that the things that have them do? What else exists? Does reality extend beyond what is actual?

Philosophies of Religion

Credits: 15

This module focuses on the philosophies of religion that arise from the analytic (Anglo-American), European, and Asian (especially Buddhist) traditions. Its primary focus is a body of philosophical texts on religion by classic thinkers from these diverse traditions. Through these writings, you will be invited to consider how such different philosophical perspectives approach a series of questions they have in common, questions such as: What role do happiness and suffering play in religious thinking and practice? What is the relevance of the body and of embodiment to religion? What role is played by experience in religious faith and practice? How do reason and faith relate to each other? What goal is served by religious language? Is there such a thing as a distinctively philosophical approach to religion, given the differences between these diverse traditions?

Virtues, Vices and Ethics

Credits: 15

The primary focus of this module is a body of writing, primarily by contemporary thinkers, on specific personal virtues and corresponding vices. We shall reflect upon such 'everyday' issues as pride, humility, gratitude, love, hope, patience and forgiveness. You will be invited to consider the contribution that both philosophy and religion have made to our understanding of the virtues. An important part of the module will be to ask, in the light of contemporary writings, what difference religious perspectives might make to secular understandings of the nature of virtue and vice, and the implications of this for what the 'good life' for human beings might be. The module will typically draw on writings from more than one religious tradition.

Logic and Philosophy

Credits: 15

Logic and philosophy have been intimately connected since ancient times. Logic provides some conceptual tools which can be very helpful in clarifying ideas and developing convincing arguments. But, as you will see in the module, the ideas and arguments which can be expressed depend on which system of logic is adopted. In learning elements of various systems of logic, we will consider the philosophical issues raised by them. Which ideas can be expressed in logic? Might we lose something in translation when expressing ideas in a logical language rather than in English? Are there any sentences which are neither true nor false? To what extent can logic help in deciding what we should believe in? Many of these issues are at the cutting edge of contemporary philosophy.
Level 6
Core Modules
User Experience

Credits: 15

This module explores the body of knowledge underpinning the topic of User Experience (UX), and how UX approaches can be applied to the design and evaluation of user interfaces.

Information Security Management

Credits: 15

This module develops the concepts and principles of information security management including its organisational aspects such as security governance, policy procedures and security standards. It covers the relevant methods associated with risk assessment and management. In this module, various issues associated with information assurance, incident management and government legislation on data protection will be presented. This module introduces security controls that are used to protect information and underlying IT systems and infrastructure. Disaster recovery, business continuity management, investigation and digital forensics which are important aspects of information security management will be discussed in this module.

Advanced Web Scripting

Credits: 15

This module extends the basic web model in two ways. The first looks at the use of client-side scripting to enhance the user experience. This is done by examining the use of Javascript to increase the interactivity of the user view, and to exploit local data storage. The second is to consider the use of services to move beyond a simple HTML page request/response model of interaction. In addition, the module considers the impact of third party tools in developing web applications. For enhancing the user experience this may include interface toolkits such as JQuery. Service-based extensions may include the use of functional libraries such as the Google Maps API.

Graduate & Employability Skills

Credits: 0

You will be able to access employability and enterprise resources including workshops, online materials and books in order to help you formulate a career or post-graduate study plan. You will have the opportunity to hear speakers from a variety of areas give advice and guidance as to how to enter those fields. You will be required to undertake a certain number of activities chosen by you from a career "menu" and to reflect on what they have learnt in order to complete the module successfully.
Optional
Professional Work Placement in Computer Science

Credits: 0

Supervised work experience provides students with the opportunity to set their academic studies in a broader context, to gain practical experience in specific technical areas and to strengthen their communication and time-management skills. It greatly assists them in developing as independent learners, so that they will be able to gain maximum benefit from the learning opportunities afforded by their future study programme. It gives them opportunities, according to the nature of the placement experience, to acquire the basis of technical expertise in specialist areas, which they may be able to enhance through study after completion of the placement, especially in the final project.

Software Quality

Credits: 15

This module provides both a theoretical and practical introduction to quality both in terms of the software development process and the products of that process. It also investigates how quality can be defined and measured, and by analysing actual program code to determine its quality according to pre-determined quality metrics.

Enterprise Systems

Credits: 15

This module explores different perspectives on the design, management and integration of software systems that support business processes across complex organisations. The first perspective examines the integration and inter-operation of different applications within the same enterprise. The focus is on appropriate approaches and methods for bridging the gap between IT strategy, which aligns business goals and system requirements, and the design and management of individual IT services. This could include, but is not limited to, approaches based on ITIL and/or SOA. The second perspective examines the scalability of systems that provide specific functionality across the whole of an enterprise. This is done by breaking down an application into different tiers and looking at the issues, potential problems and design solutions to enable the delivery of high performance systems. This focus on individual systems is a natural extension to study of design patterns for web applications.

Year Abroad

Credits: 0

Learning and teaching methods may include taught courses, a research programme, or a mixture of these. components. The Year Abroad will be for TWO academic semesters or their equivalent. The student will follow a programme negotiated by the Study Abroad team or nominee, School Study Abroad Tutor and an equivalent representative of the host institution. Prior to the commencement of the Year Abroad, the student, the appropriate officers from UH and from the host institution will agree a learning contract and mode of attendance. In institutions where the language of instruction is not English, then the learning contract will take into account the students ability in the language of instruction of the host institution. The student will be required to provide evidence of appropriate attainment and ability in the language of instruction of the chosen institution when the language of instruction is not English.

Kierkegaard, Philosophy and Religion

Credits: 15

What makes a human life worthwhile? What does it really mean to live an 'aesthetic', 'ethical' or 'religious' life? What form would philosophy have to take effectively to communicate genuine ethical or religious insight? What are the proper roles of love in human life? Kierkegaard tackled these questions through a series of literary-philosophical texts, many published under a variety of bizarre pseudonyms. This module considers central aspects of Kierkegaard's thought. After an introduction to the importance of 'indirect communication' in existential matters, we shall investigate in some detail the 'aesthetic', 'ethical' and 'religious' modes of life, concluding by considering aspects of Kierkegaard's philosophy of love. The central texts will typically be Either/Or, Fear and Trembling and Works of Love.'

Contemporary Moral Philosophy P

Credits: 15

What should be the primary focus of ethics? Should we focus on actions or on the character of agents? Students will study different approaches to these questions embodied in contemporary discussions of Kantian Ethics, Consequentialism and Virtue Ethics. This discussion will raise issues such as, do we arrive at moral evaluations by applying principles to particular cases or are moral evaluations more a matter of, for example, a virtuous person's perception of a particular case? What is the relationship between the moral evaluations that we make and the reasons that we give for those evaluations? What are our moral theories based on: shared beliefs about rightness, our moral intuitions, our common sense intuitions about the virtues?

Aristotle P

Credits: 15

Is there a method to philosophy? Are we rational animals? Do all living things have a purpose? What is the good life or is there more than one? Is ethics primarily concerned with virtue? These questions, which are still of relevance today, will be explored by an examination of Aristotle's central works.

Nietzsche, Genealogy and Morality

Credits: 15

Nietzsche famously claimed that 'God is dead'. But what does he mean by this? What ramifications would the 'death of God' have for morality and human flourishing? What would a 'Nietzschean' view of self and world look like? And what religious responses to Nietzsche's challenge are possible? With these questions in mind, this module investigates key aspects of Nietzsche's thought. Typically, after an introduction to his styles of philosophizing, the 'hermeneutics of suspicion', and his 'moral perfectionism', we shall focus upon his influential critique of morality. We shall investigate his account of ressentiment, guilt and 'bad conscience', alongside central Nietzschean ideas such as the will to power, eternal recurrence and 'self-overcoming'. We'll also consider some possible critical responses to his worldview. The central text will be On the Genealogy of Morality.

Philosophy of Language

Credits: 15

Marks, sounds and gestures can all have meaning. But what is it for them to have meaning and how do they manage to have it? Is the meaning of my words to be analysed in terms of my intentions to communicate with another or the conventions I subscribe to when using words? In what way is meaning related to truth and my being warranted in asserting what I say? What other things can we do with words than state truths? How should we understand metaphorical uses of language? How do names and descriptions in particular manage to pick out objects in the world? Are some things I say true solely in virtue of the meanings of the words I use? Is there anything that fixes what it is that I do mean when I use words, or is meaning, to some extent, indeterminate? Can a study of language tell us anything about reality?

Wittgenstein's Philosophy

Credits: 15

Ludwig Wittgenstein is one of the greatest philosophers of the twentieth century. Much of today's philosophical thinking has been inspired by or has developed in response to his work. His first published work - the Tractatus Logico-Philosophicus - provides, for some, an inspiration for powerful anti-metaphysical programmes. For others, it offers refined tools for doing metaphysics in a new, more fertile way. He himself came to reject aspects of his early work. How his approach evolved can only be fully understood by considering his early programme in the light of his second great masterpiece, Philosophical Investigations. This module does just that by introducing important aspects of Wittgenstein's philosophy in their historical and ideological contexts. The module will explore a range of topics such as: the nature of language and thought and their relations to reality; meaning and use; understanding and intentionality; following a rule; the possibility of a private language; the nature of philosophy.

Year Abroad

Credits: 0

A Study Abroad year is an optional additional year that increases the length of the Honours degree award to a four-year full-time degree. The additional year comprises an agreed programme of study in a partner institution abroad with whom the University of Hertfordshire has an institutional agreement. The programme of study will support, supplement and extend the more usual three-year programme. Success in the third year will be recognised in the title of the award, but does not carry additional credit towards the Honours programme. A student would normally confirm the intention to study abroad during the first ten weeks of study at Level 5. This will enable a place to be negotiated at a host institution and the Study Programme and learning contract to be arranged and agreed.

Philosophy of Psychology

Credits: 15

'Blindsighters' can judge with around 90% accuracy whether experimenters are showing them either a cross or a circle, and are able to discriminate colours, despite being completely blind due to a form of brain damage. The job of philosophers of psychology is to settle what this phenomenon, and related ones, means for the nature of the mind. Does it show that blindsighters 'see' colours etc., unconsciously? That would suggest mere perception is insufficient for consciousness, and we must then investigate what must be added to make a percept conscious. Or does blindsight simply demonstrate that there is a completely blind 'visual information system' in humans, operating alongside normal conscious vision? And would that mean conscious vision plays only a secondary role in daily life (is our behaviour somewhat more 'automatic' than we believe)? This module investigates key psychological phenomena and examines philosophical theories as to their significance for the human mind.

Feminist Philosophy

Credits: 15

In the last half-century, feminist criticism has raised questions about the central topics of philosophy that go far beyond its original concern with gender equality and power relations. For example, feminist philosophers brought an emphasis on embodiment and social role that challenged the relevance of the ideal types (ideal reasoner, ideal observer, etc.) of traditional epistemology. These ideas are now debated in mainstream epistemology and philosophy of mind. At the same time, feminism has undergone internal differentiation into (for example) liberal and radical feminisms. Students on this module examine the contribution of feminism to philosophy and critically consider the challenges that feminism poses to the theory and practice of philosophy.
Fees & funding
The government has yet to announce the upper limit of Tuition Fees for applicants wishing to study an undergraduate course in 2018/19. As soon as this information becomes available, our website will be updated and we will contact everyone who has applied to the University to advise them of their Tuition Fee.
Fees 2017
UK/EU Students
Full time: £9,250 for the 2017 academic year
Part time: If you decide to study this course on a part time basis you will be charged £1155 per 15 credits for the 2017 academic year
International Students
Full time: £11,350 for the 2017 academic year
Part time: If you decide to study this course on a part time basis you will be charged £1420 per 15 credits for the 2017 academic year
Fees 2018
UK/EU Students
Full time: £9,250 for the 2018 academic year
Part time: If you decide to study this course on a part time basis you will be charged £1155 per 15 credits for the 2018 academic year
International Students
Full time: £11,950 for the 2018 academic year
Part time: If you decide to study this course on a part time basis you will be charged £1500 per 15 credits for the 2018 academic year
*Tuition fees are charged annually. The fees quoted above are for the specified year(s) only. Fees may be higher in future years, for both new and continuing students. Please see the University's Fees and Finance Policy (and in particular the section headed "When tuition fees change"), for further information about when and by how much the University may increase its fees for future years.
View detailed information about tuition fees
Other financial support
Find out more about other financial support available to UK and EU students
Living costs / accommodation
The University of Hertfordshire offers a great choice of student accommodation, on campus or nearby in the local area, to suit every student budget.
How to apply
Entry requirements...
2017 entry
UCAS are introducing a new tariff for 2017 entry so the points being asked for are substantially different to previous years.
112 UCAS points
IB - 112 points from a minimum of 2 HL subjects at H4 or above.
GCSE Maths and English Language at Grade 4 or above (Grade C or above under the old grading structure).
All students from non-majority English speaking countries require proof of English language proficiency, equivalent to an overall IELTS score of 6.5 with a minimum of 5.5 in each band.
If you do not have the required IELTS or equivalent for direct entry on to your degree programme, our Pre-sessional English and International Foundation courses can help you to achieve this level.
For country specific qualifications, please visit our Your Country page.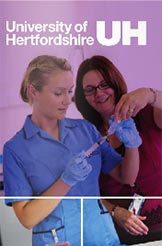 Download the Prospectus