BA (Hons) Business and Journalism & Media Cultures with Optional Sandwich Placement/ Study Abroad
About the course
Business
You don't need any prior knowledge of business studies before choosing this subject. You will gain a broad introduction to the subject in your first year. If you choose to continue business as a joint subject or increase to major in business you will have access to a range of optional modules allowing you to tailor your studies to your own personal interests.
Your studies in business will prepare you for work in a range of organisations and you will have the opportunity to further prepare for the workplace by taking a one year paid work placement in between your second and final year.
Journalism & Media Cultures
You will gain a wide range of journalistic skills and hands-on experience as part of this course. You'll learn to write in a variety of styles and for different audiences as well as gaining a working knowledge of how communication works and the nature of the British media. Some students may even have the opportunity to get some of their work published.
In your first year you will study Journalism and Media Cultures equally, you can choose to drop one in your second year and take the other forward as a minor field. Maintaining both throughout your degree will allow you to major in Journalism and Media cultures in your final year (there is currently no major option in second year).
Why choose this course?
Business
Gain a firm understanding of the role of business in society
Develop your knowledge in key areas of business such as Finance, Human Resources Management and Marketing
Challenge yourself intellectually while gaining key practical and interpersonal skills that prepare you for the workplace.
Journalism and Media Cultures
Develop your understanding of printed media including how to write news stories, features and conduct an interview
Understand the complex relationships between media and the society we live in.
Explore the legal and ethical issues faced by the media and examine the dilemmas journalists may face
Entry requirements...
2017 entry
UCAS are introducing a new tariff for 2017 entry so the points being asked for are substantially different to previous years.
112 UCAS points
IB - 112 points from a minimum of 2 HL subjects at H4 or above.
GCSE Maths and English Language at Grade 4 or above (Grade C or above under the old grading structure).
All students from non-majority English speaking countries require proof of English language proficiency, equivalent to an overall IELTS score of 6.5 with a minimum of 5.5 in each band.
If you do not have the required IELTS or equivalent for direct entry on to your degree programme, our Pre-sessional English and International Foundation courses can help you to achieve this level.
For country specific qualifications, please visit our Your Country page.
Careers
This programme gives you flexibility in your studies at university resulting in flexibility in your choice of career at the end of your course. You will acquire a much broader base of knowledge and experience that could really widen your employment opportunities. Graduates have found employment in diverse roles such as computer programmers, design engineers, management development specialists, accountants and project managers. 95.2% of University of Hertfordshire students are in work or further study six months after graduating, according to the latest Destination of Leavers from Higher Education (DLHE) survey.
Teaching methods
You'll experience a wide variety of learning styles on this course. During your studies you'll develop your capacity for self-directed study and your interpersonal skills. We particularly emphasise the importance of structured research; well-prepared written and verbal presentations; and computer literacy. Alongside elements of standard lectures, seminars, tutorials and laboratories, you also learn through case studies, individual and group projects and other student centred activities. In your final year you will normally have the opportunity to practice your independent study skills by completing a Major project or dissertation.
You will develop your capacity for independent study and interpersonal skills on this programme. There is an emphasis on structured research, well-prepared written and verbal presentations and computer literacy.
You will experience a wide variety of teaching styles on the programme including:
standard lectures
seminars
tutorials
laboratories
case studies
individual and group projects
In your final year you will normally have the opportunity to hone your independent study and interpersonal skills by undertaking a major project or dissertation.
Work Placement
You will have the opportunity to take a paid work placement or study abroad for a year between your second and final years, extending your degree from a three year to a four year qualification. You will not be required to pay tuition fees for this year and you will gain excellent experience that sets you apart from the crowd in the graduate jobs market.
A work placement provides you with an excellent opportunity to gain valuable experience and put your theoretical knowledge and understanding from your studies in to practice.
Our Careers and Placements service will help you to develop your CV and support you through the application process for a wide range of placement opportunities in a variety of sectors and organisations.
Study Abroad
This course offers you the opportunity to study abroad in the Sandwich Year through the University's study abroad programme. Study abroad opportunities are available worldwide and in Europe under the Erasmus+ Programme.
Find out more about Study abroad opportunities
You can study in most European countries, USA, Canada, Mexico, Brazil, Chile, Uruguay, South Africa, Russia, China, Korea, Japan, Malaysia, Singapore, Thailand and Australia. You will study a programme of taught modules and/or project work with one of our partner universities, which will complement your studies on the Joint Honours Programme. You may need to study the language of your chosen country in your first and second years. Depending on where you choose to study you may be eligible to apply for certain grants, scholarships and financial support to help finance your study abroad experience.
Structure
Level 4
Core Modules
Principles of Marketing

Credits: 15

This initial marketing module, which assumes no prior knowledge of marketing, aims to introduce students to some of the key ideas of marketing and is suitable for both marketing and non-marketing students. It examines the environment within which organisations operate and the role of marketing within the organisation so that students can understand the context within which marketing personnel work, and the different activities which are carried out under the umbrella term of 'marketing'. Concepts central to an understanding of marketing are considered - segmentation; targeting and positioning; the product life cycle; the 4Ps; buyer behaviour, etc.

Accounting for Business

Credits: 15

The module provides an introduction to accounting from the manager's viewpoint. Areas covered include the collection and reporting of accounting information to both internal and external users, as well as the use and interpretation of publicly available accounting information. The role of accounting in supporting the management functions of planning, control, and decision-making is also covered. Indicative topics include: - preparation and presentation of a simple income statement and balance sheet, including the need for adjustments such as depreciation, accruals, prepayments and bad debts; - the difference between profit and cash; - interpretation of an income statement and a balance sheet using ratio analysis; - costing: cost behaviour; marginal costing - methods and uses; absorption costing - methods and uses; - budgeting: nature and purpose of budgeting; its contribution to planning, control and motivation in an organisation; preparation of simple budgets.

Global Perspectives in Business

Credits: 15

Internationalisation of business is creating a substantial increase in intercultural contact, which is reflected in the skills set of managers operating in a globalised world. Managers need to develop sensitivity to and a critical understanding of issues arising out of cultural difference, and be equipped to manage and operate in diversity. The module explores themes of: a) concepts of culture, b) cultural differences and c) globalisation. It will also explore related ideas such as ethnocentrism and prejudice. It looks at and draws upon the work of leading theorists, such as Hofstede and Trompenaars, in the analysis of cultural difference. It will look at cross-cultural differences in communication and negotiation style. The workshop element of the module will consider the practical consequences of cultural difference for corporations and sojourners. Types of international corporate culture will be examined. The nature of culture shock will be explored.

Quantitative Methods for Business (UJH)

Credits: 15

This module introduces the student to a number of essential mathematical and statistical techniques that are extensively used in business and management. Particular attention will be paid to the circumstances in which the methods considered should be employed. The following quantitative methods are likely to be included in this module: equations and graphs; measures of location and dispersion; weighted averages and indices; probability and normal distribution; basic optimisation; critical path analysis; correlation and simple linear regression; time series forecasting; investment; simulation. Appropriate software (eg Excel) will be used to support learning.

Introduction to Media Communications

Credits: 15

The aim of this module is to provide an insight to the various fields of media practice and communication studies. It will also introduce students to some of the key theories used in understanding media cultures. Students will learn about different economic and political structures that underlay the UK media system and engage with some of the conceptual frameworks for understanding media communications. The module is structured in three parts. In the first sessions, students are introduced to the basics of media communications. The sessions might cover topics such as the different types of media and models of communications. The second part – Audiences, Industry and Politics – takes a closer look at Media Effects and Audiences, News Values, media biases as well as industry structures. The final part will enable student to explore some of the key theorists that have written on media, for example Marshall McLuhan and Stuart Hall.

Media and Society

Credits: 15

This module considers the relationship between media institutions and products and their social context. Throughout the module, students will discuss the ways in which the media reflect or shape social attitudes and challenge their own assumptions about society and the media. Through discussions of issues such as class, race and gender this module will consider how different social groups are represented in media institutions such as the BBC and large media networks as well as in mediated images across a number of media outlets, including advertising, news media and TV. The module will also examine the public role of the media and students will be asked to think critically about concepts such as free press, media impartiality, and the relationship of the media with commercial and political institutions. Up-to-date case studies will be discussed throughout the module.

Introduction to Journalism

Credits: 15

Students will explore newsgathering, news writing, feature writing and interviewing. The module will introduce students to a diverse range of publications including broadsheets, tabloids and magazines. Students will critically assess the material and identify the different styles and approaches taken to news articles and features. The fundamentals of practical journalism will be explored, including using English effectively and developing editing and proofreading skills. Skills taught will include: sourcing ideas; researching a story; how to employ a variety of methodologies; how to target different the audiences and readers; how to structure news and feature articles, with effective introductions and endings.

Journalism, Law and Ethics

Credits: 15

In this module, students will be introduced to key laws impacting on journalists, including defamation, copyright and Freedom of Information. They will also explore the Human Rights Act as it affects journalists and compare defamation law across different countries. Students will also investigate the ethical dilemmas that may impact on journalists in any Western liberal democracy and look at the codes of conduct that have been put in place to encourage ethical behaviour.
Optional
Level 5
Core Modules
Managing People

Credits: 15

Managing People aims at providing students with an introduction to the management of people in organisations. Content includes: - The development of HRM, theory and practice, contextual factors, strategic approaches. - Recruitment and selection - role of R&S, models of R&S and their application. - Equality and diversity - the case for equality and diversity. Approaches to implementing equality and diversity policies and tackling discrimination in organisations. - Flexibility - managing flexibility. - Performance and reward management - managing people for performance, motivation and the link with reward management. - Employee participation and involvement - definition of terms. Factors affecting the success of employee involvement (EI). Effective communication. - Learning and development - contribution it can make to people performance and business success from identifying needs to evaluation of the outcomes. Managing people activities will be introduced from both strategic and operational perspectives. The role of the HR function and the line manager will be introduced.

Exploring Business Ethics

Credits: 15

This module aims to examine and reflect on the ethical behaviour of organisations and employees. To apply ethical theories to real and current organisational cases and activities and reflect on what responsibilities organisations have to society. It discusses guidelines, laws and external pressures and the impact these have on the ethical behaviour of organisations. The behaviour of employees and the individual choices that may when faced ethical dilemmas is also analysed. Content includes: ethical theorists, child labour, bribery, price fixing, working conditions, corporate social responsibility and whistleblowing.

Radio Journalism

Credits: 15

In this module, you will source original stories specifically suitable for radio and learn how to write, interview and structure reports for this media type. You will learn how to tell stories with the aid of audio techniques. All teaching will take place in workshops and you will acquire knowledge and understanding of radio journalism and the technical skills needed to produce effective radio broadcasts. Moreover, this module will introduce you to terminology used in broadcast environments; it will expand your critical understanding of news values and agendas; legal and ethical requirements specific to broadcast journalism (balanced and impartial reporting, compliance, etc.); and your awareness of the converging media landscape. By the end of the module, you will be able to tell stories with the aid of audio techniques; have gained confidence in presentational skills; demonstrate knowledge of the technical skills required to edit audio files; and work effectively in a team to produce a radio programme.

Social Media

Credits: 15

Social media has opened up new opportunities for journalism while also challenging the traditional understanding of public participation and potentially empowering audiences and civil society organisations by offering new platforms for free expression and social activism. The media industry has also expanded and commercial organisations such as BP and Tesco are using social media as part of their communications strategy to connect with their customers. This module explores social media and its impact on new business models and critically evaluates the transformative claims for platforms like Facebook, Twitter and YouTube. The lectures may include the following topics: Social media and democracy, digital journalism, law and ethics for social media, economy of new media, citizen journalism, business models for social media.

Graduate & Employability Skills

Credits: 0

You will be offered a variety of employment enhancing workshops and online activities such as interview skills workshops, personality profiling and career planning in order to improve your employment prospects after graduation and make you aware of current areas of strength and weakness in relation to employability. You will also have the opportunity to learn about self-employment options, graduate schemes and will attend speaker sessions with successful professionals in areas of employment appropriate for Joint Honours graduates so you can learn about the skills and attributes required for these areas and how to enhance your prospects of entering such areas. You will be required to undertake a certain number of activities chosen by you from a career "menu" and to reflect on what they have learnt in order to complete the module successfully.

Research Methods in Media Communications

Credits: 15

This module teaches the basic principles of research in media and the means by which to devise research questions and select appropriate methodologies. It will also give a detailed account of how to structure and write effective and informative research report. Students will be introduced to a range of different methodologies, both qualitative and quantitative. They will learn how to choose a research topic, conduct a literature review, and develop an appropriate research plan. The module covers all key aspects of media and communication, including analysis of media production, media texts, and audience studies. It further offers specific guidance and instruction on a systematic application of a range of research methods, and addresses methods of sampling and data collection, including interviews, questionnaires and focus group discussions, as well as approaches to online research.

Journalism Skills: Features

Credits: 15

In this module students will be introduced to researching and reporting techniques for writing features and will be developing and extending the skills in writing acquired at Level 4. Workshop sessions will enable students to gain hands-on practise of writing features in a simulated magazine or supplement environment.

Journalism Skills: News

Credits: 15

In this module students will develop their news research and writing techniques for news reports, developing and extending the skills in writing news acquired at level 4. Workshop sessions will enable students to gain hands-on practice in writing news reports in a simulated newsroom environment. There will be an emphasis on the use of ICT to research stories and students will be encouraged to use the Internet and social media sites such as Facebook and Twitter, and other advanced sites, for research and seeking comment. Students will write at least 3 articles, through which they will explore, in greater depth, the key elements of news journalism.
Optional
Human Computer Interaction for Commercial Applications

Credits: 15

This module enable students to critically evaluate a consumer device of their choice that exhibits a 'poor' User Interface (UI) and/or User Experience (UX); then design a more suitable User Interface and/or User Experience for a specific group of users.

Project Planning and Control

Credits: 15

Project management is essential in all business development and this module gives students hands-on experience of managing the project process. The module content and assessment strategy allow students to study project planning and control in the context of their chosen discipline and from a general project management perspective, thus developing skills and knowledge transferable to other business and management fields and practice. Students benefit from greater flexibility and support due to a blend of face-to-face lectures and seminars, on-line discussions, a simulated project environment, and use of business software tools such as MS project. The module provides a sound basis for further professional studies such as the Association for Project Management (APM) Introductory Certificate in Project Management.

Principles of Operations Management

Credits: 15

The module is designed to provide a solid understanding of operations management methods. Students will gain experience together with knowledge of techniques and tools to support decisions made within the context of operations. It is likely that there will be an opportunity to work with an external organisation during the group coursework.

Marketing for the Small Enterprise

Credits: 15

This module explores the issues of marketing and marketing research in the context of dynamic and complex small business environments. It will therefore introduce and examine a wide range of issues including: opportunity recognition and marketing research, new product development (NPD), pricing, promotion, networking and word of mouth, relationship and services marketing, sales and selling, and distribution.

Marketing Planning

Credits: 15

This module will introduce students to the underlying philosophy of marketing planning and the significance of the planning phase in order to give an overall perspective of what planning aims to achieve. It will introduce a range of tools and techniques for use when developing marketing plans and test students' ability to synthesise and apply these.

Management Accounting for Business Decisions

Credits: 15

The module is aimed at prospective managers to enable them to understand the benefits and potential pitfalls of using management accounting information when making managerial decisions. Indicative areas covered are: - Description and analysis of management accounting and reporting. - Traditional and modern methods of costing including the treatment of overheads, and the role of such information in driving pricing, mix and investment decisions. - The role, design and implementation of budgetary planning and control systems. - Variance analysis. - Alternative methods of investment appraisal and an assessment of the merits and problems of each. - How to interpret the information generated in order to provide decision-making advice to management.

Cross-cultural Management

Credits: 15

The module aims to provide students an introduction to a contemporary, applied and critical approach to the study of cross-cultural management in an organisational context. It is particularly relevant to students of International Business and Human Resources, but should also be of interest to any student wishing to pursue a career in international business or involved in working within multi-cultural environments. It will consider a critical examination of cross-cultural management theories and models, cross-cultural aspects of leadership and motivation, cross-cultural communication and multi-cultural team working. Students will also explore theories and models related to expatriation, cross-cultural management and human resource practices and ethics.

Business Analysis Tools

Credits: 15

The module will introduce students to a variety of business analysis techniques. Students will be guided into formulating business problems as models. These models will enable them to solve problems in an organisational context. Students will be introduced and encouraged to use appropriate software to solve the models (eg spreadsheets and specialist business analysis software). The main topics studied include: - Business analysis methodology - Project management - Scheduling and sequencing in business - Forecasting methods - Introduction to business simulation - Linear programming and business optimisation - Inventory models - Markov analysis
Level 6
Core Modules
Leadership and Organisations

Credits: 15

This module explores leadership and management within the context of the business organisation, complementing the knowledge and understanding of strategic issues developed through studies on the companion module 6BUS1143 Business Strategy. It examines the development of leadership and management theory as well as discussing contemporary applications of theoretical approaches. Leadership styles and models are analysed, including their impact on follower performance. Students will be constantly reminded that the leaders of organisations often experience strategy in action/implementation as a messy, unstructured process. Up-to-date real world examples will be used, together with textbook cases, to appraise the effectiveness of particular organisational leadership styles and to show how strategic leaders and their followers interact in practice.

Business Strategy

Credits: 15

The module will introduce students to a range of issues and challenges confronting strategic leaders of public, private and third sector organisations in a turbulent global environment. It will focus on the many conflicting perspectives within the subject of strategic management and consider the problems involved in researching and developing strategies and plans and implementing them within the limitations of the organisation. It considers a range of analytical techniques and concepts, both applying them and critically evaluating their usefulness through the use of case study work. The module includes a comprehensive review of current strategic issues, identifying the contradictions and paradoxical nature of strategic decision-making and strategic planning. This module's coverage of the themes of strategic position and strategic choice is designed to complement the study of strategy in action/implementation in the companion module 6BUS1141 Leadership and Organisations.

Graduate & Employability Skills

Credits: 0

You will be able to access employability and enterprise resources including workshops, online materials and books in order to help you formulate a career or post-graduate study plan. You will have the opportunity to hear speakers from a variety of areas give advice and guidance as to how to enter those fields. You will be required to undertake a certain number of activities chosen by you from a career "menu" and to reflect on what they have learnt in order to complete the module successfully.
Optional
Industrial Placement Year

Credits: 0

Placement Study Abroad (South East Asia)

Credits: 0

The student will complete a period of study abroad at a partner institution following an appropriate programme of study, set out in a learning agreement, agreed by the student, the programme tutor at Hertfordshire and the international office at the partner institution. The programme of study in a placement year is less prescribed and can both reflect the interests of the student in their discipline area or to broaden their education.

Placement Study Abroad (North America)

Credits: 0

Placement Study Abroad (Australia)

Credits: 0

Placement Study Abroad (Europe)

Credits: 0

International Human Resource Management

Credits: 15

The module provides contemporary, applied and critical insights into the management of people across borders and in multinational corporations (MNCs). The HR implications of managing international assignments are investigated, and in-depth exposition provided of HR contexts and features in major global regions. The module appears to students specialising in HRM and international business, and is also relevant to those working/planning to work in an international environment. The content includes an analysis of differences between national and international HRM, examines structures and strategies of MNC's and the ethical issues impinging upon international business in the field of employment. The module also considers the management of the expatriation cycle-recruitment, training, pay, performance management and repatriation. An analysis of industrial relations structures/systems for employee participation in north America, Europe and Australasia and an exploration of political/economic environments and major features of HR/employment practice in these continents and developing countries.

Understanding Challenges in the Third Sector

Credits: 15

The module will provide a broad understanding of the nature of the third sector and its contribution to the community. The third sector includes the voluntary sector, community groups, and social enterprises. This module will enable students to develop their appreciation of the challenges of working and managing in the third sector, through a combination of lectures, student-led seminars and a period of approved voluntary work which will start early in the semester of study. By reflecting on their voluntary work, the students will be able to synthesise and critically evaluate theoretical concepts.

Social Networking and Enterprise

Credits: 15

Social networking is a rapidly growing phenomenon and it is one of the most influential media in web technology today. Hundreds of companies globally use social media to gain credibility, foster employee relationships, build a forum for communication with customers and, often, to boost sales. Businesses receive inquiries directly from consumers and other businesses without advertising, which results in lower costs and higher conversion rates. Therefore, this module explores insights of the social networking sites and opportunities they present for organisations. The following is an indicative list of topics: - Understand the fundamentals of the social media - Social networking trends - Types of social networking sites - Enhance enterprise performance through social media - Social networking tools and strategies in enterprise - Business communication using online media tools - Social networking tools for different business processes - Market trends of the social media and tools to estimate future business performance

Small Business Management

Credits: 15

The small business is now a major part of the economy and it is recognised for its contribution to employment creation. The module will examine how small business works in practice, focusing on its creation, development, growth and key functions. There is scope for the student to bring in their own experiences of small business and they will be encouraged to pursue their own particular interests within the overall framework of the syllabus, partly through exercises and case-based activities throughout the programme of planned tutorial sessions

Service Operations Management

Credits: 15

This is a new and exciting area of business operations management. It will be useful for anyone who may wish to pursue a career in the service sector; particularly in the current economic environment in which the economies of the UK, Europe and North America are predominately service driven. The module covers the following topics: - The service concept - Performance measurement in the service sector - Service strategy - Customer relationship management - Supplier management - Service processes and people - Resource utilisation - Technology and information management - Management of change

Management Science in Business

Credits: 15

This module will develop knowledge and understanding of both classical and current management science techniques used in business today. Students will be guided into formulating business problems as models. They will be shown how to manipulate and solve these models, and interpret the solutions. They will learn to recognise difficulties and limitations associated with the results given by the models. Students will be encouraged to use appropriate computer software to solve the models. The module includes the following topics: - queuing models - game theory - replacement theory - decision analysis - dynamic programming - transportation problems - data envelopment analysis - data mining

Contemporary Issues in Business and Management

Credits: 15

This module will bring together a range of current research on contemporary strategic issues in business and management and enable students to consolidate their understanding of these issues, whilst giving them the skills and opportunity to examine and evaluate alternative valid views. Students will be asked to use their research skills to develop an in-depth understanding of these contemporary issues while being encouraged to examine and question the legitimacy of alternative approaches to management and to evaluate the impact, if any, of these issues on a business' strategic development. Students are expected to draw on the whole range of knowledge and skills developed during their studies when reviewing research literature and evaluating business and management responses to contemporary issues.

Performance Strategy

Credits: 15

The module deepens students' prior knowledge and understanding of management accounting focuses on the role of the management accountant within the strategic planning process. Making use of relevant literature and case studies, the module explores strategic planning in the context of the management accounting information required to support this process. The module continues by considering performance management systems which have been developed to control the implementation of strategic plans. Indicative content may include: - The strategic process - Tools of strategic management accounting - The balanced scorecard - Innovations in management accounting - Innovations in performance management

HBS Placement

Credits: 0

This activity is self-directed by the student and carries no credits. Students will be supported by the Professional Experience Module Leader, Professional Experience Visit Co-ordinator, an Academic Mentor and the Centre for Academic Skills Enhancement (CASE). Successful completion of the Professional Experience Module leads to the appropriate suffix on students' degree title stated on the programme specifications.

Year Abroad

Credits: 0

A Study Abroad year is an optional additional year that increases the length of the Honours degree award to a four-year full-time degree. The additional year comprises an agreed programme of study in a partner institution abroad with whom the University of Hertfordshire has an institutional agreement. The programme of study will support, supplement and extend the more usual three-year programme. Success in the third year will be recognised in the title of the award, but does not carry additional credit towards the Honours programme. A student would normally confirm the intention to study abroad during the first ten weeks of study at Level 5. This will enable a place to be negotiated at a host institution and the Study Programme and learning contract to be arranged and agreed.

Advertising

Credits: 15

This module will look at advertising and the ways in which it attempts to construct desire for specific products. It will analyse the social function of adverts in relation to certain social categories such as gender, race and sexuality. Moreover, we will look at the placing of advertising in specific media and students will be asked to consider why adverts for certain types of products are placed in specific locations. This will include a consideration of market segmentation and TV scheduling. Students will then be encouraged to create their own advert based on a specific brief in order to apply their theoretical knowledge in a practical way. Finally, this module will consider the relationship between advertising and other media forms, especially film and television as well as new media, to consider the degree to which advertising relies upon codes that are produced in other cultural products.

Campaigns and Careers

Credits: 15

The module introduces students to a number of specialist fields within the communications industry and illustrates the value of specific communication skills across different sectors. During the module we will explore specialist areas, such as political PR, social campaigning, film marketing, non-broadcast filmmaking, sport, events and sponsorship. Students will also learn how to deal with the press from a corporate point of view and how to create promotional material. The module further allows students to engage with the academic and practical content in a very hands-on manner and provides space for reflection on and critical engagement with the theories behind important transferable and subject specific skills, such as pitching ideas, presenting concepts and managing successful teams.

Corporate Communications

Credits: 15

This module provides a detailed understanding of the principles, techniques and strategies that underpin corporate communications, with particular emphasis on Public Relations and brand management. It is designed to reflect the current awareness of, and the benefits that organisations can derive from, adopting an integrated approach to communications. This module adopts a strategic approach to the study of corporate communications and builds an understanding of the variations in consumer behaviour, and how communication strategies and programmes can be developed, organised and implemented. The course also addresses critical issues relating to recent developments in the field and includes a strong practical component that aims to equip students with the skills necessary for working in this field.

Digital Media

Credits: 15

This module closely looks at emergent forms of media, particularly the influence of digital technologies on traditional forms of media, such as film and journalism. We will critically analyse the impact of the digital revolution, from HDTV to virtual realities, from citizen journalism to Wikileaks and cyber-criminality, from music downloads to E-books. Using a range of critical theorists, we will discuss the challenges of these developments for old media as well as the creative opportunities new media forms provide.

Journalism, Government and the People

Credits: 15

This module explores the relationship between the press and the government. It will cover the structure and operation of government to include the principles of democracy, parliament and constitution. In addition, the module will cover such topics as: the role of the lobby correspondent; the reporting of parliament; parliamentary and European elections and the influence of journalists on government policy.

Online Journalism

Credits: 15

The course will consist of 12, two-hour workshops in which students will - through a mix of, demonstrations, discussion and practical tasks - learn the basics of Online Journalism. This will include an appreciation of the massive impact that digital communications technologies have had on the publishing industry, as well as a detailed understanding of how writing for the internet differs from so-called 'off-line' Journalism. Students will also learn, through the use of a Content Management System (CMS), how to upload and format content – both written and multimedia – which is suitable for publication.

Journalism Skills Portfolio

Credits: 30

This module content enables you to practise your journalism skills in real world settings, enhancing your employability and developing an awareness of the variety of uses for those skills. You spend at least five days, generally more, in the first semester either working for a relevant company e.g. a newspaper, magazine, PR company or freelancing and gain an understanding of the media world from that perspective. You also create a varied portfolio of journalism pieces including a news piece, feature and interview to showcase the skills you have learnt.
Fees & funding
The government has yet to announce the upper limit of Tuition Fees for applicants wishing to study an undergraduate course in 2018/19. As soon as this information becomes available, our website will be updated and we will contact everyone who has applied to the University to advise them of their Tuition Fee.
Fees 2017
UK/EU Students
Full time: £9,250 for the 2017 academic year
Part time: If you decide to study this course on a part time basis you will be charged £1155 per 15 credits for the 2017 academic year
International Students
Full time: £11,350 for the 2017 academic year
Part time: If you decide to study this course on a part time basis you will be charged £1420 per 15 credits for the 2017 academic year
Fees 2018
UK/EU Students
Full time: £9,250 for the 2018 academic year
Part time: If you decide to study this course on a part time basis you will be charged £1155 per 15 credits for the 2018 academic year
International Students
Full time: £11,950 for the 2018 academic year
Part time: If you decide to study this course on a part time basis you will be charged £1500 per 15 credits for the 2018 academic year
*Tuition fees are charged annually. The fees quoted above are for the specified year(s) only. Fees may be higher in future years, for both new and continuing students. Please see the University's Fees and Finance Policy (and in particular the section headed "When tuition fees change"), for further information about when and by how much the University may increase its fees for future years.
View detailed information about tuition fees
Other financial support
Find out more about other financial support available to UK and EU students
Living costs / accommodation
The University of Hertfordshire offers a great choice of student accommodation, on campus or nearby in the local area, to suit every student budget.
How to apply
2017
| Start Date | End Date | Link |
| --- | --- | --- |
| 28/09/2017 | 20/05/2018 | Apply online (Part Time) |
| 28/09/2017 | 20/05/2018 | Apply online (Full Time/Sandwich) |
2018
| Start Date | End Date | Link |
| --- | --- | --- |
| 28/09/2018 | 20/05/2019 | Apply online (Part Time) |
| 28/09/2018 | 20/05/2019 | Apply online (Full Time/Sandwich) |
2019
| Start Date | End Date | Link |
| --- | --- | --- |
| 28/09/2019 | 20/05/2020 | Apply online (Part Time) |
| 28/09/2019 | 20/05/2020 | Apply online (Full Time/Sandwich) |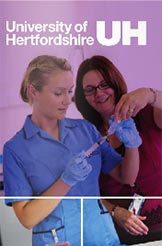 Download the Prospectus