MSc Accounting and Financial Management
About the course
This course is aimed at graduates who wish to acquire the knowledge and ability to understand, interpret and utilise financial information in decision making within organisations. This course is designed to prepare students who do not have background in accounting and finance for careers in business and financial management. It will also help those with accounting and finance background to explore the subject area in varied perspectives. The knowledge gained on this course will allow graduates to understand and interpret financial data.
This course provides an opportunity to study a body of academic knowledge that can be applied in a managerial context. In doing so, it will help expand your intellectual ability and develop higher level analytical skills so that any problems you encounter in your future career can be critically examined using an accounting and finance perspective.
Semester B entrants
Student wishing to join in January will study can apply for Semester B entry. Any questions about Semester B entry should be directed to the Programme Leader or Business School Admissions Team.
Why choose this course?
Study a course to provide you with the relevant skills to pursue a career in business with an accounting and finance focus.
Benefit from the skills, knowledge and industry experience of our academic staff.
Develop a fluency in finance to support your career in a broad range of areas.
Entry requirements...
An honours degree (at least 2:2) in any subject area or relevant professional qualification combined with managerial experience. Other academic qualifications such as HNDs will be considered on a case by case basis where they are combined with managerial level experience. Managerial experience to be considered must be more than ten years in accounting or finance management role.
All students from non-majority English speaking countries require proof of English language proficiency.
The following qualifications and grades will be considered:
- GCSE English language grade A-C
- IELTS 6.5 (with no less than 5.5 in any band)
Other English language tests are accepted. Please contact the International Office for details.
If you do not have the required level of English for entry, our academic English courses can help you to achieve this level.
Careers
Graduates of this programme are ideally placed to follow careers in accountancy or in the financial services sector.
In previous years, students have progressed to work for companies such as KPMG and Deloitte, with typical job roles including Financial Analyst or Chartered Accountant.
Teaching methods
We offer a varied programme of teaching that includes facilitated seminars, practical workshops, web-based learning, case study analysis and traditional lectures. We also provide sessions by visiting staff, practitioners and consultants to give a varied perspective of the topics covered.
You will be assessed through a variety of coursework including presentations, reports and projects. You will also be required to complete a dissertation and will be supported by a dissertation supervisor.
Structure
Year 1
Core Modules
Accounting for Business Decisions

Indicative content; 1. Management and cost accounting concepts, terms and role 2. Short-term decision-making 3. Planning and control 4. Measuring performance 5. Evaluating performance 6. Performance and decision-management frameworks 7. Investment appraisal 8. Contemporary issues 9. The role of financial accounting, the accounting principles and the regulatory framework 10. Financial statements of limited companies' income statement, balance sheet, cash flow 11. Published financial reports 12. Ratio analysis Core content and an overview of each topic will be delivered via weekly lectures and tutorials, which use case studies and other practical scenarios, supplemented by students' private study

Effective Governance and Accountability

This module is designed to provide an insight into the area of corporate governance. Initially, the importance of effective corporate governance is established and the roles of key parties involved examined. The UK approach to corporate governance is evaluated and contrasted with other approaches internationally. Corporate governance is a continually developing discipline and the module also provides an opportunity for students to discuss and debate topical issues.

Professional and Research Skills for Financial Managers

The module provides students with a series of academic skills and study strategies which will underpin their other studies. The module is composed of several themes which will include communication, thinking and methods of enquiry, IT-literacy, numeracy and the nature of knowledge. These will allow students to effectively match problem-solving techniques to different scenarios. In doing so, students will be expected to operate in teams, reflect on their practice and recognise aspects for self development and improvement. The module selects a series of issues that are pertinent to accounting and finance in practice. The module also prepares students for the skills required for the Applied Project such as - Introduction to various research methods and concepts. - Principles and practices of qualitative and quantitative research. - Conducting and structuring a critical literature review. - Academic writing and conventions in research. - Developing a research proposal. - Deciding on research design. - Ethical issues in research. - Analysis and presentation of results. - Determinants of a good quality masters project
Optional
Fees & funding
Fees 2016
UK/EU Students
Full time: £6,100 for the 2016 academic year
International Students
Full time: £12,000 for the 2016 academic year
Fees 2017
UK/EU Students
Full time: £6,450 for the 2017 academic year
Part time: If you decide to study this course on a part time basis you will be charged £510 per 15 credits for the 2017 academic year
International Students
Full time: £12,100 for the 2017 academic year
Part time: If you decide to study this course on a part time basis you will be charged £1010 per 15 credits for the 2017 academic year
*Tuition fees are charged annually. The fees quoted above are for the specified year(s) only. Fees may be higher in future years, for both new and continuing students. Please see the University's Fees and Finance Policy (and in particular the section headed "When tuition fees change"), for further information about when and by how much the University may increase its fees for future years.
View detailed information about tuition fees
Additional course-related costs
There may be some additional costs or charges associated with studying on this course. These costs or charges may be compulsory (ie you have to pay them if you are studying this course) or they may be optional (ie you don't have to pay them, but they may help you get the most out of your course).
Any such costs or charges will be outlined in the About your course factsheet that can be found on the course Overview page.
Other financial support
Find out more about other financial support available to UK and EU students
Living costs / accommodation
The University of Hertfordshire offers a great choice of student accommodation, on campus or nearby in the local area, to suit every student budget.
How to apply
2016
| Start Date | End Date | Link |
| --- | --- | --- |
| 16/01/2017 | 12/01/2018 | Apply online (Full Time) |
2017
2018
i
Key course information
Course code

BSAFM

Course length

Full Time,

1 Years

Part Time,

2 Years

Locations

University of Hertfordshire, Hatfield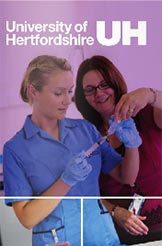 Download the Prospectus