Science Learning Centre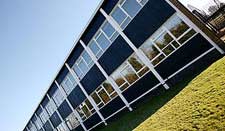 The Science Learning Centre (SLC) at Bayfordbury is a shared educational facility run by the University of Hertfordshire in partnership with:
Association for Science Education
Hertfordshire LEA
SETPOINT Hertfordshire
Teacher Scientist Network, Norfolk
The centre is fully-equipped with:
ICT integration
high-quality laboratories PLUS specialist briefing rooms
an impressive auditorium
a video conferencing suite
The formation of the Regional Science Learning Centre was facilitated by a grant to the University of Hertfordshire written by Jim Collett and Jim Hough in 2001.
Expanding the Observatory experience
There are many benefits to the SLC and the Observatory sharing the same location:
The roof of the SLC is currently home to the AllSky Cameras, photometers, a scanning infrared radiometer and other monitoring equipment run as part of Bayfordbury's atmospherics observatory by the University's Centre for Atmospheric and Instrumentation Research (CAIR).
The SLC and the Observatory share a 22-seat planetarium - a major feature of our outreach events.
An auditorium, two laboratories and a restaurant area use during public open evenings.
Together they can offer students, staff and visitors one of the finest educational and research facilities in the country.