Cosmos in the Classroom
Cosmos in the Classroom is the University of Hertfordshire's planetarium in schools programme. We offer full and half day sessions of exciting planetarium shows for all ages in your school. We can adapt shows to suit the curriculum or a certain topic of interest or we have three standard shows to choose from. Each of these can be adapted for any age group. For secondary groups, we can offer expanded versions of the standard shows as well as shows based on University of Hertfordshire astrophysics research on special request. We offer full and half days to suit all needs.
Scheduling
We are happy to adapt the length and content of planetarium shows to suit the age and ability of groups, and the schedule for the day is up to you. In general, we recommend scheduling 1.5 shows per hour, e.g. three groups coming through the planetarium every two hours. This allows for a 25 minute show, a 5 minute question & answer session, and 5 minutes turnaround either side. For younger groups (reception/year 1) we are happy to do much shorter shows, and for secondary groups we can do one show per hour. An example schedule is shown below.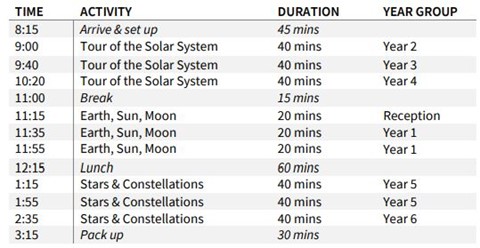 Pricing
We charge £70 per hour we are on site. This includes the time to set up and disassemble the planetarium. We will round to the nearest half hour (for example, if we are there for 4 hours 20 minutes, we will round up to 4 hours 30 minutes).
There is a minimum booking of a half day (4 hours including set up and pack up).
For local schools within 30 minutes travel time from the UH College Lane campus, we do not charge for travel costs, but for schools further afield we charge £60 per hour travel time one way (so if the school is 1 hour's drive from UH according to Google maps, that would add £60 to the total cost).
For the example schedule above we would be on site for 7.5 hours, so the cost would be £525 plus additional travel cost where applicable.
Booking
To book, please fill out the following form: https://forms.office.com/r/Ebme7F3zJK
For enquiries, please email Cosmos in the Classroom lead, Mily Riley, at e.riley@herts.ac.uk
Standard show contents
A tour of the Solar System (KS2): In this show we take a tour around the Solar System, where we visit the Sun and each of the planets from Mercury to Neptune. Throughout we will examine interesting moons and follow famous space missions, and visit some other unusual objects we find in the Solar System.
Stars and Constellations (KS2): In this show we look at the constellations, and how they have been used historically to tell stories, for navigation, and to understand the night sky. We further investigate stars – starting with the Sun; then how stars are born and how they die – and some other interesting phenomena in our own galaxy: the Milky Way.
Earth, Sun, Moon (KS1): This short show is great for young audiences – we take a look at our own planet Earth and then visit the Sun and the Moon. We look at how craters are formed, and how the Sun creates the Aurora Borealis or northern lights. This show can also be expanded to include more science content for older groups who would also like a short show.