Alumni membership card
Sending for your alumni card and ID number is essential - and simple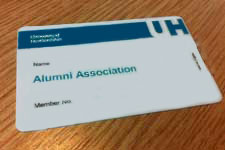 How do I apply for one? 
Visit out Card Request page where you can obtain your membership card.  Your card will feature your ID number and a photograph of you.
We can use the same photo you had on your student/staff card (although, if you left the university before 2002, you will need to provide a new picture).
When sending a new photo, make sure it is an up-to-date picture (passport size and quality), either via email or as a hard copy to our address in the post, marked for the attention of Alumni Cards - Development and Alumni.
Once your request has been submitted, your card will be sent to you in the post. Subject to demand, we will aim to have it sent out to you within 4-6 weeks.
Why do I need an Alumni Card? 
The Alumni Card is a direct replacement of the Student card you had whilst studying here.
It is easy to obtain, free of charge, and will enable you to access the privileges and benefits that being part of the alumni community gives you.  
The card will contain your alumni registration number, and serve as ID when you are on campus (allowing you access to the Forum etc). It will also allow you to continue using the LRCs.
If you are a regular visitor of other areas on campus, it can also be customised (with respective permissions granted) to allow you access to other University buildings and facilities too. 
Data Protection
Visit our Data Protection Page for details of our policy.