Mathematics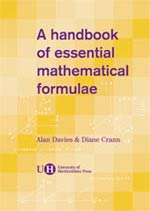 A Handbook of Essential Mathematical Formulae
Alan Davies and Diane Crann
This handbook is intended for students of mathematics as well as of subjects with a significant mathematics content such as engineering, physical sciences, economics, business studies and computer science. It contains vital information and formulae for algebra, geometry, calculus, numerical methods and statistics.
The tables of standard derivatives and integrals, together with the tables of Laplace, Fourier and Z transforms, ensure that the Handbook is a comprehensive reference source.
The Handbook was first produced over 20 years ago and has proved itself consistently useful both as a reference text and as a practical tool for students. It is designed for easy use with a spiral binding that allows it to be laid flat.
Alan Davies was, until recently, Professor of Mathematics at the University of Hertfordshire and has been teaching mathematics to engineers, scientists and mathematicians for more than 30 years. He is the author of 6 undergraduate mathematics textbooks.
Diane Crann is a mathematics graduate with more than 10 years' experience in organising mathematics-related activities for people of all ages, including the Royal Institution Mathematics Masterclass Series.
ISBN-10 1-902806-41-7
ISBN-13 978-1-902806-41-9
September 2004, 80pp
Spiral-bound paperback £7.99 / US$14.95